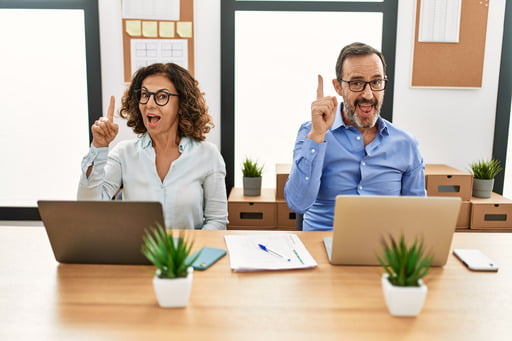 A VPN, or Virtual Private Network, is a program that lets you establish a secure connection to another network over the web. VPNs are typically used to access restricted websites, especially when the restrictions have been imposed regionally, by a company to prevent workplace distractions, etc.). VPNs are also used to protect your web activity from unwanted eyes when using a public Wi-Fi network.
Basically, VPNs forward your web traffic via a dedicated network where you get to access all the benefits (like avoiding internet censorship) that your local network doesn't offer. These days, most operating systems come with integrated VPN support.
So, are VPNs really necessary in everyday internet use? In this post, we will take a closer look at what VPNs are for, how to use a VPN and the main benefits of using VPNs for online security.
What Is a VPN?
Putting it simply, a VPN connects your computer, smartphone, tablet, or any other web-connected device to another computer or server. This lets you access the web via that remote computer's internet connection. Thus, if the server is located in a different country, it will look as if you are accessing the web from that other country.
So, how does this help? Well, it helps in several ways:
First, you get to bypass a variety of regional restrictions. So, if, say, YouTube and Instagram are blocked in your country, you will be able to access them by using a VPN.
Second, you get to stay at least somewhat anonymous online by not revealing your IP address.
Third, you protect your browsing activity from spyware — which is especially important when using a public Wi-Fi network.
And these are just a few examples.
So, is a VPN good or bad? Well, it all depends on how you use it. True, you can use a VPN to "cheat" workplace restrictions or access websites that promote illegal activity (like downloading pirated content, for instance). However, for most users, a VPN is simply a way to stay safe online and keep their browsing data private.
Where to Get a VPN?
There are many different setups available for using a VPN. You can use the VPN network at your office or even create a VPN server yourself. However, most people will simply opt for using one of the popular apps or websites that offer VPN services.
These programs are generally very easy to use and do not require any prior experience. Some of the most popular VPN programs include ExpressVPN, TunnelBear, Astrill VPN, and lots and lots of others.
The easiest thing to do is simply head to one of these sites, sign up, and download the VPN client for your Windows PC, Mac, Android smartphone, iPhone, or iPad. It's as easy as that. Most reliable VPN services do require a paid subscription — but they also come with free trials that let you see whether the service is a good fit for you.
How Does a VPN Work?
Once you download a VPN app, run it and select the server you want to connect to: typically, servers will be listed as locations in different countries. Once you've connected to the desired location, all your traffic will start going through a secure connection to the VPN. As your device appears to be in a different location, it lets you easily access all the restricted websites that you can't access over a local network. As you browse the internet via a VPN, your device is accessing websites through an encrypted VPN connection.
Reasons to Use a VPN
If you are still thinking, "Why do I need a VPN?", here are a few more situations in which it can come in handy:
Accessing an office network while traveling. Business travelers often use VPNs to securely access their local networks while on the road. A VPN offers a safe encrypted connection and doesn't expose confidential data directly to the internet.
Accessing a home network while traveling. With the help of a VPN, you will be able to access your home network while traveling. For instance, you will be able to access Windows Remote Desktop, use your local file shares, and more.
Concealing browsing activity from third parties and your ISP (Internet Service Provider). If you are using a public Wi-Fi connection, your browsing activity on non-HTTPS websites is visible to everyone else on the same network. To avoid this, you can use a VPN. In this case, only your secure connection to the VPN server will be visible on the network. While this keeps your browsing activity hidden from your Internet Service Provider, note that VPN providers may log your traffic on their side.
Accessing regionally blocked websites. Certain websites may be blocked in your country. This typically affects social media sites (like Facebook and Instagram) and media platforms (like YouTube). Or, for example, you may want to access your original Netflix account based in your home country while traveling in a different location where your usual content is not available. This is where a VPN can come in handy. With it, you will be able to access region-restricted content no matter where you are.
Accessing censored content. Some countries may limit your freedom when using the internet. You may not be able to run certain searches or access websites that may be seen as informational threats. As an example, some people in China use a VPN to "hop over" the Great Firewall and access censored content.
Downloading media. Some ISPs may make it very hard to download torrents. Keep in mind that downloading pirated movies and other forms of media content is illegal. However, you may also want to download perfectly legal content using a service like BitTorrent. If your ISP is making these downloads impossible, you may want to use a VPN to avoid interference.
As you can see from above, there are quite a few reasons why you might want to try using a VPN — with online security probably being the number one reason on our list. In fact, it is very important to keep data security in mind when exchanging any type of data over the web — and this is especially true when it comes to large files. The thing is that a lot of hackers would actually target large data transfers specifically — as these would often contain confidential data and personal information. So, how can you securely send a large file online? Using a VPN can definitely come in handy here. However, what matters the most is HOW you are sending that large file. This is where we suggest that you use a service called FileWhopper.
FileWhopper is a platform for securely sending large files and folders online. It allows you to send files and folders of any size without worrying about them falling into the wrong hands. FileWhopper uses zero-knowledge encryption to protect your transfer — and this means that no one but you or your recipient will ever be able to access your data. This can be a great alternative if you are not comfortable exchanging personal data over cloud-based platforms.
FileWhopper comes with a number of other useful features:
First and foremost, it doesn't require a subscription — unlike most cloud storage services, like Google Drive and OneDrive. All you need to do is make a one-time secure payment calculated based on the size of the file or folder you are sending. You can also choose who will make this payment: you or the recipient of your data on their end.
Second, if your transfer is interrupted — for example, when your connection is lost — you don't have to worry. FileWhopper will simply put the transfer on hold until the connection is restored and then resume it from where it was interrupted. So, there is no need to upload your file or folder from scratch, and no data is lost in the process.
Finally, the app is very beginner-friendly. Even if you've never transferred large files over the web before, you will be able to get it done in just a few quick steps. All you need to do is download FileWhopper's tiny app, which will guide you through the whole process. Once the transfer is complete, the app will auto-delete.
The best part? Your first 5GB transfer with FileWhopper is free, which allows you to see if the app works for you.