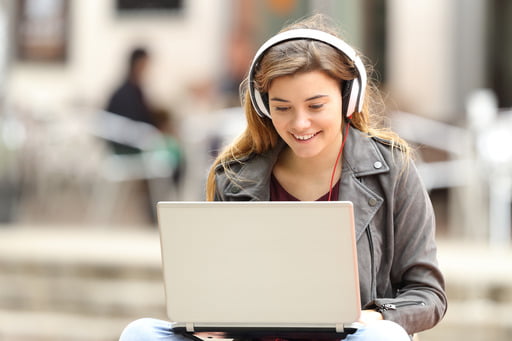 Audio recording technology has come a long way over the past two decades. Recording a music album 20 years ago required studio gear worth thousands of dollars. Your budget would have to cater to several multitrack digital recorders, a sizable mixing console, and a number of reverb units, outboard compressors, and other items. You'd also need a two-track deck for mixing. All in all, you'd have to spend close to 15 thousand dollars to add essential accessories, like speakers and microphones, and include the cost of sound-proofing.
Suppose you decide to save a few bucks. In that case, you'd set your eyes on an Alesis compressor and Yamaha or Tascam four-track recorder, but that would mean you'd have to deal with cleaning the tape heads weekly, bouncing tracks in mono, and tolerating irritating tape hiss. Life would be bearable if that was all the headache that came with budget analog recording, but you still wouldn't be able to execute every kind of project.
Computer digital recording was a luxury back in the day, and the tech was complex and novel. You could attempt to accomplish multitrack recording using MIDI, hardware samplers and synthesizers or a Mac.
But times have changed. You can now spend a few hundred dollars – or nothing at all – to get software packages that offer a wide range of recording and editing options. Most of these programs allow you to expand your capabilities by adding as many effect plug-ins as your computer can accommodate, such as near-perfect emulations of compressors that would have set you back thousands of dollars back in the day. You can also connect these programs to as many mixers as you want.
Audio recording programs don't just cater to music producers; they've made life easy for podcasters and sound engineers. Also, if you're recording meetings, interviews, or even lectures, you'll find a program that suits your project.
So, what is the best free audio recording software for Windows 10? What is the best recording software for making music? We'll be exploring the best programs for your recording needs in this article. If you've been wondering how to find free audio recording software for Windows 10, your search is over.
What Does a Music Recording Program Do?
Music recording applications help music producers create audio tracks for podcasts, videos, and other projects. These tools are designed to remove the need for expensive recording gear. Audio recorders also help sound engineers edit recordings, mix sounds, and change audio formats how they see fit.
As a musician, you don't need a recording studio anymore; all you need is your outbound gear, computer, and music recording software.
An audio recorder records musical instruments and live voices. You can then refine the recorded audio for sharpness and clarity. But that's just the beginning. With audio applications, it's easy to add sound effects that you get from plug-ins. This means you can add chorus, delay, autotune, and even reverb effects. You can add existing audio loops or create your own, edit and mix audio tracks, and record virtual instruments.
Everything you need to complete any audio project is baked into a good music recorder. You can also add other tools that you might need.
Choosing the Right Music Recording Software
Digital audio workstations (DAWs), as audio recording programs are often called, can be complex for newcomers. If you're a professional sound engineer or music producer, you'll know your way around, especially if you've been using such programs for a long time. That said, there are user-friendly applications whose GUIs are simple even for a neophyte.
Audacity
Let's start with Audacity. It's arguably the most popular free audio recorder out there. It's an open-source project that offers a wide range of flexible options for recording and editing audio.
The tool is the best option for starters. If you want to record basic sounds, start a podcast, cover an interview or lecture, or record music, Audacity is easily the best option.
It works with 32-bit/384kHz audio and has built-in dithering. The program allows multitrack, mono, and stereo recording. You can import audio tracks and edit them with ease. You can also mix, combine and render tracks as one. Tracks can be edited down to the sample level, and you can analyze frequency response in Spectrogram view.
You can run Audacity on just about any PC, as its system requirements are pretty low. The program works on Windows 10 just fine, and its user interface is so minimalist that you don't have to worry about finding your way around it. All you have to do to start is dragging an audio file and dropping it on the tool's GUI. To record sound from scratch, click on the "Record" button. You can either use your computer's built-in mic or external microphone for sound input.
Most of the app's functions are self-explanatory, and you should be able to find your way around quite easily.
Pro Tools First
The paid version of this program, Avid Pro Tools, is the industry standard when it comes to DAWs. From tracking and editing to mixing and producing, the app is an all-in-one wonder.
Avid decided to give users a taste of their world-famous DAW without charging them premium fees. Pro Tools First is one of the best free audio recording tools that you'll find around if you're learning the basics and don't want to dabble in all the advanced stuff. Pro Tools First does a pretty neat job if you know your way around it.
While it doesn't pack all the gold standard features that come with its paid bigger brother, it's a tough competitor if you're looking for something you don't have to pay for. It comes with the same outlook as Pro Tools and supports 16 different virtual instruments and 16 different audio tracks. You can also record four tracks at the same time!
Other cool features to enjoy in Pro Tools First are listed below:
Loop recording
Different genres of session templates to give you a quick start
The Xpand! 2 virtual instrument
A 500MB library containing sounds, loops, and samples
MIDI editing tools
The "track freeze" feature, which conserves CPU resources
20 effects and utility plug-ins
The Avid Artist Community, which allows you to collaborate with other sound engineers, producers, and musicians
Pro Tools First's system requirements are not as friendly as Audacity's. If you use a Windows 7 computer, for example, you won't be able to use the app.
You'll need a Windows 10 PC, and not just any Windows 10 computer; it has to be running the 1909 version. So, if your system isn't updated yet, make sure you do so. Windows 8.1 and previous Windows versions are no longer supported.
When it comes to CPU specs, your system has to be equipped with an Intel® i5 processor or higher. The program requires 4GB of RAM or more, a minimum 1280 horizontal monitor resolution, an active internet connection for installation, no less than 15GB of free disk space for installation, ASIO4ALL to use your PC's built-in audio I/O, or a FireWire/USB port for an ASIO-supported audio device. Your PC should also support Marketplace in-app purchased AAX plug-ins and PACE hard disk authorization.
Pro Tools First has its limitations. They include the following:
Lack of a video engine
Limited built-in plug-ins
Input and track count restrictions
Ardour
If you love Audacity but hate its many limitations, you should turn your eyes to Ardour, another open-source project that offers a myriad of recording and editing capabilities. The DAW doesn't have a price tag like Audacity, but its features will make you wonder if that was the original intention.
You get to work with an arbitrary number of buses and tracks, and you can take advantage of the robust routing system. You can easily automate every plug-in, panning, and gain parameter, and the program does an excellent job of mixing and maintaining sample data internally in its 32-bit floating-point format.
When it comes to editing, you can use Ardour to trim, drag, split, and time-stretch recorded regions at the sample level. The program also supports layering. The tool's unlimited undos and redos enable an easy workflow, and unlike with Audacity, you can take snapshots of different sessions for future reference. You'll also enjoy the beat detection and crossfade features.
Ardour's support for VST, LV2, and LADSPA makes customization a breeze. There's also support for video synchronization and full MIDI recording, editing, and playback handling.
It's worth noting that while Ardour has no software limitations, you can only work with select hardware devices, which can cause some frustrations and explode the costs. The user interface is also complex and not very friendly to newbies trying out audio recording on a PC. But for experienced sound engineers, musicians, and producers, Ardour is easily one of the best options around.
The system requirements for Ardour are not steep. With a 64-bit or 32-bit Intel-powered computer using 2 GB of RAM and having 600MB of free disk space, Ardour can run smoothly. As for your operating system, anything from Windows XP is fine. That said, your audio interfaces have to be supported by ASIO4all, ASIO, or MME.
Jokosher
Jokosher is tagged as the "DAW for music artists and producers." You'll be right also to call it Linux's answer to MacOS' built-in, easy-to-use DAW gold standard GarageBand. Mastering and editing tools in Jokosher don't go by the fancy names that most engineers know. The program is more dedicated to musicians, and its language proudly reflects that.
Jokosher might not be as heavyweight as other open-source DAWs, but it sure caters to newbies as its recording process is easy and straightforward. Users have all the essential and expected mastering and editing tools at their fingertips.
You can easily set things up and get right into business. The application is a multitrack DAW, but you work with "instruments" instead of "tracks." You get to pick the instrument you want to record and work with that. For example, if you're going to work with a bass drum, go to the Project menu, click on Add Instrument, and select Bass Drum (you'll even see an illustration of the instrument).
Jokosher continues to receive updates and additions that improve the overall recording and editing experience.
Cubase LE
Cubase LE is another free version of a powerful DAW. Just like Pro Tools First, Cubase LE won't be a bad choice when you consider its zero-dollar price tag compared to its paid version, Cubase Pro. The program supports eight physical inputs, 16 audio tracks, and 18 MIDI tracks. It also supports recordings of up to 24-bit/192 kHz.
You'll also have the HALion Sonic SE 2 virtual instrument, which comes with 180 presets. What's more, the 18 basic plug-ins, like compression, delay, and EQ, see that you have enough tools to start your basic recording and production sessions.
Cakewalk by BandLab
Cakewalk's popular SONAR Platinum DAW was one of the best music recording programs around. It's currently available for free, and BandLab announced that the free-to-download version would feature all the offerings that users enjoyed in the platinum DAW.
That said, its system requirements are quite restrictive. Here's a quick look:
OS: Windows 7, Windows 8, Windows 8.1, or Windows 10
Note: You must use a 64-bit operating system.
CPU: 2.6GHz AMD or Intel multi-core processor (at least AMD A10 APU or Intel i5)
RAM: 4 GB
Audio Interface: ASIO-compatible hardware is recommended.
Storage: At least 5GB for installation (20GB recommended)
Monitor Resolution: 1280 x 800 (1920 x 1080 recommended)
Wavepad
Wavepad's pro version is a program that you have probably heard a lot about. It comes with many features that make music recording fun, seamless, and efficient. You can't go wrong with the free version if you're not looking for advanced and complex stuff. It's one of the best free programs for music recording around.
You can record, copy, cut, and paste sounds and add effects such as noise reduction, amplification, and echo. The tool supports almost every audio file, which means you can always trust it to edit even the most obscure file types.
The features you stand to enjoy with WavePad are as follows:
Multi-channel and separate recording
Built-in VST plug-in support, which means you have access to thousands of additional effects and tools
Audio search, bookmark, and scrub options for precise editing
Batch processing for applying effects to and converting thousands of files at once
The option to find, assemble and recall segments of long audio files by creating bookmarks and regions
Voice changer, speech synthesis (text-to-speech), and spectral analysis (FFT) tools
Conclusion
If you're looking to expand your recording options, you'll have to go for a paid version of quality software. However, you can get everything you need in a free sound recording app for Windows 10 if basic recording and editing features are what you are after.
Whichever situation applies in your case, you may have to deal with huge files and want to send them to your friend, producer, or project manager in a remote location. In this scenario, FileWhopper is your best option. It is a convenient and affordable service offering speedy, smooth, and secure file and folder transfers. Monthly subscription fees won't tie you down; you'll be charged a one-time payment based on the size of the file or folder you want to transfer. The best thing about the tool is that it allows you to transfer files and folders of ANY size – there are no limits restricting the amount of data you can send.