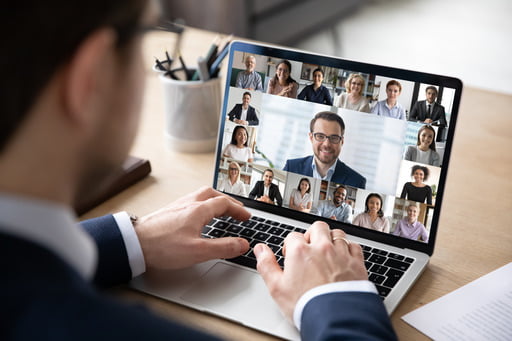 The advent of COVID-19 and social distancing regulations necessitated companies maximizing their usage of video-conferencing apps, such as Zoom, to stay afloat.
Do you want to learn how to use Zoom like a pro? Are you wondering how to look your best on a Zoom video call? In this guide, we'll show you how to make the most of your Zoom video meetings.
How to Look Good on Zoom
The following tips should help you to look your best in your next Zoom video meeting.
1. Choose the right lighting
Lighting is the first thing to take care of. Whenever possible, make sure you sit facing a window during a video call. This provides natural light, giving you a sharp look on camera, while sitting with your back to a window could make your video look harsh.
In a situation where you're not near a window, you can set up small desk lamps behind your laptop and tilt the light toward your face to get it illuminated on camera.
2. Set your camera at eye level
It would help to position your camera at the same height as your eyes. Placing it low may make you appear like you've got a double chin.
3. Sit an arm's length away from the camera
Many cameras have a wide-angle lens. With that in mind, you should avoid sitting too close to your camera. Otherwise, it won't be able to capture your entire face.
4. Get dressed properly, not casually
Think about how you would dress if you were attending an in-person meeting. You don't want to look excessively casual. Take a shower and wear your regular work outfit. Strive to look more professional, especially from your waist up.
Wear nice-looking shirts with bright, bold, and solid colors, such as blue, red, and, white, which will show up well on camera.
Lastly, remove grease and sweat from your face with a sheet of blotting paper. This will prevent your face from looking shiny during the video call. You can also apply face powder to balance out your complexion.
Tips for Better Zoom Video Meetings
Now that you have polished your appearance for a Zoom meeting, you don't want anything on the technical end to spoil the show. The following tips and tricks will help you get everything right.
1. Run an equipment check
Orderliness during a meeting depends more on what you do in advance than on what you do during the event. For example, it's best to launch Zoom and run a background check on your mic and video camera.
Here's how to do that:
Launch your desktop Zoom app.
Click on your profile image and go to Settings > Audio.
Choose the appropriate output and input for your mic and audio and then test them.
Navigate to Video and select the appropriate settings for your camera.
Check for any rogue video effects or filters and disable them before an official call.
2. Integrate Zoom with your Google Calendar
You can use the Zoom for G Suite plug-in to add your meeting links to your calendar events. This helps to keep you abreast of your meeting schedule. What's more, you can also set reminders.
3. Use headphones and mute your mic
Headphones and a microphone generally improve sound quality, enhancing your video calling experience. Don't worry if you don't have a mic – a headset should suffice.
Also, basic video conferencing etiquette requires you to mute your mic when you're not talking or expected to give a prompt response. That helps to eliminate conflicting background sounds that may disrupt the meeting.
Here's how to mute/unmute your mic:
Click the microphone icon to unmute and mute your mic when necessary.
You can also use the Alt + A Windows shortcut.
Alternatively, you can hold down the spacebar key to unmute temporarily. This is best when you're in a noisy environment or you need to speak briefly.
4. Don't automatically join with video
Various organizations have their Zoom etiquette. If you're joining a new group for the first time, it's best to keep your video off. That way, you'll get to see if other team members have their video turned on or not.
Fortunately, you can set your Zoom app's settings to turn off video by default.
Here's how to do so:
Click the arrow next to "Start Video" to access Zoom's video settings.
Then checkmark "Turn off my video when joining a meeting."
You can also enable this setting for all participants when scheduling a new meeting.
5. Touch up your appearance
Touch Up My Appearance is a Zoom feature that adds a soft focus to video calls. It makes your skin smooth, eliminating blemishes. It also has a slider bar that enables users to regulate the video effect.
You can enable this feature before a meeting or while the meeting is ongoing. To activate it before a meeting, follow the steps below:
Launch Zoom and go to your profile image.
Select Settings > Video > Touch up my appearance.
Here is how to enable it during a meeting:
Click the up arrow next to the Stop Video button.
Then click Video Settings > Touch up my appearance.
6. Change your appearance
This Zoom feature is best for casual meetings or hangouts with your friends or family. It offers two sets of options – studio effects and video filters.
Video filters overlay your video's borders and images. You can create stunning effects that make you look different than you are. For instance, the feature can make it appear like you're wearing glasses.
Studio effects are more like virtual make-up. For instance, you can enhance your eyebrows, apply lipstick, or add a mustache.
This feature is only available on Zoom version 5.2.0 or later. Also, your computer must meet the recommended hardware requirements for video filters.
In any case, here's how to use this feature:
Launch your desktop Zoom app and go to Settings.
Select Background and filters > Video filters.
Then select Studio Effects in the bottom right corner.
You should see a panel with effects.
You can also add third-party effects and filters, such as Snapchat Filters.
7. Set a fun password
Every time you schedule a meeting, Zoom automatically sets a string of letters or numbers as your password. There's no need to set up your meeting on a dull note. You can change the password to whatever you want; however, your new password must not be longer than 10 characters.
It's best to choose a password that fits the theme of your get-together, such as an inside joke.
Most times, people joining your meeting don't need to type the password. It's often embedded in the meeting's secure link. But they'd likely see it, allowing them to start the meeting on a lighter note.
8. Create a Waiting Room
Have you ever been in a meeting where people barge in and out at will? That's called Zoom-bombing, and it can be distracting. If you're hosting a meeting, you can direct those joining the meeting to a Waiting Room.
Those in the Waiting Room need your authorization to join the meeting, which prevents Zoom-bombing. You can choose to either let your guests in all at once or one at a time.
However, the procedure for setting up a Zoom Waiting Room varies depending on your account type. If you're using a personal Zoom Pro account, you can add a Waiting Room when scheduling a new meeting from the Zoom app.
If not, you need to log in to the Zoom website to customize your Waiting Room. From the website page, navigate to Settings > Meetings > Security.
9. Create Breakout Rooms
Zoom has another exciting feature for handling large meetings, events, and classes. It is called Breakout Rooms. With Breakout Rooms, you can divide participants into groups where they can have a separate video call. However, only meeting hosts and co-hosts can create and manage Breakout Rooms.
Zoom has tools you can use to assign people to specific groups manually or at random. You also get to rename the groups if you wish. You can create Breakout Rooms for scheduled meetings before they begin.
You can also set a timer for participants to rejoin the main meeting after a specific period of time or let them do so whenever they like.
10. Use a virtual background to protect your privacy
With Zoom, you don't have to bother about the background of your meeting. It has a feature that either blurs your real background or adds a virtual background to your video, protecting your privacy. This feature comes in especially handy when you're in an untidy environment.
It also masks items in your environment, making the meeting participants clueless about your personal life. It works best when there's only one person in your camera frame at a time.
Zoom provides a blurred background option and a few virtual backgrounds to use. But you can upload additional images that best suit your virtual background choice.
However, whatever image you save remains unchanged in your next call unless you disable the feature, pointing out the importance of the first tip.
You can follow the steps below to enable this feature:
Before a video call:
Launch your desktop Zoom app and go to Settings.
Select Virtual background and choose your preferred virtual background.
During a video call:
Click the up arrow next to Stop Video.
Then navigate to Video Settings > Background & Filters > Virtual Background.
Then select your preferred virtual background.
11. Use the in-meeting chat
You can share Google Docs or links to other resources through Zoom's in-meeting chat feature. You should be aware that in-meeting chat content becomes inaccessible once the meeting is over or you leave the meeting. However, the meeting host can choose to save the in-meeting chat.
12. Share an app, not your desktop
With Zoom, you don't have to worry about your cluttered desktop. You can share a specific app, keeping your audience focused only on the material that you are presenting.
Zoom's ability to share a specific app instead of an entire desktop comes in handy when you're working from home.
However, if you're sharing a file, such as an InVision prototype or a Google Doc, through your web browser, it's best to hide your bookmarks. That will help protect your privacy.
If you need to send the files you're presenting to your audience, you can't do that through Zoom. Instead, you can use a secure and cost-effective file-sharing service called FileWhopper. This tool allows you to share files and folders of any size without compressing them on a pay-as-you-go basis. FileWhopper provides zero-knowledge encryption, meaning nobody will be able to access your data. The first transfer of up to 5GB is absolutely free, so do not hesitate to give this service a try.
Conclusion
We hope the Zoom tips and tricks discussed above will help you improve your video meeting experience. Did you find them helpful? Please leave a comment below. You can also visit our blog for more tips.