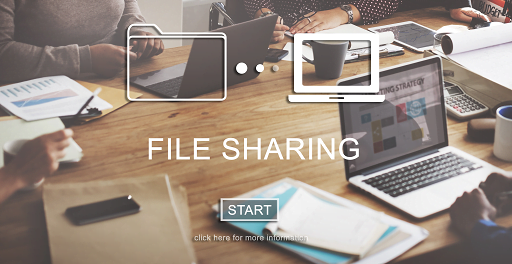 File sharing is a popular activity nowadays, with most businesses and individuals using this feature to improve productivity. Before we go any further, let's first define what file sharing is and how it works. Although regarded as a new feature by many, file sharing has been there since 2009. The number of vendors delivering this feature is also increasing day by day, as most companies and individuals begin to realize how beneficial it is.
File sharing is an act that involves the distribution of, or giving access to, digital media. Such media includes computer programs, audio, pictures, videos, documents, as well as eBooks. There are a number of ways to go about file sharing, such as cloud storage, transmission, as well as the utilization of distributed peer-to-peer channeling. It involves sharing of data on private or public networks that have different levels of sharing privileges. Here are the main methods used to accomplish file sharing;
Via storage devices such as USBs, external hard drive, etc.
Networks with a centralized file hosting server installed
Through hyperlinked data on the World Wide Web
Peer-to-peer network distribution
Note that file sharing is not the same as network sharing. File sharing involves sending of files to a particular device, such as a computer or smartphone, using the mentioned methods, whereas network sharing requires giving access to a network connection, so the connected users will have access to resources on the network.
How to Share Files Quickly?
There are two ways of sharing files quickly: device to device, or server to device. When you share files using the device to device method, the data being shared is sent directly to the recipient's device over a network. It is often referred to as peer-to-peer file sharing.
If sharing files between a server and a computer, the sender must upload the data to a remote server online. The intended recipients will then download the file from the server. At times, the senders may open the file to be available to anyone who visits the server or it can be restricted to be accessed using a link protected with a password.
How to Share Folders Via the Internet?
File sharing between a computer and a server is getting more popular than the other method due to its convenience. Unlike back in the days when the internet was only accessible to the elite, everyone now enjoys the privileges of being connected online. That makes file sharing between a computer and a server more convenient. Safety is always a concern, especially when it comes to sharing sensitive files. Therefore, it is important to know which platforms have safe servers to use.
File transfer software is the best and quickest way of sending files over a network. Distance does not matter when using this method; be it to a person overseas or someone sitting a few steps away from you in an office. Moreover, file sharing using on-demand software is straightforward and, in most cases, it does not require one to open and verify an account.
The good thing that comes out of using a server and a computer method of sharing files is that you get more than just sharing out of the service. It also comes with cloud-based storage. Remember, the file is not sent directly to the receiver, but rather uploaded to an online server which is where it will be stored and accessed by the intended receiver(s). Some services will want you to specify the amount of time you want your file to be stored, while others will provide you with a specific timeframe. Moreover, some services that specialize in both storing and sharing files, allow users to give access to files they want to share for a limited time. For instance, in your cloud storage, there is a file you want to share with a colleague. You can generate a link directing your colleague to the particular file, which will allow them to download it. The link will be active for a specified period of time, after which it will become inactive. The receiver will have their own copy, meaning whatever changes they make to their copy won't be visible to you.
Another feature that makes cloud-based storage a better way of sharing files is that it delivers high download speeds. You also get to upload the file once and the next time you want to send the same file to a different person, you just share the link to it without the need to reupload the file.
You can also share your files using the operating system on your device. Most operating systems come with built-in tools to make sharing of files possible. However, this method usually works best for sharing files over a local network.
How to Share a Whole Computer?
Let's say you are migrating to a new computer, but the old one has your important files and you also want to maintain the file structure you had on the old PC: is it possible to share the entire computer? Well, when a computer is part of a network that is shared, each and every file and folder in it will be shared. This feature cannot be done over cloud storage or P2P file transfer services, as they only let you select files individually. Therefore, a different method has to be used in order to achieve this.
Take for instance Windows computer file sharing. You can share your entire computer on Windows by activating the Admin Share feature, so anyone or any devices that are on the same network and use the same admin credentials can have access to the files on the computer. Another method includes the use of a remote access program to share all of the computer files. This feature, however, works differently from other programs, as it only shares the screen layout and not the actual files. This means you have got the ability to access another computer that you installed the remote access program on. This is a useful feature if you want to work from home, but you cannot take the work computer home. Instead, with the remote access program, you will be able to access the computer at work using your home computer and finish your work.
FileWhopper: Fast & Secure Means of Sharing Huge Data
If you want to share large files quickly and securely, consider the FileWhopper service. The platform does not require you to pay any subscription fees. You just use it when you need it, meaning you pay only for the files and folders you send, and move on with life. Here are some of the advantages of using FileWhopper:
1. It allows you to transfer files and folders of any size.
2. All user data is being encrypted and additionally protected with a password.
3. The service ensures the integrity and safety of transmitted data.
4. It uses proprietary upload/download apps that simplify the file transfer and make it quick, secure and effortless.