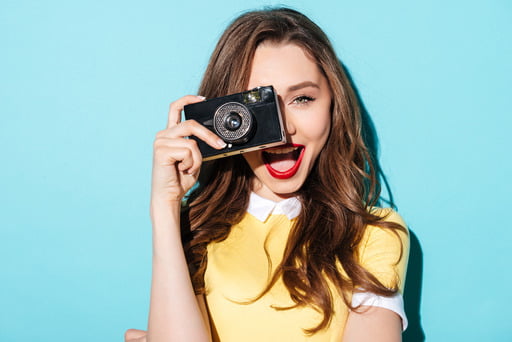 Buying a camera in 2021 is not an easy undertaking. With so many options available, navigating the market may be quite a challenge. Therefore, you might be wondering, "What is the best camera for photography in 2021?" Luckily, you've come to the right place. In this guide to buying the best camera, we will introduce you to the main types of cameras available and go over what features to look for when making your decision.
What Is Important to Know When Buying a Camera?
First, let's look into the main types of cameras that you will find on the market today:
Point-and-shoot cameras
Mirrorless cameras
DSLR cameras
Point-and-Shoot Cameras
Point-and-shoot cameras offer lots of flexibility as they can be many things. They can be compact, affordable and very simple or technologically advanced with long zooms, large sensors and a full set of manual controls. With that, there is one thing that all point-and-shoot cameras have in common — the original lens can't be removed from the camera. And this feature dictates the main pros and cons of this camera type.
One of the main pros of simple point-and-shoot cameras is the price. You can get an entry-level point-and-shoot camera for around $100 — and this can be a great option for those looking for a quick and easy way to snap photos without getting technical. With that, the quality of the images you will get with a simple point-and-shoot camera won't be much different from that of pictures taken with a good smartphone.
Another main advantage of point-and-shoot cameras is their compact size — as there are no heavy lenses to drag around, you can pretty much put the cam in your pocket and go about your day. This is also the main reason why a lot of people prefer to simply take photos with their smartphones.
If you are looking for better photo quality, an advanced point-and-shoot may be the way to go. Consider cameras that come with a 1-inch-type sensor (for instance, the RX100 series by Sony). These cameras will be substantially more expensive, starting at about $500 and going all the way up to a couple thousand dollars — but the price increase comes with a step-up in quality thanks to the larger sensor. The downside is that some of these types of cameras are quite larger — even though some manage to stay impressively compact, like the Sony RX100.
There is another category of point-and-shoot cameras — the ones that are even less compact but come with an extremely long zoom lens. They are also known as superzoom cameras. A good example is the Nikon P1000, which comes with a 125x optical zoom lens, which is the equivalent of 24-3,000 mm in focal length. Superzoom cameras tend to be quite bulky and often look very similar to DSLRs. With that, despite the larger size, they still come with limited photo quality because of smaller sensors.
There is also a smaller niche group of point-to-shoot cameras — rugged and waterproof cameras. These generally deliver lower image quality but can withstand more than your average cam: these are a great option for taking photos in places where you don't want to risk taking expensive gear (an extreme outing, the beach, a kayaking trip, etc.).
Summing things up:
Point-and-shoot cameras come with one non-detachable lens.
Sub-types: superzoom cameras, rugged/waterproof cameras.
Pros:
Friendly price tag (starting at $100)
Compact and lightweight
Easy use and no learning curve
Zoom options (better than on most smartphones)
Cons:
Low image quality (not much better than that provided by a standard smartphone)
Better point-and-shoot cameras are substantially more expensive (starting from $500)
Mirrorless Cameras
The name of these cameras pretty much gives away their main distinction from DSLRs — they don't have a mirror and also don't come with an optical viewfinder. Mirrorless cameras are meant to take the spot between point-and-shoots and DSLRs, delivering higher image quality and more creative options than the former without the bulk of the latter. No matter whether you are looking through an LCD screen or an electronic viewfinder, mirrorless cameras are always in live-view mode.
Pricewise, mirrorless cameras tend to be more expensive than point-and-shoot cameras — however, you will be able to find entry-level mirrorless cameras for less than advanced point-and-shoots. Prices for mirrorless cameras start at around $500 and can go up to several thousand dollars for high-end models. Most mirrorless cameras come with the resolution of at least 20MP, with more advanced models featuring over 60MP (like the Sony A7R IV) and even 100MP (Fujifilm GFX 100).
Summing things up:
Mirrorless cameras don't have a mirror or optical VF.
Pros:
Better image quality compared to point-and-shoots (at least 20MP)
Advanced models go up to 100MP
Cons:
Less compact and more expensive than point-and-shoots
The main difference between a mirrorless camera and a DSLR is that the latter comes with an optical viewfinder. While electronic viewfinders have improved significantly in recent years and have lots of benefits, there are still a lot of photographers who stay loyal to optical viewfinders. An optical viewfinder also makes for a longer battery life (as it uses less power), which can be another advantage of a DSLR over a mirrorless camera for some photographers.
When it comes to image quality, DSLRs are not necessarily superior to mirrorless cameras — it all depends on what camera model you go with and what type of photography you plan to do.
The one major disadvantage of DSLRs is their size — they are much bigger and heavier than mirrorless cameras. Another thing to keep in mind is that DSLRs are definitely not your friend when it comes to video — optical viewfinders are useless in video mode, and if you plan to shoot a lot of video content, it would be in your best interest to go with a mirrorless option.
In general, a mirrorless camera would also be a better option for first-time camera buyers when it comes to the price-size-image quality ratio.
Summing things up:
DSLRs feature optical viewfinders, which can be preferable for some photographers.
Pros:
Good image quality and lots of creative options thanks to the variety of lenses
A longer battery life thanks to the optical sensor
Professional shutter and focus speeds and full control over the depth of field
Cons:
Much bulkier than point-to-shoots and mirrorless cameras
Image quality is not necessarily better than that on similar mirrorless models
Not suitable for video shooting because of the optical sensor
What Is Important to Know When Buying a Camera?
There are several factors that you will need to consider when choosing a camera, but the most essential ones would probably be the following:
Your camera-buying budget
Image quality and creative versatility
Ergonomics
Camera Budget
In most cases, this will be the most limiting factor that will guide your camera choice — but it is also the one that can help you find the most suitable option. What's important here is to find the right balance.
Naturally, you probably don't want to spend all your savings on a camera. What's more, spending more may often prove to be counterproductive as you may end up paying for features that you might never actually use. Thus, the first thing you will need to do is make a list of features that you absolutely need your new camera to have and perhaps leave some room for a few extras that can help you grow as a photographer in the future.
While overpaying for a camera is not desirable, underpaying comes with issues of its own. With our smartphones capable of taking pretty good photos these days, buying a cheap entry-level point-and-shoot probably won't get you the results you want — unless you need this type of camera for a specific purpose or are shopping for a rugged model that you can take anywhere.
If you are looking for decent image quality, you should be ready to spend at least $500. On the other hand, you might be able to bring that down if you are willing to compromise on some features and don't mind looking into the second-hand camera market.
Image Quality and Creative Versatility
Basing your decision simply on the camera's megapixel count may not be the best idea. You will often see that point-and-shoots and DSLRs come with similar megapixel specs but deliver very different image results.
The physical size of the sensor is much more important when it comes to image quality than the pixel count: for instance, you will never get the same quality out of a point-and-shoot with a 1/2.3-inch sensor that you will out of a DSLR with a full-frame sensor — even if their MP count is the same. A larger sensor simply allows for more light, which results in less noise and better color and contrast.
Another important factor to keep in mind is the creative versatility the camera offers: mirrorless cameras and DSLRs that come with interchangeable lenses will generally give you more options and a better experience than compact models.
Speed is another factor to consider. It is generally not advised to get anything under 5 frames per second (fps). With that, don't go overboard on this as well — you may find cameras offering as many as 20 frames per second, but you probably won't need this much speed.
You will also need to look into image-stabilization options. Optical image stabilization (typically used on DSLRs) physically shifts elements within lenses to eliminate blur. In-body image stabilization, or IBIS, moves the sensor in response to vibrations and is used mostly on mirrorless cameras. Electronic image stabilization (EIS), on the other hand, is a software trick that helps you capture a less blurry photo but may lead to reduced image quality.
Ergonomics
This is not something you will be able to figure out by simply looking at a camera's spec sheet — and it's something easy to overlook, especially when buying a camera online. However, it is strongly advised that you try the camera out before committing to a purchase. It's not necessarily just about the size — you will need to see how the camera sits in your hand, whether it is heavy or light, how quickly it lets you get to the most frequently used controls, how the menu is structured, and so on. A lot of these points are subjective — and this is why it is essential to get your hands on the camera (pun intended) before you buy it.
Naturally, this is not an exhaustive list of factors to consider. Some of the other features you may want to look into include connectivity (Wi-Fi, GPS, etc.), optical vs. electronic viewfinders, video shooting options, shooting modes, RAW vs. JPEG image formats, interchangeable lenses, water- and dust-proofing, and more.
Bottom Line
As with most buying guides, we'll have to conclude with the popular "it all depends on what you are looking for" finale — with just a few simple pointers to sum things up.
If your budget is limited and you plan to spend less than $500 on a new camera, take a second look at your smartphone and consider if you may be able to do away with your phone's camera until you are able to spend more. In fact, some simple photo editing may help give your smartphone photos a more professional look and help explore your creativity.
If you want to take photography more seriously, consider getting a mirrorless camera or DSLR. You should be able to get a decent entry-level model within the $500 range. However, more expensive models will offer you more room to grow both technically and professionally.
After deciding what model suits you best, take time and explore available file-sharing options – you'll be sending and sharing your photos, after all. For our part, we recommend FileWhopper – a file-sharing service that enables you to transfer files and folders of any size without compressing them. With FileWhopper, you get to enjoy military-grade encryption and fast transfer speeds. Your recipient(s) can start to download your data as soon as you've started uploading it. One of the best things about the service is that you don't have to buy a monthly subscription to use it – just pay as you go. The fee depends on the size of your file or folder, and you can use our interactive price calculator to estimate how much you are going to pay.