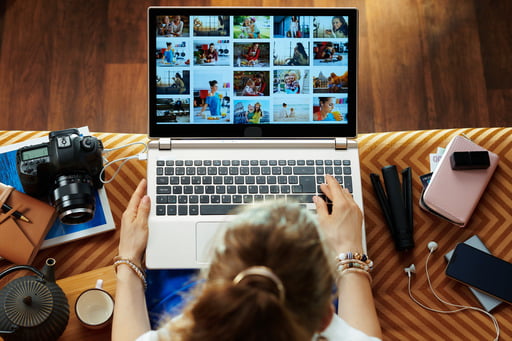 The ways we store and share memories are constantly improving. You no longer have to worry about losing your pictures in the event of a power outage, a fire outbreak, or any other form of disaster. Although physical hard drives have been a great storage option for humans, we are slowly swapping them for simpler and safer options that allow us to upload images to the cloud.
Nowadays many people avoid keeping large numbers of images on their computers. They prefer using cloud storage so that their devices can run faster and operate better. Whether you are an amateur smartphone photographer or a professional who shoots dozens of images per day, online photo storage is an easy way to free up space on your device.
With a photo storage platform, you can store all your pictures online and access them from any device – anytime, anywhere. Most platforms allow you to organize your images into groups, albums, and other customizable categories. While online photo storage is the way to go, keep in mind that the strength of your internet connection might affect how fast you can upload images.
Choosing the Right Photo Storage and Sharing Platform
If you're looking for the best photo storage option, the right thing to do is to ask yourself why you need one in the first place. There are dozens of online photo storage platforms, and the best application is the one that can serve your particular needs.
Here are some sample questions that you can start with:
Do you want to share images with friends and family or clients?
Are you looking to store RAW files or JPEGs?
How much space do you need?
Are you looking for a free storage service?
Are you willing to subscribe to a monthly or yearly plan for more storage space?
While many of these platforms have free plans, they place limits on the amount of data you can upload and additional features might only be available on their paid subscription plans. Some of these additional features might include the following:
The ability to store multiple file formats (RAW, DNG, JPEG, etc.)
File security features
The ability to upload images in their native size and resolution
Faster upload and download speeds
Mobile and remote access
Automatic backups
Image editing features
Social sharing
Search and organizational features
Sufficient storage space
To help you make the right choice, we have compiled a list of the best online photo storage platforms.
What Are the Best Online Photo Storage Options?
Flickr
Flickr is one of the best free photo storage platforms that offer extensive services for photographers. The platform is more like a community because you can display your photos for free. While you'll have to deal with ads on the free plan, this tier allows you to host up to 1,000 images. You can organize your photos, apply appropriate tags, and keep a clean gallery. If you would prefer to do away with the intrusive ads and the photo cap, you can choose to spend around $75 annually. The paid tiers also allow users to upload high-resolution photos without compressing them. However, Flickr doesn't support RAW files or PSD files.
500px
500px is another social platform just like Flickr. It is a community of over 13 million photographers who are likely to view your high-quality images and provide helpful feedback. However, the user interface is cleaner than that of Flickr, and the platform also supports RAW files. While all users can upload photos in the original resolution, the free plan only allows up to seven uploads per week (a seven-day period). Nonetheless, you can choose to go with the Awesome plan ($3.99/month): unlimited uploads; Pro plan ($4.99): showcase your photography business; or Pro + Adobe plan ($11.99): Adobe Creative Cloud Photography plan + integrations to Adobe Lightroom and Adobe Photoshop to get the most out of the platform.
pCloud
Many photographers love pCloud because it allows users to see the thumbnails and full previews of RAW files. There are mobile and web versions and even a pCloud drive for macOS. There's no doubt that pCloud is one of the best cloud storage platforms for photos and pictures. With its browser extension, you can save photos and videos straight to your pCloud account. You can go with the $95.88-per-year plan or the $350 lifetime subscription for 2TB of cloud storage. You also get social media integration features, customizable download links, direct streaming, automatic backups, and more.
Google Photos
While Google Photos isn't an exclusive platform for photographers like Flickr and 500px, it has proven to be an easy way for people to back up their photos to the cloud. That's why over 1.2 billion photos are uploaded to Google Photos every day. The app comes pre-installed on most Android devices and offers unlimited online photo storage for compressed files. Over a Wi-Fi connection, Google Photos automatically uploads new photos to the cloud; however, it will reduce image quality to 16MP and downgrade 4K videos to HD 1080p. Users can always delete backup files if they want to free up space. If you exceed the 15GB storage limit, you'll have to subscribe to Google One for additional storage space. At $19.99 per year, you get 100GB of storage; paying $29.99 per year gives you 200GB of storage; by paying $99.99 per year, you get a cloud storage space of 2TB.
FileWhopper
While FileWhopper isn't a dedicated photo storage platform, it's a great option that allows you to send large folders of images without the need for a storage subscription plan. It's suitable for photographers and freelancers who would love to transfer huge files and folders and only pay for the size of the item they intend to send.
[fwa-calculator]
With FileWhopper, you can safely and securely transfer files and folders of any size (1GB, 1TB, or even 10TB) and only pay a one-time fee based on the size of your transfer. Data transfers occur at fast speeds, and it's completely safe to send personal or sensitive information via the platform. Every transfer is encrypted with a unique ID and also password-protected. Any information you send via the platform can only be accessed by you (the sender) and anyone you give access to it.
If you're a new user, your first transfer of up to 5GB is completely free of charge. Subsequently, you can send files for as low as $4.99 for 10GB of data. What is more, your recipient can start downloading the contents of the transfer even before the data finishes uploading at your end.
Conclusion
The best photo storage platform is a service that not only helps you to conveniently store your photos in the cloud but also makes it seamless for you to share them with whomever you choose. You might also want to consider a storage service that allows you to access your photos from all the devices you own. You should also keep in mind that some advanced features are available only on certain platforms and plans on the market. While most photo storage platforms offer free plans, these additional features typically come with paid subscription tiers. Alternatively, you can use pay-as-you-go services, such as FileWhopper, that allow you to pay for the features you need when you need them.