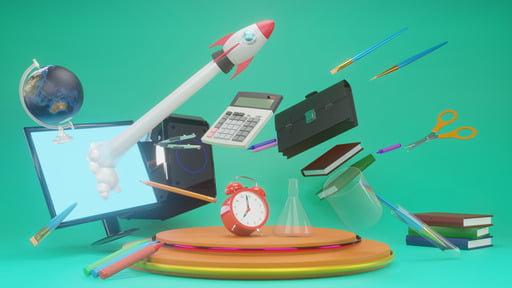 So much has changed in the wake of the global COVID-19 crisis. Apart from companies and businesses, schools were also closed. Parents, teachers, and students around the globe had to face the new reality head-on and devise ways to shift learning online.
But how can teachers/educators engage students, meet their learning needs, and maintain a robust student-teacher relationship? How can teachers hold meetings and conferences with parents to keep them informed about the progress of their kids?
Communication is key. Just like organizations and businesses depend on effective communication, so do learning institutions. Poor communication not only causes confusion among students, teachers, and parents but also leads to missed opportunities.
School-parent communication apps come in handy in such situations. These tools offer various uses, including verifying if students relay accurate information to their parents and reducing the chances of misinterpretation of information. These apps can also be used to notify parents about their kids' learning progress, behavioral problems, achievements, and so on.
So, what is the best way to communicate remotely with students? That's where technology plays a significant role. You see, communicating with students in a class (face-to-face) is the best way. However, now that it's not possible due to the stay-at-home orders, you have to rely on technology.
Luckily, thanks to apps that work on smartphones and computers, teachers and students can now communicate regularly and collaborate with ease, normalizing the learning process.
In this post, we are going to take a peek at some of the best tools that can make communication easier for teachers, students, and parents.
Bloomz
Bloomz is a free communication app specifically designed for teacher-parent communication, but it also makes it easy for both teachers and parents to engage with students. Parents only need to sign up to receive notifications in the app or via emails or texts. The app gives teachers control over a variety of options. For instance, they decide what information is shared with families and whether parents can communicate with each other or with teachers only, to mention a few.
Bloomz allows teachers to post daily notices and updates about any upcoming school events, organize volunteer help and item donations, and set up parent-teacher conferences. A new feature now allows students to upload pictures of what they are working on to keep their teachers and parents updated.
The app supports multiple platforms, including Android, iOS, and iPadOS.
Essentially, Bloomz is a one-stop feature-packed app that comes with lots of functionalities geared towards effective communication.
ParentSquare
If you're looking for a more versatile communication tool, ParentSquare may be your best bet since it offers one communication platform for district administrators, school administrators, parents, teachers, and even IT administrators.
It is a modern app, rich in features that are ideal for engaging and communicating with students, school administrators, and parents. The school administrator can send notifications to parents about conferences, organize volunteer sign-ups, send messages, request items, upload pictures, and organize fundraisers.
The administrator can even allow parents to download pictures from the website, upload images into albums, and post comments. Additionally, the school administrator and teachers can post updates about events in the app, making it easy for parents to stay up to date with everything that's going on at the school via the app. In case a student is absent, notices can be sent automatically via the app or web and parents have the option to excuse their child.
If English is not your strong suit, you don't have to worry. ParentSquare provides real-time translation into more than 100 languages so that you don't miss a thing. Plus, it guarantees the privacy and security of data transfer and storage.
Smart Alerts is another great feature that allows school administrators to send urgent alerts to parents and the entire community in case of an emergency.
Remind
Remind is a free messaging app that sends reminders about assignments, homework info, and other messages directly to students and their parents. Communication happens in real time, and parents get informed about the progress of their kids so that they can provide support and encouragement.
Teachers can send reminders with photos, links, texts, or voice clips to individuals or groups, reminding them of important upcoming events or a change in schedule. They can also make class announcements or send assignments and updates through the app.
The level of secrecy is top-notch, and all numbers are kept private. This ensures the confidentiality of each student. What's more, the messages can be translated into more than 70 languages for seamless communication.
In the past, Remind used to be a one-way channel. However, parents and students can now respond to messages, with the option to turn off the feature.
TalkingPoints
It's important for teachers to be able to communicate with families without having to worry about language barriers. With over 100 languages integrated into the TalkingPoints app, teachers can schedule or immediately send messages in the families' language. Parents, on the other hand, can respond with messages in their home language, which are automatically translated before being delivered to the teachers.
Messages can be sent to individuals, groups, or the entire class, with the option to include photos and videos. Additionally, teachers can conduct polls touching on various details like conference times and event dates and use the feedback to tweak the schedule or make other adjustments. The app allows parents to participate in classroom activities and engage with their kids more. Parents can opt to receive messages through the app or via their phones.
Seesaw
Seesaw is a student portfolio app where students get to post their best projects and easily share them with parents. Teachers upload Snaps (comments, audio or video recordings, or photos), and students can respond with Snaps to show their progress in learning. Seesaw encourages creativity in kids and allows them to share their work in various forms, including video, pictures, and documents.
Parents can also create accounts to view the progress of their kids, comment on their work, and even chat with the teachers. It's a great app that shows parents how their kids have been progressing in terms of learning. Plus, it gives kids a great opportunity to show the skills that they have gained and milestones achieved in school.
Teachers, on the other hand, can then use this information to assess each student and identify their weak areas, their strongest points, and their general learning patterns. In turn, they can discuss these issues with the students' parents during parent-teacher conferences to find the best way forward.
ClassTag
ClassTag is a messaging app that boasts of a personalized approach for keeping families connected. It comes with an array of useful features that make communicating with students' families easy. Teachers set up new accounts that come preloaded with a sample class containing sample content to start with.
Teachers can then choose to add parents directly or send an access code to parents who can use it to sign up and join the class. Both parents and teachers can customize how the tool sends reminders and email alerts.
ClassTag creates a platform where teachers can schedule conferences, remind parents of upcoming events or classroom needs, create announcements, request volunteers, and so on. Teachers can also view a weekly summary of their posts and analyze how well parents interacted with them.
Teachers.io
Teachers.io is a free tool that helps teachers organize and plan their classes and classroom activities for the week and share updates with students. Teachers can use the platform to set up everything for the class, including assignments, tasks, and essays. Once they are done, students must create their own accounts and select their class to see all the information loaded by their teachers.
Teachers have options to add tests, quizzes, announcements, and assignments for each of their classes, which are then automatically uploaded to the teacher's calendar.
Additionally, Teachers.io allows teachers to write down all the information that the students require. In turn, the students who use the app will no longer need to note down the assignments and test dates. They will find everything they need in the myHomework Student Planner app built into the tool.
ClassPager
ClassPager is a messaging tool that enables teachers to communicate directly with their students. It allows the use of multiple devices, including iOS and Android devices, where teachers can send reminders about tasks and tests to their students.
The tool also allows teachers to give students personalized feedback, which makes for effective interaction and engagement with students. Teachers can also use the app to organize volunteers, create polls, and update parents about their kids' progress and performance.
BookWidgets
Nothing motivates students more than learning through games. Developers at BookWidgets know this and have integrated over 40 digital exercise templates that work across multiple devices. Teachers can use the templates to create fun and interactive lessons for students. You'll find memory games, quizzes, jigsaw puzzles, and crossword riddles, among many others, which you can customize with your own content.
The tool automatically grades each exercise that the students participate in and has an option that allows you to quickly give feedback to your students. This feature saves you plenty of time that you would otherwise spend grading them.
BookWidgets allows teachers to monitor the progress of their students in real time, making it easy to detect students who are struggling and come to their aid.
Google Drive
When it comes to collaboration, Google Drive is your best friend. It makes it easy to share tasks, essays, and assignments with students no matter where they are located and work on them together (or separately using Google Docs).
Students can easily collaborate, and all the changes are made in real time, making Google Drive an even more effective tool for student-teacher communication.
Showbie
If you're a teacher, you know how hard it can be to assign work to your students and then separately collect and review their sheets. Showbie makes your work easier. It allows you to create classes and add students to each of the classes.
Showbie offers a platform where you can send assignments to your students and collect their work once they are done. If you want, you can also add your students' parents so that they can monitor the progress of their kids and also view the class arrangements.
The tool also allows you to create different groups that tackle different topics and add students accordingly.
Zoom
Mainly used for webinars and by businesses to keep their remote employees connected, Zoom is also an ideal tool when you want to communicate with the entire class as it is capable of handling large meetings.
In response to the COVID-19 pandemic, Zoom lifted the 40-minute meeting limit for basic accounts for K-12 schools in most countries.
Zoom is a useful tool for video conferencing that can be ideal if you want to hold joint meetings for parents, teachers, and students.
FreshGrade
If you're looking for a tool that provides instant feedback to students, look no further than FreshGrade. The platform allows teachers to assess their students' learning progress and offer timely feedback just like in a physical classroom.
The program provides a venue where students and teachers can have meaningful dialogues about specific tasks and assignments. Teachers can also invite parents into the dialogue so that they can get up to speed with the progress and performance of their kids.
During the class activities, students and teachers can use their devices to capture video, audio and photos, create documents, and manage classroom work. They can then use the information to create an e-portfolio documenting their learning process.
Teachers can also use the tool to generate progress reports and share them with parents and students via push notifications.
Conclusion
The success of any learning institution relies heavily on effective communication between teachers, parents, and students. The above-mentioned tools foster engagement and collaboration. Subsequently, all the concerned parties are kept in the loop on everything that's happening in the school.
Parting shots
One thing that's vital for teachers, students and parents regardless of the messaging tool that they choose is file sharing. We understand it can be really challenging to quickly send large files and folders without paying an arm and a leg. What if we told you it was possible to do that without exerting much effort? FileWhopper not only makes the file transfer process a breeze but also takes the security of your data very seriously.
The best part is that you can transfer files and folders as large as 10TB, and you only pay for what you are transferring - and we can assure you, this is cost-effective. With FileWhopper, there are no monthly subscriptions. Plus, you get free storage for up to 14 days (which gives your recipient(s) enough time to download your data).