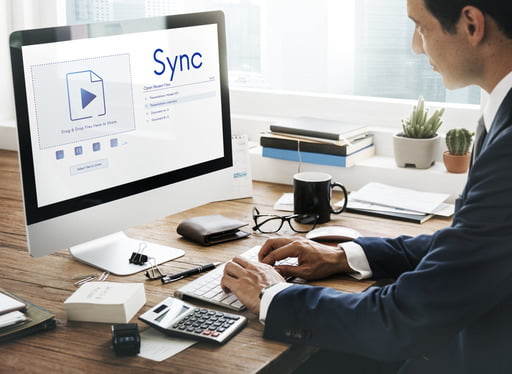 Learn more about file sync software in 2020 and 2021.
File syncing apps are the best way to keep your files backed up and up to date across multiple devices. A file syncing application offers a convenient means of automatically synchronizing your information in files or folders across more than one gadget. This way, you can log into any of your devices to access, edit, stream, copy, and much more and save the changes across all your devices. You can start working on a document from a PC, save it, ensure file syncing is complete, and continue working on your document from your phone while on the move. And it will be just the same as if you were working from the PC on which you initially created the document.
Deciding on what the best file sync software is in 2019 depends on a number of factors. These depend mostly on the information that you would like to sync: it matters whether it is files, documents, videos, etc. Also, the best 2019 sync software depends on the occasion, that is, will it be for professional or personal use? Read on to further understand these apps and find the one that works best for your needs.
If you would like to access your files anytime, anywhere, Dropbox is what you use. This application has been around for the longest time and is trusted as a backup and storage service provider. What you might have missed about Dropbox is how to sync folders between computers easily using one Dropbox account. Enabling you to manually set the bandwidth limits, Dropbox comes with a thirty-day period of undo history that allows the recovery of deleted files. For those premature decisions, you have a lifeline when using Dropbox. To back up any of your files or folders, just upload them into your Dropbox while online. You can easily access anything from another computer and even download and continue working, editing, and so on. Dropbox makes your work easier by replicating any file or folder created on one computer across all computers and mobile devices connected to your account. You can find a lot of articles discussing Dropbox and how to get the most out of this platform by reading online.
The only downside of using Dropbox is that all files need to be stored online first before they can be synced. Also, to download, you need to be online. But for the most part, Dropbox makes working across several devices super easy with the sync feature.
This file syncing tool comes with lots of options. For a good range of options and flexibility, consider using GoodSync as your favoured syncing application. It is one of the best in the industry and provides support for various folders from different locations. In addition to your PC, you can connect to other locations such as FTP servers and other cloud storage services. In the absence of online activity, GoodSync still works but functions as a P2P file sync program. The free version has quite a large range of what you can upload and sync. However, to open the full range, you need to buy GoodSync, and this will come with the full-house features.
This file syncing app is one of the best currently on the market. The only challenge that might come with GoodSync is that there is so much goodness that it's easy to end up being confused about what and how to select exactly when using GoodSync to sync your information.
For an option to sync with online storage accounts, go with SyncBack all the time. SyncBack is one of the best applications to install across your devices to synchronize and create backups. It's totally free if you don't need the extra features, and best of all, when using SyncBack, you can sync a variety of folders, including, but not limited to, Amazon Drive, FTP, Google Drive, Backblaze, Dropbox, SugarSync, and OneDrive. SyncBack, in each one of its versions, offers a specialized selection of features. You can select from a list including SyncBackFree, SyncBack Lite, SyncBackSE, and SyncBackPro. You get to do all the basics while on SyncBackFree. If you would like to get support in copying locked files, consider using SyncBack Lite. For professional business use, consider SyncBackSE as it includes incremental backups, has file versioning and supports a USB app. Use SyncBackPro if you are mainly after saving to DVD with disc spanning and storing emails.
If you want to sync to another computer that's not in your network, you might experience some inconveniences on this application. But there is SyncBack Touch to pave the way. Also, if you're syncing from macOS or Linux, you can only use SyncBack Touch.
Resilio is the answer to the question 'What is the best free file sync software available for free when syncing any folder with any other computer?' Resilio is a P2P syncing program. To sync anything, you need to pick folders on your computer and select them to sync to your other devices. For example, you can select the Music folder to sync all your music across all your connected devices. Carefulness is required when using this app. Accepting a folder share gives the option of picking which folder is used to download the files. Any changes made are reflected back to the original computer's folder. This is actually good because each folder comes with its own permissions, and you can choose to either Read Only or Read and Write.
The only downside of Resilio is that all syncing and other activities are done offline. Thus, you cannot access your files from a web browser.
If you are searching for one of the best 2019 software tools to sync two local folders, then SyncToy is your solution. It has a little bit of this and that presented by Dropbox, Resilio, and GoodSync. You can keep two folders in sync but cannot span across multiple networks. This makes SyncToy excellent if you would like to share a folder between two locations on the same network. For instance, you can choose to save on your local hard drive and external hard drive or flash drive. You can use SyncToy for any file that you constantly use and update in a case where you would like every change to be implemented across the network.
SyncToy tends to be limited as it works only on Windows 7, Vista and XP. Also, note that with this app, it's impossible to sync to computers outside your local network, so it is best used for local network syncing.
Note:
All these syncing apps are free for the most part. For an individual's day-to-day use, the services are sufficient. For professional use or storing massive amounts of data, you have to pay the monthly subscription fees.