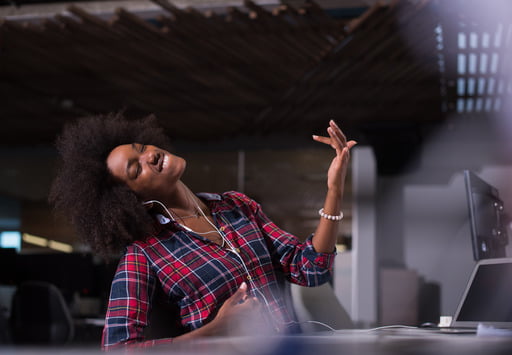 Pause for thought; "What is the best storage device for music?" Well, there is no one correct answer to this question. Essentially, the answer depends on the one interested in creating the backup and their knowledge of technology and backup methods. If you store all your music on your local computer storage drive, then you run a risk of losing it, should anything happen to your PC. 
Purchasing original music is expensive, and yet some stores don't provide a storage or backup facility that keeps your music after purchase. If purchased music gets lost, there is no way of redownloading, you will have to repurchase. We have listed some of the popular means of storing digital music. Find the one that works best for your needs and according to your understanding of technology.
1. Cloud Services
You have most probably read a lot of articles that teach you about cloud storage and what it is exactly. But you might have overlooked the fact that you can use cloud storage as your digital music library backup. With cloud storage, you can select from those offering free storage to those providers that require you to buy storage. Whichever works best for you, as long as there is enough for your music library. Once you have a music library on cloud storage, you can download your music on other devices. Meaning you can play the same music on your desktop at work, your phone as you commute and your personal PC as soon as you get back home. Some of the popular cloud storage platforms include:
Dropbox
Google Drive
Microsoft OneDrive
Amazon Cloud Storage
Although cloud storage is excellent and provides you with the ultimate storage solution, it can prove expensive once you run out of the free data space offered. Also, in the event that your cloud storage provider closes, you lose everything. 
2. Use USB Flash Drives
If you're still interested in how to back up a digital music library, you're most probably not happy about cloud storage and need other means. You can use the sturdy, durable and difficult to damage USB flash drives. Now, to solve the riddle: "How do I back up my music library to a flash drive?", USB flash drives are quite affordable and over the years have become easier to access and use. They come in various sizes. You can get a drive from 1GB to 64 GB and even beyond. In case you have hard-to-find music, you can create more than one flash drive music backup. That way, it's easier to always have your favourite music library.
USB flash drives seem like the best solution for more music lovers looking for fast, convenient and affordable means of backing up their music library. The only issue is that since these tend to be small, they can also be easy to lose. Others can also steal or overwrite your music in a jiffy, if they come across an unmarked USB. 
3. Back up to an External Hard Drive
The best way of creating backup not just for your music but your entire PC is using an external hard drive. The most popular size of external hard drives is 1 Terabyte and they are quite portable. They also carry a lot, so yes, in addition to creating a backup of your important documents and work files, you can also have a folder for your music, pictures and other items. This is the way out when using a non-networked computer and also looking for a long-term solution that will cost you once but prove worthwhile in the long run.
The downside to using external hard drives is that these are prone to physical damage. Once damaged or physically compromised, everything stored on the external hard drive is destroyed. Also, to use it for storage, you will need a USB cable to access the files between the external hard drive and the PC or phone, or another similar device. 
4. Back up to a Floppy, CD or DVD Disc
If the above three solutions don't give you peace of mind in your quest for how to set up a digital music library, then this one might just do the trick. CDs, DVDs and Floppy Discs were once popular at some point. But these are quickly aging and being phased out and yet they remain reliable, cheap, fast and easy to use as a means of backup. Safe from hackers, these methods are still supported by modern popular software media players such as Windows Media Player and iTunes. You can burn music directly from such media players onto your CD or DVD. 
Be prepared with another copy as these are easy to scratch and break. Also, new computers are phasing out the CD slot, so you might find yourself struggling with full utilization.