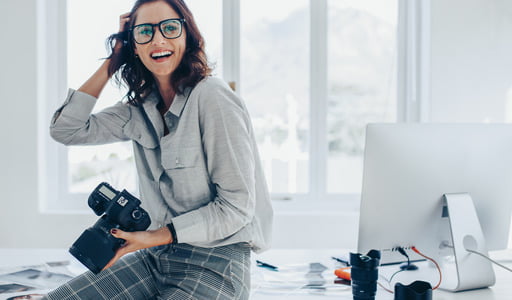 In this modern-day era, everyone has turned into a photographer thanks to the ever-evolving cameras on smartphones. Although we take pictures for memory's sake, there is still that inner desire that compels us to share our beautiful memories with others. It is in human nature to share what we go through, be it good or bad. Therefore, no wonder why photo-sharing platforms are flourishing. There are plenty of platforms that allow users to share and save their precious moments and turn them into albums or books. Most of these platforms are free and provide a great environment to show off some of your best memories. Moreover, some of the platforms will even let you sell some of your photographic arts and make a fortune.
To come up with a list of the best platforms that you can use to upload your favourite photos, we browsed through the internet, testing many photo-sharing platforms. We checked various features provided by them, such as the ways you can tag, organize, share, and print the photos. The ultimate goal of our test was to figure out which site has the best interface with the most useful features.
Regardless of the method that you choose to rank photo-sharing sites, Flickr always takes the trophy. There are a bunch of reasons why it comes out on top, and they include its fair prices, excellent features to organize your photos, and the provision of an easy-to-use platform when sharing photos.
Flickr
Flickr is one of the oldest photo sharing websites in the world. The site has some of the best community features, and since it is the most popular in the industry, you can expect to reach a larger audience with your content. The platform stands out from the rest because of its selection of tools and the large number of people visiting it. What makes the site perfect is that its huge community is open and welcoming to anyone regardless of their skill level. From casual to professional photographers, the community encourages anyone to share their photos without the fear of being judged. With privacy options available, before uploading your image, you can select who can see, comment, tag, or even download your photo. With smooth integration with other social platforms, such as Facebook, Twitch, and Tumbler, it's easy to share your pictures with large audiences.
There are more tools to help you improve as a photographer. Flickr shows your image's metadata to help you learn from experts. Its user interface is straightforward and user-friendly, so it won't take much of your time to get the hang of it.
When it comes to price, users get the liberty of selecting a free account that lets them store up to 1000 images or they can choose a paid account with unlimited image storage. The cost of the paid account is $5.99/month ($49.99/year).
Note: In April 2018, the Flickr brand was acquired by SmugMug. If you are a veteran Flickr user, then you will recall that before the brand was bought by SmugMug, users with free accounts had 1TB of space. However, that changed after the acquisition and excess images got deleted to ensure that each free account is limited to 1000 images. Therefore, although the new free package may still be good, especially to new users, it comes as a far cry to old users who remember the massive storage space that was once offered.
Price: Free, paid
Storage: The free version – 1000 photo uploads, the paid version – unlimited photo uploads
Platform: App, web
Instagram
When it comes to instant gratification, Instagram is by far the best thing that can provide it. Instagram manages to deliver a platform that is simple yet sophisticated. It allows users to share their photos, clips, and videos effortlessly. It's easy to browse through the platform and comments. Moreover, you can chat with other users privately via DM (direct messaging feature). The platform lets you share images from your mobile devices anywhere you are. There is also a story mode feature that lets you post images or small clips that will vanish within 24 hours. If you want your stories to stick around, then you can upload them as Highlights.
Instagram also delivers amazing filters that allow users to instantly edit their photos to make them more appealing before posting them. With over 1 billion monthly active users worldwide, Instagram is a platform of opportunities. By using hashtags and paid advertising techniques, you can get more exposure to your content. Since Instagram is more into the social scene than the storage of images, it doesn't provide a direct way of downloading photos. However, other free trusted apps function to cover that gap as they integrate well with the app to help users download their images.
Price: Free (with the option to pay for advertising)
Storage: Unlimited
Platform: App, web
Google Photos
Google Photos provides the best option to back up photos anytime, anywhere. The platform was designed to deliver backup services for photos and videos taken using smartphones. However, over the years, the platform has evolved into a photo editing and sharing service. Uploaded photos can be edited, clipped, and filtered. Once done, you can then organize photos into an album or share them publicly or with specific users.
Google Photos keeps on getting better and better as it evolves with technology. For instance, it now has got a facial recognition tool that can identify faces in your photo. This means if there is a friend that has a Google account in your photo, the feature will pick them up and suggest you tag them. Moreover, other useful features include the ability to colourize images that are in black and white.
Google Photos is free and comes with unlimited storage space. Although there is a catch to all of it, it's something that you can handle. For instance, one of the obstacles is that your image quality cannot exceed 16 megapixels and the video quality must be 1080p or less. It sounds bad because no one likes to be limited; however, the limit does accommodate most of the smartphones and digital cameras. If you need to save high-quality photos or videos, you can simply get 100GB of storage for as low as $2/month. With the added space shared across your Google account platform, which includes Google Drive and Gmail, things are starting to look better.
Google Photos is amazing, especially if we are to consider the automated backup system that makes your photo upload experience effortless and helps to free up space on your smartphone. The app also notifies the user if their phone is running out of space, prompting them to back up and delete some of their photos and videos.
Of course, that is not everything Google Photos offers to make the user experience thrilling. The app also provides various features, such as tagging photos with location, date, and other information, which makes it easy to find them. There is also an image recognition tool that comes in handy when sorting your photos according to the people, pets, and objects in them. Google Photos also comes with an assistant feature that creates photo albums, collages, movies, and animations automatically.
Price: Free, paid
Storage: The free version – unlimited storage for up to 16-megapixel images, the paid version – unlimited for full-quality photos
Platform: App, web, desktop app
Share Extremely Large Files & Folders Easily with FileWhopper
No one likes to compress their files or folders before sharing them – especially photographers. Most of the photos taken with modern cameras and smartphones are high-quality pictures, which makes it difficult to share your amazing work without compromising on quality. Fortunately, FileWhopper comes to your rescue as it delivers a user-friendly platform that lets you share extremely large files and folders without paying for any monthly subscriptions. FileWhopper only requests a one-off payment based on the size of the file or folder you want to share. Your data is protected using high-end encryption technology. You can share large files and folders in the blink of an eye thanks to the tool's client app that helps upload large amounts of data at lightning speed. Moreover, the site provides free storage for the uploaded files or folders for up to 14 days. The recipient(s) can download them during this period. However, in case there is a need for an extended timeframe, the storage period can be extended to 90 days upon request. Here is how the system works:
✅ Choose the large file or folder you wish to share and receive a price quote based on its size.
✅ Download and install the FileWhopper App to upload your data fast and securely.
✅ Copy the link to the uploaded data and securely share it with the intended recipient(s). Although your order includes one download by default, extra recipients can be easily added.
✅ Safely share the password needed to decrypt the file or folder with the recipient(s).
Photobucket
With a vast collection of professional tools that can be used to edit and share photos, Photobucket provides you with a platform that is designed to help any user become a professional photographer and make a fortune selling their photography arts.
Photobucket allows you to show your photos on third-party sites easily. This is a useful feature, especially if you like sharing your photos on social media sites with no ideal photo uploading features.
You can get a free or paid Photobucket account. The free account lets you upload up to 250 photos, which isn't that impressive compared to Flickr's 1000 photo uploads. On top of that, the free version comes with intrusive ads and pop-ups. That's a serious turn-off if you are looking for a convenient free photo-sharing platform.
The paid version comes in 3 forms, with the first one (Beginner) being the basic plan and requesting a subscription fee of $5.99 per month while providing 25GB of storage space. The Intermediate plan demands a monthly subscription fee of $7.99 while delivering 250GB of storage space. The Expert plan provides unlimited storage at $12.99 per month. However, the platform runs periodical promotions that allow users to pay less for the selected option.
Price: Free, paid
Storage: The free version – 250 photo uploads, the paid versions – from 25GB to unlimited storage space
Platform: App, web
500px
This site was founded back in 2009, the same year the famous social media platform Facebook started. The site was initially launched as a platform for aspiring photographers seeking to share their content with other photographers, advertisers, and publishers. It has now grown into a full-scale platform that lets users license their work so that they can get a royalty each time a license is bought to use their image.
500px is only for serious photographers. It offers a plethora of tools that help turn your images into fine art. The tool provides an elegant method of showcasing your photos, and images can be organized according to events or themes.
The 500px free version is not that bad compared to what is offered by other paid brands out there. On a free account, the user is limited to 7 photo uploads per week and can store up to 2000 images in total, which beats the 1000 mark set on Flickr. The paid account comes in 3 versions:
✅ Awesome for $3.99/month. Users get unlimited uploads.
✅ Pro for $5.99/month. Users get unlimited uploads and more customization options.
✅ Adobe for $13.99/month. Users get unlimited uploads and full-scale customization options and listings in the 500px's directory. Moreover, users receive an automatic subscription to Adobe's Creative Cloud Photography Plan apps.
Unsplash
Unsplash defines the very best of stock photography. The site is packed with beautifully displayed high-resolution photos. The photos are uploaded and shared by both casual and professional photographers that have a great vision. Most, if not all, of the images posted on this site are royalty-free, making it one of the best free markets when searching for beautiful photos. The only thing that is requested by photographers is giving them credit, which helps them gain exposure.
The platform provides a great environment that helps talented photographers to gain exposure and collaborate with bloggers and small businesses. Photographers are limited to 10 uploads per week, which makes the site ideal for sharing and not for storage and backups.
Price: Free
Storage: 10 photo uploads per week
Platform: App, web
Get any of these fantastic photo-sharing apps or visit their online platforms to experience their functionality. Of course, you cannot use all of them, but one of the platforms described above will most likely become a new home for your photos.
Still hungry for more useful information on the topic? Check out this page if you want to stay tuned and read our best articles on social network trends!