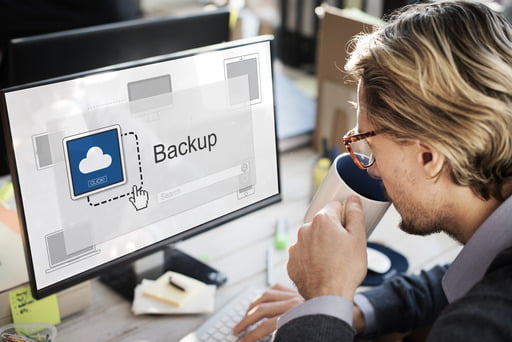 Backing up your data is the only way of ensuring that nothing gets lost. Documents and files can easily be retrieved from the place of storage. Somehow, we are always reluctant to back up our data on the PC. For the most part, some of us don't really know how to back up data on a Windows-based computer. We have a list of the best five ways you can use to back up your data.
Read through and select the best method to suit your needs. Some of the techniques in our list are online based, while most support backup offline. Your best bet in countering the cons presented by each technique would be to concurrently run two backup methods. 
1. Save on an External Hard Drive
You don't need to be a rocket scientist to figure out how to back up data on a Windows PC to an external hard drive. This is hands down the easiest method on our list. And the best part is, if you get the right software to couple with this method, your data can be scheduled to automatically back up as you work. 
Get the right size of portable hard drive and connect it to your computer. The traditional external hard drive had a wiring connection. However, the latest now connects via USB 3.0 capabilities, provided your PC also has a USB 3.0 port. If this is not the case, don't stress, use the wired device. Check for the one that you can easily understand and use to back up your data. 
The downside to using hard disk drives is that:
It can easily get damaged, lost or stolen as they are physical items. In case of fire or bad weather, they can be destroyed alongside all stored information.

It runs a risk of experiencing technical or physical failure.

Large-capacity solid-state drives can be expensive, especially if you have a lot to back up.
2. Save on a USB Flash Drive
The ins and outs of how to back up data from Windows 10 to a flash drive are similar to those of storing on an external hard drive. The difference, which happens to be the main advantage of USB drives, is that they are more compatible and can be stored in the pocket and carried around. Over the years, USBs have improved by increasing the storage size while reducing the prices making them easier to access. Available in USB 3.0, they make storage a simple process. You can hang a USB around your neck to easily use it to either store data or retrieve it as you work.
The downside to backing up on a USB include:
These tiny units are not always durable.

Can be easily misplaced and, by nature, suit backup for a short time.

Has a lot of restrictions because of capacity limitations.
3. Burn Data to Blu-ray, CDs or DVDs
Once upon a time in the early 2000s, the burning of data to CDs, DVDs or Blu-ray discs was the best means of backing up data. Those discs were super easy to use and understand. Although there has been phasing out with the introduction of new and easier means of storing data, the golden generation still prefers backing up on Blue-ray, CDs and DVDs. These are excellent because, in the case of drive failure, they are not affected. You can safely store each CD or DVD in a second location and even lock it up.
The misgivings of this method include:
Data can be easily lost when another person mistakenly uses an already recorded CD to store new data, thereby writing over the existing files.

Can be time-consuming and difficult to manage the backups.

Rather limited as some modern and most future equipment no longer includes a drive to handle CDs, DVDs or Blu-rays. 
4. Save it to a NAS Device
Most people don't know how to back up data from Windows OS to a NAS device because they don't understand how it works. Network Attached Storage (NAS) is a server dedicated to saving data. It operates either wired or wirelessly depending on the drive and your PC. Once a NAS is configured, on your computer you can view it as just another drive. An excellent form of backup if you would like to back up data from several computers at once. NAS can be set to auto backup too.
Disadvantages that come with using NAS include:
High possibility of drive failure – translating to loss of data.

Can be pricey.
5. Upload on a Cloud Storage Service
The easiest and most used form of backup nowadays is cloud storage. On Google, the top search is for: "How to backup Windows PC to an online storage platform?"  there are a lot of reasons why one would prefer keeping data in the cloud. To begin with, there are a lot of cloud storage options to select from. Most of them come with free space and you can always upgrade for more. Cloud storage offers safe transmission of data that is secured in a remote location. All you need to keep it in the cloud is to work while online and you can access stored data from anywhere with internet access. 
Some limitations of cloud storage:
There is always the risk of a site closing with all your data.

Free storage offers limited space.

You need internet to access or back up your data.