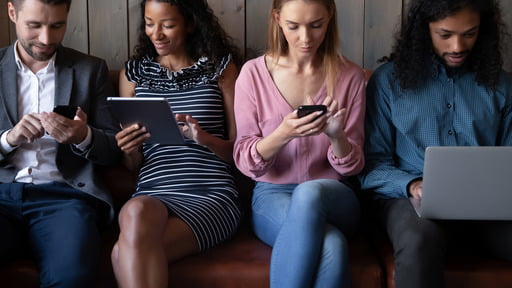 When all social media platforms are put together, Facebook is at the top of the pack. This platform is arguably the most inclusive, extending to all age groups. Most of us have personally used it or know someone active on Facebook. With the introduction of Facebook Messenger, an app used for sending and receiving instant messages, the platform increased its user base even further. Given that there are currently over 1.3 billion users active on FB Messenger, you surely need to use the app to achieve better visibility.
Ever watched or heard of the show Ripley's Believe It or Not? Well, it still is one of the most-watched shows to date because it shares some of the most amazing, mind-boggling facts and events. This article looks like an excerpt from the show. We have searched high and low to compile and provide you with the top 20 valuable Facebook Messenger 2020 facts that are mind-blowing and insightful.
Knowing Facebook Messenger a Little Better
Before starting to use any service or product, the least you can do is find out as much as you can about it. You're here to get to know FB Messenger, so let's get right into it:
1. You can have a group voice call using FB Messenger
You don't need to just jump on the bandwagon of being social by downloading Facebook. You can download its sister app, Messenger, to enjoy the feature of group voice calls. This is an excellent feature that allows the initiator of a call to add up to 50 participants to the call. The feature gets constant updates, and this makes processes easier for big companies that might want to rely on the Messenger app for their meetings that don't require physical meetups. But for the best results, you should most probably stick to fewer participants per call as network issues might pose difficulties when more people are added.
2. Express yourself easily using the huge collection of Messenger reactions and the Mentions option
The introduction of 'emoji' was a game changer to the way we use Messenger. Those that had always been people of few words suddenly found themselves able to express their thoughts better just by clicking one button. Emoji are a representation of the most possible reactions one can have to a particular post or message. Take this opportunity and use it to show your friends and family what you think without typing a string of words. Also, you can easily rope a new participant into a conversation by using 'mentions' to add their name.
3. You don't need to have Facebook on your Android device to download and use Messenger
In the war between iOS and Android users, this feature first pleased the Android crew. When Facebook finally managed to make Messenger independent of FB, this option first came into use on Android phones, but it is now also available for iOS devices. To get full access to and start enjoying Messenger without first downloading FB, one only needs their name and phone number to sign up. You're not obliged to download FB and have it just because you want to get and use Messenger's features.
4. Easily share your location using FB Messenger
One of the most argued-about features that our smartphones come with is the sharing of live location. While some argue that this is beneficial and an excellent feature, especially for women, others believe that this is how perpetrators easily locate their victims. Whatever the case is, sharing one's live location can be a good thing, especially when carefully used. Number four on our list of fascinating Facebook messenger facts is that in 2015, Messenger enabled location sharing and had improved it by 2017 to make it possible for anyone to share their live location.
5. US users can enjoy "M", the app's virtual assistant
Messenger users in the US can get the most out of the app. Using a virtual assistant known as M, which was introduced in 2017, it's possible to scan for keywords on chats. Thus, if in the US, one can use M to scan chats using particular keywords and get suggestions about relevant actions to take afterwards. For example, if a message reads, 'let's meet at the nearest restaurant', M will suggest the restaurants closest with the help of the live location feature.
6. There is a special day set aside to celebrate the app – Messenger Day
Well, fortunately for you, each day can be your Messenger Day. Now known as Stories, Messenger Day used to be a feature that enabled users to share their day on Messenger and have the photos and videos disappear after 24 hours. Users could add anything, such as videos and photos. But there was still room for improvement, and Messenger Day seemed to present some serious limitations that needed to be solved. As a result, the feature was merged with Stories and is now the most popular feature on the app.
7. Get more from the enhancements added for bots available on Messenger
The 2017 Facebook annual conference resulted in the announcement of several enhancements for bots that were introduced on Messenger. The following year, Facebook introduced Chat extensions, enabling the usage of other apps, such as trip booking, music playlists, and games. Some chatbots deliver chat notifications. As a result, anyone on Messenger can now get super easy updates on news, sports activities, weather, and any other activity they choose to subscribe to or activate. Most people don't know of the QR scan, but this is the most useful messenger bot. Using it, you can access QR codes by activating your phone camera. FB also introduced Discovery, a feature that keeps a list of recent categories, trends, searches, and even bots.
8. The number of social media users increases globally, and so does the number of Messenger users
According to Statista, in 2018, 2.65 billion people were using social media platforms globally, and this number is expected to have reached 3.1 billion by 2021. Digital markets are increasingly growing, and this is having a direct impact on the growth of social media usage. The use of social media also impacts other industries. For instance, smartphones are becoming more and more affordable. Also, infrastructural development is getting faster in most countries. The global penetration rate of social media keeps on increasing, with more and more new subscribers joining social media platforms daily. Also, the number of smart gadget owners per household keeps on increasing, meaning that there will be more new social media sign-ups in the next months.
9. Globally, over 7 million businesses use Facebook to attract audiences and boost sales
At the time of compiling this list, Statista published that over 7 million businesses were using Facebook to attract target audiences. This was a significant increase from the 4 million companies reported as of 2016. With the recent global shutdown due to Covid-19, it is obvious that these figures have increased and will continue doing so as more and more businesses are moving operations from physical locations to remote online offices. There has also been an increase in the number of businesses creating their Facebook business pages. In fact, each business needs its own Facebook page to expand both locally and globally.
10. Get the most out of Facebook's hardware known as Facebook Portal
Number ten on our list of top 20 valuable Facebook facts is that the app now has hardware: Facebook Portal facilitates Messenger-based video calls and is also integrated with Amazon's assistant Alexa.
11. There are over 2.4 billion active Facebook users recorded each month
This number is largely due to the fact that there are a lot of smartphones and acquiring a smartphone has become easier. Facebook is huge mostly because the number of smartphone users is huge. Almost everyone carries their smartphone wherever they go. While waiting, it's easy to log in online and start browsing. Social media is even easier to get hold of and get the most out of because there are apps that, once downloaded and signed up for, can lead straight to the account you want to access.
12. Facebook Messenger enjoys over 1.3 billion users each month
FB Messenger is an essential app. Used both personally and professionally, this app helps people to get more done in simple, easy steps. Based on Statista, Messenger is closely behind WhatsApp when it comes to usability and the number of active users on the platform. You can take advantage of this statistic and try to reach as many people as you can by directing your correspondence to individuals on the platform. Instead of just posting on your News Feed and hoping that as many people as possible see the post, you can communicate directly and rest assured that your post is going to the direct target.
13. Over 1.4 million users have accounts registered on Messenger Kids
Like it or not, kids have a significant impact and effect on the digital world. And Facebook Messenger seems to have taken note of this little fact. There is a FB Messenger app specifically adapted to suit the little users of this app. And it works perfectly. Parents control what their kids can access as they use the app. But the bigger picture is that these kids grow up using Messenger and chances of them sticking to the platform even when they can make their own choices are higher.
14. FB Messenger has noticed about 10-80 times better engagement compared to email
Once upon a time, emails were the fastest means of communication. Now, this is all history, and like their ancestor, the snail mail, emails are quickly taking a back seat. Figures indicate that consumers are 10-80 times more likely to engage in a marketing message sent via Messenger than they will when it is sent via email. The email clickthrough rate stands at just 1%, which is super low and disheartening for those who need to get real conversion rates. If you want to do well, know where and when to market, and well, Messenger is your best bet in modern times.
15. Businesses that market on Messenger enjoy 10-80 times more engagement compared to those posting on Facebook News Feed
Just because the engagement rate on Messenger is higher than it is on email doesn't mean that you can just take whatever comes your way. Be specific in how you use Messenger and what you need to achieve. When using Messenger, it's good to look at the News Feed, but you shouldn't rely on it fully. News Feed organic posts have proven to have 0-2% visibility and a low click-through rate. Take this fact into consideration and go with Messenger. After all, Messenger ads lead users to a direct chat where they can communicate with a bot.
16. There were over 300 000 chatbots on Facebook Messenger at the end of 2018
Bots have improved commercial processes and the way we do business. Ever since chatbots were introduced, there have been over 8 billion messages exchanged every 24 hours on the Messenger app. Now, with over 300 000 chatbots actively responding to clients as and when messages come through, there is no way that messages can be missed. The base of the matter is that clients need to make up their minds and take full advantage of the features that come with chatbots. Once a bot has actively engaged a client, it's now up to the business representative to take over and convert the conversation into a sale.
17. Messenger boasts an 80% open rate and about 20% clickthrough rate
From Messenger, businesses can expect to have about an 80% open rate and a 20% clickthrough rate. This is still higher than what most get on email. Instead of marking a message as spam right away, recipients on Messenger will opt to first open the message and check it, which is the open rate. Then afterwards, follow the prompt and see where they are led to.
Send Extremely Large Files & Folders with FileWhopper
Sending large files or folders can be a pain, especially if you don't have a trusted service in your corner. Great news! FileWhopper defies the odds and becomes a friend to everyone who wants to transfer huge files and folders and really cares about their online security. With this unique platform, you can send extremely large files and folders of up to 10 TB at one go without committing to any pricey monthly subscription fees. The program lets you pay precisely for what you wish to send. The beautiful part about the whole arrangement is that you receive your quotation instantly. Transparency in pricing lets you trust the program. All folders and files sent are encrypted using high-end technology to promote security. At the moment, for first-time users, there is a promotion that allows them to send their first 5 GB for free. Here is how it works:
✔️ Use the price range slider on FileWhopper's website to identify the cost of sending your file or folder based on its size.
✔️ Download and install the FileWhopper App to upload your large file or folder fast and securely. Note that the app will delete itself from your system once it has completed the task.
✔️ Copy the link to the uploaded data and share it with your intended recipient(s).
✔️ Safely share the password generated by the app for enhanced security with the recipient(s) so that they can access the data.
18. The cost per lead gets reduced over 30 times when using FB Messenger ads
Mobile Monkey reports that Messenger has proven to be an effective marketing channel in the few years that it's been actively used. The average cost of Click-to-Messenger ads is low, and this reduces the acquisition costs on the client's end. The cost per lead is reduced by over 30 times, so one can still be saving while improving the possible number of generated leads.
19. The total number of FB Messenger users in America is dominated by the 25-34 age group, which constitutes 27.3%
One of our most interesting Facebook messenger facts is a region-specific statistic that is pleasantly insightful. In the US, 27.3% of FB Messenger users are aged between 25 and 34. This is excellent news for companies since this age group consists mostly of young individuals, young executives, and startups, and they are likely to consume the most. The 35-44-year-old group follows closely, being 21% of all users, and 45-51-year-olds form 15.9% of FB Messenger users. The 18-24-year-old group makes up 14.7%.
20. Check the app's Analyzer to find ways to increase active engagement
The FB Messenger Analyzer tool makes it possible to look into the conversation statistics and help you draw conclusions on your processes and decide what can be done to improve going forward. Messenger Analyzer must first be downloaded. To do this, start by downloading the Facebook Messenger data folder, then provide a local file path to it to Messenger Analyzer. Your analysis includes ranking chat groups by measuring participants' engagement and also ranking friends according to chat frequency.
Learned Enough?
And that does it for our list of the top 20 valuable FB Messenger facts in 2020. If you think that you have learned enough, then you most probably have. This list is more than enough information