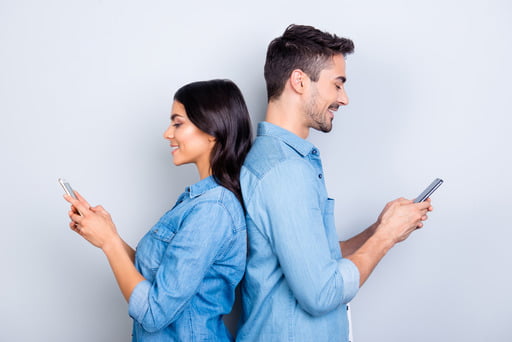 Many applications now offer dark mode — a feature that lets you change your background display and text color from white to black. People are becoming more and more interested in the feature, for example, Google Chrome's dark mode, since it uses less battery power than white pixels and strains their eyes less.
Although Messenger, Instagram, and WhatsApp all support dark mode, Facebook released a dark mode beta version only a few months ago and rolled it out to a limited number of users for testing so that it could collect feedback and improve things. Nevertheless, most Facebook users should have gotten the dark mode update in their apps by now. If you want to turn on dark mode on Facebook, this article will help you activate Facebook's dark theme on macOS, Windows, iOS, or Android.
How to Enable Facebook Dark Mode on a Computer
Willing to enable dark mode on Facebook on a Windows or macOS device? Here's how you can turn it on:
Log in to Facebook in your web browser.
If you haven't switched to the new Facebook UI, click the drop-down Settings menu and select the "Switch to New Facebook" option to access the new UI.
Click Next on the Welcome pop-up.
In the right corner of the "Choose a Look" pop-up, click on Dark, then on Get Started to use the new dark mode on Facebook.
Those who switched to the new Facebook UI but didn't activate the dark mode feature should follow these steps:
Log in to your Facebook account.
Click on the menu button (downward-facing arrow) in the top-right corner of your screen.
Locate and select Display preferences.
Toggle the switch to the right to activate Dark Mode.
If you like the old Facebook UI and don't want to switch, you can use flags in Google Chrome to turn on dark mode on Facebook and any other website you visit.
Here's how:
Go to chrome://flags in Google Chrome.
Input "Force Dark Mode for Web Contents" into the search box (without the quotes).
Next, use the filter menu to open the list of available options and select Enabled.
Afterward, click on Relaunch.
Once Google Chrome reopens, you'll be able to browse Facebook and other sites in dark mode.
If you ever want to change back, simply go to Step 3 and select Default.
How to Enable Facebook Dark Mode for iOS
By now, most users should be able to access Facebook's dark mode feature on iOS. If you want to enable dark mode for iOS, follow the steps below:
Launch your Facebook app.
Select the hamburger menu (3 horizontal lines) in the bottom-right corner.
In the main menu, locate and select Settings and Privacy.
Then, select Dark Mode in the expanded menu to enable the feature.
If you don't find the Dark Mode option, it means the feature hasn't been made available to you yet. Nevertheless, if you're using an iOS version older than iOS 13, you can use Smart Invert to make your iPhone go into dark mode.
Here's how:
Go to Settings and click on General.
Locate the Accessibility option and select it.
Click on Display Accommodations and then on Invert Colors.
Next, toggle Smart Invert on.
Smart Invert will instantly reverse all bright colors to black in every application you use, even Facebook.
How to Enable Facebook Dark Mode for Android
As with Facebook's iOS update, Facebook is likely to be beta testing its dark mode feature for Android users. If you want to check for the feature and turn it on, use the steps below:
Launch your Android Facebook app.
Select the hamburger menu (3 horizontal lines) and click on Settings & Privacy.
In the expanded menu, click on Settings and then on Dark Mode.
If you can't find the Dark Mode option, this means you have to wait for Facebook to make it available to you. However, you can always use the Facebook Lite for Android app, which offers Dark Mode regardless.
Here's how to enable Facebook Lite's Dark Mode:
Download and install the Facebook Lite app.
Log in to your Facebook account and select the hamburger menu (3 horizontal lines).
Locate Dark Mode and toggle the switch to turn it on.
Your display will instantly switch to the gray-themed dark mode.
Conclusion
The methods we have covered are useful for enabling dark mode not only for Facebook but also for other websites as well. However, if Facebook Dark Mode is not available to you yet, you have to be patient. Facebook is currently rolling out updates, so more and more users will receive it on their devices as time goes on.
Also, if you're looking for a better way to transfer large files over the internet, you might want to check FileWhopper, which is a file-transfer platform that lets you send files and folders of any size on a pay-as-you-go basis in a fast and secure manner.
The platform is ideal for photographers, freelancers, YouTubers, videographers, and small businesses who want a cheaper alternative to the costly subscriptions they pay to cloud storage providers like Google Drive and Dropbox.
FileWhopper provides military-grade security by encrypting all of your files with a unique transfer ID to protect both the name and contents of your transfer. All FileWhopper transfers are also protected with a custom password that is not stored or transferred via FileWhopper servers.
With the platform, your first transfer of up to 5 GB is free. For additional transfers, you only have to pay a one-time fee based on the size of what you want to send. For instance, you only have to pay $4.99 for any data transfer of up to 10GB and $5.99 for files that are up to 20GB.
We have shown you how to enable Facebook Dark Mode on iOS, Android, macOS, and Windows. If you have any concerns or questions, feel free to drop them in the comment section below.