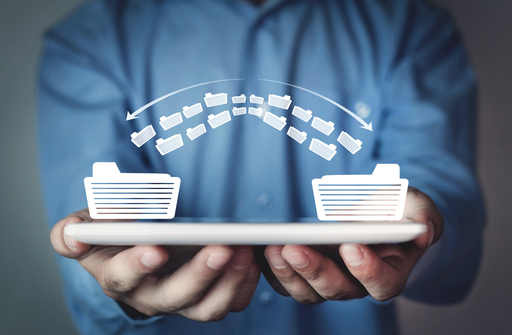 File sharing has become a central aspect of business. Having the right file sharing solution makes it easy for businesses to foster internal and external collaboration.
File sharing has come to stay.
Now that many companies allow remote working, file sharing has become super important in the workplace. From enabling easy collaboration with coworkers to sending project plans to clients, businesses now invest in file sharing and storage. It unlocks a level of ease and convenience that manual data sharing simply cannot give.
As the world moves further into the digital age, the need for rapid and easy access to files and folders has never been more pronounced. This is why finding the right file storage solution for your business goes a long way in streamlining work, fostering team harmony, and securing client loyalty.
In this article, we discuss file sharing for business, compare it with personal file sharing solutions, mention some popular business file storage services, and introduce FileWhopper for Business.
File Sharing for Business—What Is It?
File sharing is the sharing and storage of files and folders in various formats on a central network. The files are stored on a private or public network or server. Files stored in this way are limited by parameters of access which determine which type of people are able to view, download and use the shared files.
In a business context, file sharing encompasses cloud-based solutions that enable organizations to seamlessly share project resources internally and externally.
Business file sharing is an upgrade over normal file sharing services. It features the ability to send very large files and usually includes enhanced security protocols to protect sensitive data from hacks and leaks. With an enterprise subscription, a company can use file sharing solutions to facilitate real-time collaboration, track file requests, set access permissions, and monitor remote output.
Not every business file sharing service will have all the features possible with enterprise storage. Nonetheless, file sharing is a great way to simplify and streamline workflow. No wonder 94 percent of mid-size businesses in the United States are expected to have migrated to the cloud, according to this report by TechRepublic.
How do Businesses Share Files?
Cloud Storage
This is, by far, the best method to share files across an organization. Cloud-based software can be web- or app-based. The products provide business clients with access to large servers for sharing and storing files in return for a subscription. This method is very flexible, secure and reliable. The precise quality and range of features will vary from one provider to the next.
Email
In the early days of digitalization, email was the most popular method of sharing files for business. It is still very popular because setting up an email and attaching files is so easy. However, not every file type can be attached via electronic mail. Also, the limited attachment size makes sending large files through email impractical.
These days, most serious businesses use email sharing as a complement to cloud-based file sharing.
Main Features of File Sharing for Business
The main selling point of business file sharing is the ability to make a resource simultaneously available to everyone who needs it. Before, you might have needed to attach a document to an email and CC 200 people, Now, you can simply upload the project file to the cloud for your coworkers to view and edit at their convenience.
As a business owner, you must ensure that all the tools at your disposal complement your trade. There is no point subscribing to a popular or fancy file sharing platform only to discover it lacks some features you need.
It is worth examining the main features to watch out for when choosing a platform for business file sharing.
Big File Size Limits
If you work with graphics you will need a provider with the right size limit. If not, you're in for a lot of pain. Some providers put a cap on data sharing or transfer size, even on the highest pricing tier.
Tools with a more generous file size limit will let you collaborate easily by sharing the file link via email. Or you can simply grant access to the cloud-saved file. Be sure to choose a platform that can comfortably save and share the kinds of files you work with.
Support for Multiple File Formats
Wouldn't it be sad to pick up a great deal only to discover the platform doesn't support your industry's standard file format? A typical file sharing for business service should support the major file types for documents, spreadsheets, audio, video and applications.
It should be able to share media files along with typical work documents. A platform with limited format support will hinder productivity because workers will resort to using multiple apps.
Adequate Storage Space
Most businesses need lots of space to store their assets online. Some tools give users limited storage space for free. Those who need more storage space can then purchase one of the paid plans.
Keep an eye out for the amount of storage on offer. Your file storage needs can change from month to month.
Unlimited File Sharing
Depending on the size and nature of your business, your files can be accessed by a few people or thousands. A file sharing provider that grants unlimited bandwidth or download frequency is a great asset for small businesses.
A quality tool will let anyone and everyone view or download your files without hitting you with additional costs.
Live Collaboration
A quality file sharing platform has support for online collaboration. Multiple people are able to work on a single file at the same time. The file is saved in real time. Moreover, you can view previous versions of a file before the most recent changes.
Another cool feature is the ability to know who edited a file and when they did so.
File Tracking
Apart from knowing who made changes to files and when, a good tool can offer various other forms of valuable file insights. For example, you can find out how many people accessed your file from a certain location or which day after upload featured the most file views.
Access Controls
Permission control is an integral element of a good business file sharing tool.
The file creator can specify who will have different kinds of access to the file. For example, Google Drive for business has Editor, Viewer and Commenter options for basic documents.
Different cloud-based platforms have different tools for access control. Examples are password protection, file access duration controls, and the ability to instantly revoke access.
Security
A top file sharing service must be able to prevent unauthorized access to your files. With many companies now migrating to cloud service, data leaks don't do anyone any favors.
In general, GDPR-compliance and AES-grade encryption are a must-have. Tools that offer the combo of airtight file encryption and rigorous compliance to privacy laws are preferred by a majority of businesses.
File Sharing for Business vs Personal File Sharing
File sharing for business is for the benefit of the organization. The uploaded files are business assets and solely to be used in advancing the company's goals and objectives.
Personal file sharing, on the other hand, is a way for the individual to save and share their personal files with whomever they like.
For this reason, business file sharing and personal file sharing solutions will have some differences. Even when one platform offers both services, there is usually a big disparity in features available to individual subscribers.
Using Google Drive as our example, let's discuss some differences between the two file sharing solutions.
Pricing
Personal file sharing is available for free on most platforms. The user doesn't have to pay a dime as long as they don't exceed the free usage limit. In contrast, business file sharing solutions are subscription-based in most cases. Individual Drive users can upload and share up to 15GB of storage for free. Pricing for businesses starts at 5 dollars a month.
Storage
With Google Drive for Work, you get up to 1 TB of storage space per user for a team of 1-4 people. At the $10 per user option, a team of 5 people or more gets unlimited storage space. In contrast, the basic Google plan for individuals is capped at 15 GB per account. If you need more storage you either have to delete some files to make way for others or migrate to Google Drive for Business.
Management
Individual file sharing users only need to manage their own accounts. There are more management controls available for the business-oriented users. For example, you can supervise projects, manage offline access and control permissions for the team.
Audit
With Google Drive for Business, admin can review the activities of all participants in a group. This could be the entire company or a team within a department. With the audit tool, monitoring business documents and setting sharing parameters becomes a formality. This function doesn't exist for individual users.
Top File Sharing Platforms for Business
These days, file sharing for business is usually part of the larger cloud-based file management. Most platforms that feature the former offer it as part of the latter. Nonetheless, these are some of the top services for business file sharing you should know about.
OneDrive for Business
Microsoft's take on business productivity that offers file sharing solutions. This is the top choice for businesses reliant on Microsoft products like Office 365. It offers seamless integration with the Microsoft suite, 5GB of free storage, and cross-platform support.
Dropbox for Business
The go-to file sharing and storage service for many small and medium enterprises. Its business-oriented approach is a popular choice for collaboration-focused file sharing. Its directory syncing and remote wipe features give users more control over files.
FileWhopper for Business
A unique spin on file sharing that offers enhanced pay-as-you-go services. More on that later.
Google Drive Enterprise
Part of a complete suite of productivity solutions that go toe-to-toe with Microsoft's offering. This tool turns your business Gmail account into a central hub for file sharing, storage, collaboration and business management.
Box Enterprise
A new business file sharing contender that offers integration to Google Workspace tools, Office 365, Adobe Sign, and Salesforce. Its secure file storage, sharing and synchronization is one of the best in the business. Suitable for those who desire unlimited storage and zero user limits without breaking the bank.
Apple iCloud
Apple's answer to OneDrive for Windows and Google Drive for Android. This tool is 100% integrated into iOS, offers the first 5GB of storage for free, and is accessible on Windows, too.
Files.com
Offers all-stage encryption for files saved in and shared from the cloud. Allows users to skip account creation and directly share files through links and file inboxes. Provides support for single files of up to 5 TB in size, ensuring suitability for use in all industries.
FileWhopper for Business—The All-New File Sharing Solution
The beauty of the file sharing niche is that there is something for everyone. FileWhopper for Business eschews time-based subscription in favor of a pay-as-you-share model which has numerous applications for business.
If your normal tool doesn't support uploading large files, FileWhopper can fill the gap. You can use it on a one-time basis or make it your regular go-to for sending files of massive size.
The procedure is simple and streamlined. Create a business account, upload the file, obtain a link to the file, and send the link to your associate. The link recipient can start downloading the file even before you finish uploading it, which makes transferring large files a relative breeze.
With a business account on FileWhopper, you can pay for your desired data volume and upload and share multiple files until the volume is used up. You can also use the account on different devices and any connected device can use the bulk storage at any time.
Files on the platform are encrypted with zero-knowledge encryption, ensuring maximum privacy and anonymity. When you use the companion app rather than the browser, you gain additional benefits like the ability to pause and resume uploads, active transfer monitoring and speed optimization.
Some file sharing services only support file downloads, but FileWhopper has no such restriction. You can freely download both files and whole folders. All you need is a link to the file and a password created by the uploader. The password is a requirement for all downloads. You can choose the local folder to save the download and monitor download progress.
FileWhopper for Business is earmarked for single-use cases most of the time. Hence, once a download is completed, the file is deleted from the FileWhopper servers. Once a file is uploaded, it will normally be kept for 14 days before being removed, whether or not a download occurs. Moreover, only a single download is allowed under the basic business plan. Business users who need more options can purchase total storage of up to 90 days and downloads of up to 6 times.
So if your line of trade involves sharing large and/or super sensitive files with clients, you can use FileWhopper to enhance security and avoid leaks. As the files won't stay online beyond 14 days after upload, you can rest assured that your shared information is secure.
The FileWhopper Enterprise solution is set for release by the end of 2022.
Rounding Up
Business file sharing services are hot cake in the business world and for good reason. Unlike personal file sharing tools, they enable instant group access to project files and speed up both office and remote collaboration.
There are tons of services to choose from out there. Ultimately, the choice should boil down to which has the best features for your business. You can also try unique services like FileWhopper when the files are unconventionally large or contain sensitive information.