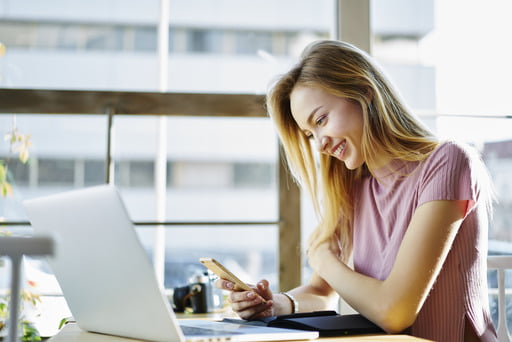 It's the 21st century, and digital technology has reshaped the way people communicate and share files. On any given day, the amount of digital data transferred over the internet is staggering. That said, sometimes, it's quite difficult to find a reliable platform that can perform data transfers without any leaks or losses.
In this digital age, where hackers use sophisticated methods to acquire sensitive information, you need a secure and reputable file-sharing system. That's where FileWhopper comes in. Whether it's personal documents, sensitive company files, family vacation images or videos, wedding photos, you name it, FileWhopper helps you to accomplish any of your file-sharing tasks without much of a hassle. Not only does the program secure the transfer of files from one end to another, but it also allows you to conveniently transfer large files and folders of any size.
In general, there are different types of file sharing methods and protocols that you can use to move your files from one computer to another. Here they are:
File Transfer Protocol (FTP)
File Transfer Protocol was among the first methods invented for transferring data across networks. To date, it remains a popular data sharing method – partly because of its efficiency and reliability. This method is used to transfer data between a computer and a server over the internet.
Users can access the data shared from a specific FTP server site. One may need a password to view or download the shared files. However, while FTP can be used to share files or documents, nothing that contains health, financial, or any other sensitive information should be transferred this way.
Removable Storage Media
For years, people have been using removable storage media to migrate files from one computer to another. The process starts by copying your data to a storage device, which can then be physically handed over to whoever you want to share the files with.
It started with floppy disks and evolved to modern memory cards, removable hard drives, memory sticks, and SSDs (solid-state drives).
Peer-to-Peer Networks (P2P)
With the P2P file transfer method, you don't need a central server to host data. All you need to do to perform file transfers is to establish communication between computer hardware and software. As the name suggests, users connect to a distributed network of peers to share files over their own network connections.
Online File Sharing Services
Online file sharing services allow users to upload files to an online platform where other users can access, view, or download them. Such platforms allow users to set specific permissions, like who can access, download, or edit their files.
Email Services
Email services can also be used to transfer files. The sender attaches a document or an image to an outgoing email message, and the recipient can download it on their computer. The problem with email providers is that they have file size limits, making their services convenient only for sharing small documents.
Why Choose FileWhopper?
When selecting a file sharing option, you need to choose one that meets your preferences and needs. This is why FileWhopper is the fastest way to send large files:
Limitations
Most file transfer platforms restrict how much data you can send over the internet. A cloud service such as Dropbox, for example, limits the maximum file size to 2 GB and charges a monthly subscription starting from $9.99 (paid annually). Other popular cloud storage services such as Google Drive and OneDrive also limit the maximum file size you can transfer online, depending on the price plan you choose.
With FileWhopper, there are no limits as to how much data you can transfer. You can send as little as 1 GB or as much as 10 TB. FileWhopper is a pay-as-you-go service, meaning you only pay a one-time fee for the amount of data you intend to share over the internet. There are no monthly subscriptions and no file size limitations. Plus, you can check how much it will cost to send a file before you even begin the process.
Price
As you may be aware, most platforms require you to commit to a monthly subscription plan to use their services. Not FileWhopper. You don't even need to provide any details when requesting a quote. Plus, it only takes a few seconds to know how much you'll pay to send a specific amount of data.
Security
When it comes to online file sharing, nothing matters as much as the security of your data. The last thing you want is for your files to fall into the wrong hands. FileWhopper offers encrypted file sharing, which means that all your data is encrypted and further protected by a password of your own choosing. Therefore, anything you share via FileWhopper, regardless of how sensitive the information is, can only be accessed by your recipient(s).
The transfer is simplified by the use of the FileWhopper app, which ensures a secure and seamless data migration process. The app is quite beneficial. For one, it resumes your file transfer after any disruption, like the loss of the internet connection, an unexpected computer shutdown (for instance, due to a power outage), or a computer error. What's more, the app is lightweight and doesn't require installation. Plus, it deletes itself once the data transfer is complete.
Before the transfer begins, the app uses a specific encryption algorithm to create a strong password (or you can manually create one yourself). You will then need to share the password with the recipient(s), who need(s) it to download the data.
The file/folder you upload is also encrypted, meaning there is no way FileWhopper or its staff can access anything that's being transmitted. Furthermore, your files are stored on FileWhopper servers for up to 14 days and deleted instantly after the recipient completes downloading them.
Speed and Convenience
FileWhopper uses multi-threaded data transfer technology to ensure fast and efficient data transfers. The FileWhopper app supports simultaneous uploads and downloads, meaning that the recipient can start downloading the files as soon as the sender uploads them and shares the download link.
You don't need specific software to use FileWhopper. All you need is an internet connection and a computer. And one more thing. You can order an additional five downloads and share your files with up to six recipients.
[fwa-calculator]
When it comes to sending large files online, it doesn't matter whether you're an enterprise looking for a robust and flexible system, an individual in search of convenient service, or an organization that needs a secure platform since FileWhopper guarantees everyone safe transfers, data security being its top priority.