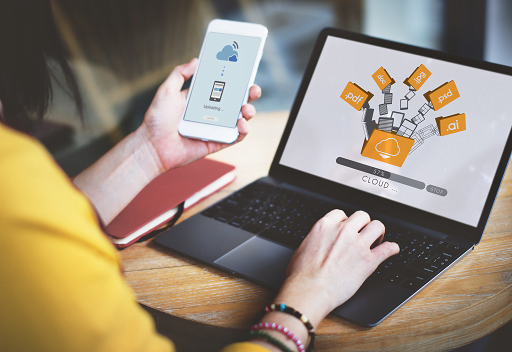 Nowadays, most of the work is done online. People use various devices to work on the document due to a lot of moving. One can start a project on their PC at the office, review it on their way home using a smartphone and then send to a colleague when they get on their laptop at home. The use of multiple devices has increased the need to have files stored online, so they would be easy to access whenever, wherever, regardless of the device being used.
With the corporate world also moving to cloud-based solutions to increase productivity, online file-sharing has become an on-demand service. Sharing files via email can be a little frustrating as it will limit you to a certain size of the file that you can share. However, by acquiring the fastest file sharing services online, regardless of the file size, you can send it within a short period. There are a number of characteristics that determine if a file-sharing service provider is actually the best and will provide good services. Take note of the following features when selecting what is the best file-sharing in 2019 moving forward;
Fast and secure—although you may be mainly interested in moving your large files from point A to B, you should be cautious of the security measures applied. Files can easily be intercepted and compromised during transit, hence it is vital to ensure that the service you are on has updated security tools to encrypt your files during the transfer.
Affordability—you don't want to spend an arm and a leg to enjoy high-quality service. Competition in the file sharing service industry is already high enough for vendors to present competitive prices. Thus, do not be swayed by price, as it might not determine if a service is poor or great.
Reputation—when it comes to any business that is customer-oriented, reputation is key to its success. Without good reputation, there is no proven track record to function as a guarantee to the client that they will receive professional and up-to-standard service. Therefore, pay attention to the reputation of the brand you want to settle for.
The Five Top Apps to Consider for a Secure File Sharing Experience
1. FileWhopper
A great method to consider when looking for apps for sending large files or folders online is FileWhopper. The platform has unique elements that focus on extensive file sharing, data storage management, and data protection through encryption and real-time synchronization. 
FileWhopper allows you to transfer files and folders of any size; you only pay for the amount of data you want to move and not a subscription. Additionally, it stores the uploaded files for 14 days before automatically deleting them from the server.
You can access FileWhopper via a desktop client and follow these simple steps to send files:
Go to the FileWhopper site. 
Click on "Choose file" or "Choose folder", depending on what you want to transfer.
Select the file or folder to share. 
Follow any other required steps such as making payment. If it's your first transfer and it's below 5GB, you won't be charged. 
Once done uploading the files, copy the download link, then share it with the intended recipient.
2. WeTransfer
WeTransfer is an online transfer service that has been in the market since 2009. It's the best app to share large files with up to 2GB in the free version and 20 GB for the paid version. The app has a simple interface for uploading and sending files. You only need to upload the file you intend to transfer, indicate your and recipient's email addresses, then click the transfer button. In addition, WeTransfer allows you to send a download link to your recipients.
You can use the transfer service even without creating an account. However, if you need to send many large files, you'll need more capacity, and a paid WeTransfer Pro subscription plan to get you going.
3. Box
Box is one of the oldest in the EFSS industry and since its establishment, it has remained a major player by swiftly adapting to new trends propelled by the ever-evolving technology. This product has plenty of features and the platform is designed to enhance user experience. The platform supports over 120 file formats and implements the latest technology to secure files being stored and transferred on their servers. Other cool features include the ability for multiple users to go in and edit the same file in real-time. The upload limit is capped at 2GB, which is far greater than Gmail's 25MB limit.
4. Dropbox
This program is among the best file sharing apps for Windows 10. Using a basic account, you can transfer files as large as 100MB with the Plus Premium users eligible to transfer files of up to 2GB in size. The Pro Premium users have the liberty to transfer up to 100GB. The program works like email, as it lets the receiver have their own copy of the file, so any changes made will not be visible to you as the receiver or change your copy of the document. The transferred files will be deleted automatically after 7 days, a feature that is implemented to promote privacy.  
5. MailBigFile
Mail Big File software is not exactly an industry game-changer. However, their intuitive and easy to use system makes it a worthy program to consider. The program delivers a simplified way of sharing large files online at lightning speeds. Without having to pay anything, you can send up to 2GB of files and they will be available for download up to 10 days before being deleted. There is also a limited number of downloads allowed for the files shared, which is currently 20. The paid version is great if you are looking to add more devices, as it also supports iOS devices. The pro version also eliminates ads that are visible in the free version, as well as allows up to 50 downloads per shared file.
How do you choose?
You can select one or more file sharing apps depending on both your personal and professional needs. There's no 'one size fits all' when it comes to such apps. Only go with those that best suit your company and individual goals, after further research. In case you want to learn more about EFFS and sharing apps, you can read all about it here.