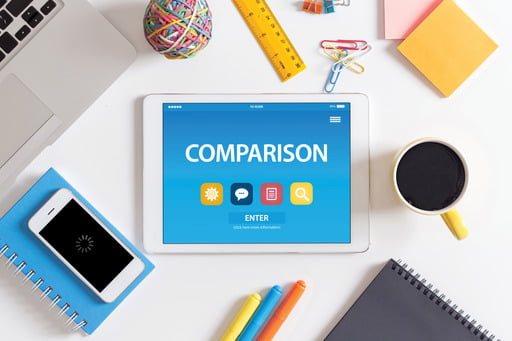 Sharing data online is one of the most in-demand services. From email clients to cloud services, there are a number of platforms that make it possible, each with its own advantages and limitations.
2020 and the unfortunate events that the year has brought along have only intensified the need for individuals and businesses to quickly exchange files online. As a result, we have witnessed the arrivals of new services that offer data-sharing capabilities. There are also well-established advanced file-sharing tools, such as FileWhopper - a platform for transferring large files and folders online.
In this post, we will take a close look at what FileWhopper offers and how it compares to popular cloud storage services like Google Drive, OneDrive, Dropbox, and others.
Features
We are all (probably) familiar with cloud services like OneDrive, Google Drive, Dropbox, Sync, and pCloud. These services let you store data "in the cloud" and grant access to it to other users. Let's look into each platform more closely.
OneDrive is a product from Microsoft and perfectly fits in within the Microsoft ecosystem.
Some of the platform's most interesting features are as follows:
sharing files, folders and photos from OneDrive directly via Skype;
Personal Vault (a feature that lets you select a file/take a picture/record a video and have it immediately added to a digital vault, which you will only be able to access by using your fingerprint, an SMS code or another secure method);
automated backups (you can set OneDrive to sync different folders on your PC to your OneDrive online storage); and more.
Google Drive is a similar service and works seamlessly with apps like Google Docs, Google Sheets, Google Photos, Google Slides, and more. It comes with the same functionality as OneDrive, but it does offer more in at least one category - integration with third-party services. With Google Drive, you can use a variety of media players, photo and video editors, accounting software, and more. Naturally, there is a convenient integration with Gmail (which is the world's most popular email client), and you can attach a file from Google Drive directly using the Compose button.
Dropbox may not have its own fancy set of integrated services like a dedicated office suite or email client, but it comes with two applications of its own: Paper and Showcase. Paper is a simple note app that lets you add text, images, video, and even snippets of code. The app is not as functional as Microsoft Office or Google Docs, but it does what it promises as a lightweight tool for taking notes. Showcase, on the other hand, lets you share files in a professional-looking portfolio. If you are using Dropbox Professional, this may be a nice service to add to your toolkit - it will let you share examples of your work directly with clients in just a few taps.
Sync may not be quite as popular as the three cloud storage services described above, but it comes with several notable features that make it stand out. The most important of these features is that Sync is a zero-knowledge provider. This means that you are the one who controls the data you choose to share with Sync. You will be in charge of the encryption keys used to protect your data - this way, even if someone does get unauthorized access to your data, they won't be able to get the information from your files as you are the only one who can decrypt it.
pCloud is another cloud storage platform that has quite a few interesting things to offer. The first thing to mention is that it comes with a dedicated audio player, which you can use to play tracks directly from the cloud. You can also use the player to watch videos - and the format of the video will be automatically converted into the one that pCloud player can play. pCloud is also integrated with Kodi, which allows you to stream videos directly from your pCloud collection.
So, what about FileWhopper? What makes FileWhopper stand out in this list is that it's not a cloud storage service at all. Instead, FileWhopper is a file-sharing service that lets you transfer large files and folders online without a monthly subscription. There are no limits on the size of a file or folder that you can transfer. This means that you can upload files and folders weighing 100GB, 1TB or even 10TB, and they can be transferred without compression.
Pricing
Now that you know more about the functionality that each platform has to offer, it's time to consider how much you will have to pay.
Most cloud services start off by offering limited amounts of free storage:
OneDrive and Sync give you 5GB of storage for free.
Dropbox's and pCloud's free plans offer 2GB of storage (but pCloud offers ways to "earn" more free storage by verifying your email, downloading an app, etc.).
Google Drive lures users with a generous 15GB of free storage.
Now, let's take a look at the paid plans. Please keep in mind that the information below is valid at the time of writing. Please contact the providers for current prices and conditions.
OneDrive
OneDrive's paid plan starts at $1.99$/month for 100GB (access to Office apps is not included).
The Office 365 Personal plan is $6.99/month for 1TB.
The Office 365 Home plan is $9.99/month, offering 1TB of storage each for up to 6 users.
OneDrive for Business Plan 1 is $5/month for 1TB.
OneDrive for Business Plan 2 offers unlimited storage for $10/month.
Google Drive
Google Drive's basic paid plan starts at $1.99/month for 100GB.
200GB will cost you $2.99/month.
For 2TB, you will need to pay $9.99/month (There are discounts available for annual subscriptions).
If you are looking for up to 10TB of storage, you will need to pay $99.99 per month.
20TB cost $199.99 per month, and 30TB cost $299.99 monthly.
Dropbox
Dropbox's paid plan starts at $11.99/month ($9.99 if you commit to an annual plan). This includes up to 2TB of storage and a set of extra features. If this is not enough, you can pick the Professional, Business, or Advanced plan.
Dropbox Professional offers 3TB of storage for $19.99/month.
Business Standard includes 5TB for $15/month.
You will need to pay $25/month for unlimited storage with the Dropbox Business Advanced plan.
Sync
Sync's basic plan starts at $5/month and offers 200GB of space.
Pro Solo Basic costs $8/month and offers 2TB of storage.
Pro Solo Standard is $10/month for 3TB.
Pro Solo Plus offers 4TB for $15 each month.
Business plans are also available: Pro Teams Standard ($5) comes with 1TB of storage per user for up to 100 users, and Pro Teams Plus will give you 4TB per user for up to 100 users for $8 a month.
pCloud
pCloud's Premium plan offers 500GB of space for $4.99/month ($3.99/month for an annual subscription).
There is a lifetime subscription option for $175.
FileWhopper
What makes FileWhopper different is that there are no monthly or annual subscription plans. It is a pay-as-you-go system, and you will only need to pay for the amounts of data that you need to transfer.
The first transfer of up to 5GB is free.
Pricing starts as low as $0.99, which includes 1 download and 14 days of storage.
In order to calculate the transfer price for the file or folder you are about to send, you can use FileWhopper's calculator: move the slider to the right, and you will see the exact amount that you will need to pay. If you are okay with the price, you can go ahead with the transfer.

You can upload your file or folder via FileWhopper's main page to have the cost calculated automatically.
Sharing Large Files
Most cloud services come with limitations when it comes to the maximum size of a file that you can upload. However, this is not the case with FileWhopper.
| Services | Maximum file size limits |
| --- | --- |
| OneDrive | 100GB. |
| Google Drive | Individual uploads are limited to 750 GB each day. The maximum size of a file that can be uploaded/synchronized is 5 TB. |
| Dropbox | 100MB on free accounts, 2GB on the Dropbox Plus plan, and 100GB on the Dropbox Professional plan. |
| Sync | If you are not limited by your plan, you can upload files of any size with Sync, but it is noted that the upload speed drops with files over 40GB. |
| pCloud | Limited to your storage size. |
| FileWhopper | You can transfer files and folders of any size. |
Ease of Use
All the cloud storage services mentioned in this article are simple and easy to use.
OneDrive and Google Drive come with their own dedicated desktop clients for both Windows and macOS, which can enhance the experience. Dropbox provides clients for Windows, macOS and Linux. Sync offers a desktop app for Windows and macOS (but not Linux). pCloud's desktop client is available for macOS, Windows and Linux but comes with limited functionality and only lets you make changes to your account information and settings. All five cloud storage platforms use similar methods to sync folders and do not differ much when it comes to user experience.
FileWhopper works via a tiny app that won't burden your system (the integrity of the transmitted data is ensured) and will auto-delete once it's no longer needed. In order to ensure safe data transfer, there is a feature in place that will automatically resume the transfer process should your PC suddenly restart (for instance, as a result of a power surge). The service also supports simultaneous data upload and download.
Security
When it comes to the security of your data, the absolute best thing you can look for is a service that offers zero-knowledge encryption. We've already touched upon this type of encryption above: it means that the storage service provider doesn't store a copy of your encryption key and they (or any third party that might get their hands on your data) won't be able to decrypt your files. The only cloud storage service that offers this for all types of subscriptions at the moment is Sync. pCloud offers pCloud Crypto (the service's brand name for zero-knowledge encryption) for an additional fee and for Business pCloud users.
While the other cloud storage platforms we've mentioned today don't use zero-knowledge encryption, they do offer industry-standard levels of security:
OneDrive encrypts data in transit and at rest (but does not disclose what specific encryption standard it uses).
Google Drive uses both AES 128-bit and AES 256-bit to encrypt data at rest and the TLS protocol to encrypt data in transit.
Dropbox uses AES 256-bit to encrypt data at rest and SSL/TLS to encrypt data in transit.
FileWhopper, though not a cloud storage platform, does come with zero-knowledge encryption, which makes it a totally secure file-transfer service. Your files and folders will be encrypted, their names will be hidden, and no passwords will be stored on FileWhopper's servers. This is especially important when it comes to exchanging sensitive and important data online: with this type of data transfer, you can be sure that your files/folders will arrive at their destination safely and won't be at risk of hacking.
Verdict
So, what have we learnt, and what should we use? Is a file-transfer service better than a cloud storage platform or vice versa?
The truth is, it all comes down to your needs.
FileWhopper is a great innovative service for sharing large files and folders (of any size). So, if you need to send a 100GB folder of your breakfast photos to your friend in another country, you probably won't find a better option. The best thing about FileWhopper is that it is a pay-as-you-go service and you won't need to commit to a monthly or annual subscription. You can transfer files and folders of any size, you won't need to compress them, and your transfer will resume automatically after any interruption of your Internet connection (no data will be lost). FileWhopper offers the strongest available security for your transfers - zero-knowledge encryption.
On the other hand, cloud storage services are a better choice if you need to store or collaborate on files. Bigger platforms like OneDrive and Google Drive are part of large interconnected ecosystems that can make your whole collaboration process effortless. On the other hand, smaller providers like Sync and pCloud stand out by offering better security and other extra features.