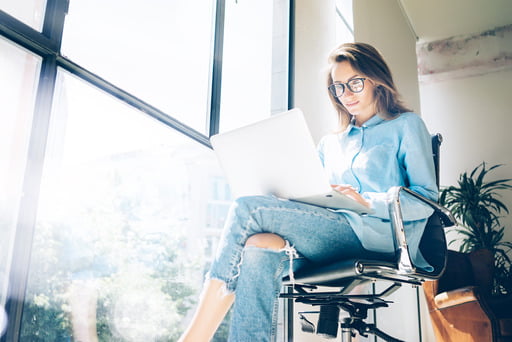 Following our initial coverage of the Gmail tips that can boost your productivity, we are here to continue exploring the best features of this old brand within the emailing industry. Fact is, there are few people who haven't used Gmail services, be it for personal or business gains. And yet, only a few are able to harness all the features of Gmail. Here are some of the best tricks to implement in order to improve your overall experience with Gmail.
Top Tips Continued
1. Forward Messages Automatically
In case you have another account that you will be using, for the time being, this feature allows you to forward all of your incoming emails to another account. You can also specify which types of emails you want to forward. This feature is also handy if you have multiple accounts but prefer to use only one of them.
How to implement this feature:
Access Settings.
Click on the Forwarding and POP/MAP tab.
Then select Add a forwarding address. Add the address you want to forward messages to.
To forward specific email messages, select the option that allows you to create a filter.
Following the steps above, there are various criteria that you can use to filter messages, such as the destination address, sender's address, subject, and attachments, to mention a few.
2. Access Gmail While Offline
While offline, you can access your Gmail account and compose an email. There are times when you do not have access to the internet, i.e. when travelling or in remote areas. Gmail allows you to view your inbox, surf your email folders and even compose new messages. Note that they will be sent automatically as soon as you get connected to the internet.
3. Undo Sent Emails
Recalling sent email messages is a useful feature. With it, you are given a grace period to recall sent email messages back from the receiver. The grace period can be adjusted to make it long or short, depending on your preference. We have all been there, sending a message to the wrong person, only to realize it later when it's already gone. Gmail provides us with an opportunity to redeem ourselves through this feature. By assigning a suitable grace period (about 25 to 30 seconds) to undo sent email messages, you will see a popup message for a certain period of time set by you, prompting you to undo a sent email.
4. Use Confidential Mode
This feature is among the less-known tricks in Gmail. It enables users to create email messages that will automatically be deleted at a set date in the future. With the confidential mode, you are assured that your private messages will remain private forever. This feature will also delete the message for the one it was sent to. You can also use this tool if you want your message to be automatically deleted from both ends. In addition, your message will not be copied, downloaded, or forwarded as it will be locked.
How to use this feature: When you have finished composing your email message, check for the clock-like icon located in the bottom-right corner. Click on it and set the expiry period before saving your changes. Note that you can also set a password. The receiver will require it in order to access email content.
5. Add Signature to Your Gmail
To personalize your email message, you can add a unique signature at the end of it along with your job title, links to your social media profiles, contact details, and associated websites. With this feature, you can make your email messages look professional and unique. It will also help the reader get informed about your profession without having to do some digging around.
How to use this feature: Access your Gmail account settings > Locate Signature under the General Settings tab > Insert your signature content under the text box.
6. Get Messages Translated
If you deal with international clients, there is no need to look for a translator every time you receive a message in a different language. With the Message translator feature, you can translate any message you receive on your Gmail account to your desired language.
How to use this feature: Upon receiving a message you wish to translate, access the vertical dots menu and locate Translate message on the drop-down menu. You will be prompted to select the languages you want the message to be translated from and to.
7. Preview Pane
One of the most annoying things when browsing through your emails is having to go back and forth to get a glimpse of the content of your email. A preview panel is a necessity, and it helps you remain time-conscious. This is a well-known feature among Outlook users. However, if you didn't know, it is also available on your Gmail account and you just have to turn it on. With this feature, instead of having to enter the email message page, you can view messages on the preview pane aligned next to the list of your emails. This allows you to scroll down your emails easily while reading the content within.
How to use this feature: Access Settings and locate Advanced. Click on Preview Pane and select Enable. You can further edit how you want to view your email messages. Access the four-line menu located on the top right. Click on it to bring out the drop-down menu. Choose between the horizontal split or vertical split preview pane.
8. Add Dots Wherever You Like - They Make No Difference
If you haven't heard of this feature, then you have been missing out. Adding a dot to your Gmail account makes no difference, i.e. if your Gmail account address is johngetty@gmail.com and you type it as john.getty@gmail.com or j.o.h.n.g.e.t.t.y@gmail.com or j.ohn.g.etty@gmail.com, it will not make any difference and the messages will be delivered to your email. So, if dots don't matter, why is it important for you to know about it? Well, you can use this feature to your advantage to identify spammers or sign up for various services.
9. Attachment Reminder
Without this Gmail feature, we would all be left in the cold in most cases. We've all done it. We've all hit the send button before attaching a file. Thanks to Gmail's in-reader, if your email has the word "attachment(s)" or phrases like "find attached" and you hit the Send button before attaching anything, Gmail will remind you that there are no attachments in the email you are about to send.
10. Edit Appearance of Your Inbox
Customizing your inbox display will improve your user experience. In 2013, Gmail introduced a feature that automatically screens messages based on the following categories: Social, Promotions, Updates, and Forums. So, in the likelihood that you are missing some important messages in your main inbox, you should check them on other tabs. You can turn off the categories by accessing Gmail account settings, then pressing on Configure Inbox. Uncheck the tabs you don't want to see.
By the way, you can take a break from always using Gmail to share big files. There are other, more convenient means of sharing. One of the best is provided by a cloud storage platform known as FileWhopper. The service is very easy to use. Here is how you can securely share files of any size on FileWhopper:
Select a file — Choose a file or folder you want to send.
Get a quick tool — Our tiny app will help you upload your big file or folder.
Copy your link — Get a personal link to the file or folder you uploaded and share it with the recipient.
Share securely — Your data is encrypted with a password to ensure safe transfer.
11. Canned Responses
There are some instances where you find yourself responding in the same way. It might be necessary, but typing the same responses can be tiresome. This is where canned responses come in handy. For instance, if you need to confirm receipt of emails on a daily basis, the response will be composed automatically with the Canned Responses feature turned on – you only need one click to respond to emails.
How to use this feature: Head over to your Settings, select Advanced and then Canned Responses, and finally select Enable.
12. Remotely Sign Out
Your Gmail account can be connected to from multiple devices such as laptops, desktops, tablets, and smartphones simultaneously. At times, you may have been logged to a public computer and can't recall if you signed out or not. You can also lose your smartphone. In such a scenario, you can use the remote log-out feature to sign out of all devices connected to your account. Hover to the bottom screen of your inbox and access Last account activity. Click on the Details link, then select Sign out of all other web sessions. This will automatically sign you out of all the devices you have logged in with your email.
13. Level Indicators
With this feature, you will be able to know whether the email was only sent to you or to a group of people. The feature is handy in knowing if the email is personal or sent to a mailing list. The feature uses arrows to indicate whether the email was sent to many or only you. If a single arrow appears next to the email, then it was addressed to you and others. But if 2 arrows appear there, it means it was only directed to you. If no arrows appear next to the message, it means the email message was sent to a mailing list.
How to use this feature: Access your Gmail settings > Under General Settings, locate Personal Level Indicators > Click on Show Indicators.
14. Email Scheduler
With this feature, you can schedule your email to be sent at a later time. For instance, let's say you want to send a proposal to a potential client who is located in a different time zone. You know you want your email to be the first thing they see when they get to office. If you send it now, it will likely be pushed down by other emails that will come in after yours. The best way might be to send it when the recipient starts their work, but the problem is, you might have knocked off or be away from your device by then. Luckily, the Gmail scheduler allows you to compose your email message and schedule it to be sent at exactly the right time.
How to use this feature: The email scheduler requires Gmail add-ons, such as Boomerang and Email Studio. You need to download either of the addons and install it to your Gmail account.
15. Keyboard Shortcuts
Shortcuts are a necessity in whatever you do. They make work easier and faster. Instead of hovering the mouse throughout various tabs, by just combining 2 or 3 keyboard buttons, you will get what you want. By knowing a bunch of keyboard shortcuts, your life becomes easier when managing your Gmail. Here are some of the cool keyboard shortcuts that can be your best buddy when using Gmail:
C - brings up the New Message screen
B+D - takes you to your email drafts
S - marks the highlighted message as starred
Q - brings up your contact list
How to use this feature: Access Settings > Advanced and then enable Keyboard Shortcuts. You can also customize keyboard shortcuts under the Settings window. Here are the tips how to use cool personalized keyboard shortcuts:
R+S+! = report spam
Shift + D = delete
R = reply
M + U = mark as unread
16. Personal Assistant
Gmail can be your much-needed personal assistant. With Gmail, there is a lot that you can achieve, such as getting reminded of the date and time you are flying out, lunch meetings, reservations for dinner, and other important events. This feature scans your inbox for any reservations, hotel bookings, and related upcoming events. It also checks for subscriptions that are about to expire, have expired or haven't been paid for. Then it gives you prompts or pointers on how to handle each of the picked events or activities.
17. Block Users
This is a feature that we are all well aware of from the use of our phones and social media accounts. Well, it is also available on your Gmail account. This feature is useful if you are being stalked or pestered by an unwanted contact. You can block their associated email address. After blocking a specific user, you will not receive any messages from them. Note that you can also unblock the user by accessing Blocked Addresses under Settings.
18. Pin Gmail to Your Task Bar
If you are constantly on your laptop or desktop, pinning your Gmail account to the taskbar will make things easier. While on your inbox page, if you are using Chrome, access the drop-down 3-dotted menu located in the far top-right corner. Go to More Tools and select Create Shortcut and then follow the prompts.
19. Make Use of Tabs
Gmail tabs are very useful in grading your incoming messages. Imagine having to go through a thousand of emails to find that important one. By using the tabs, you will be able to separate important emails or personal ones from those coming from a mailing list, promotions, forums, and social media.
20. Call Using Gmail
Yes, it is possible. You can make a call to any of your contacts on Gmail. This feature is convenient for your business. You need to add the Google Talk plugin to Hangouts. You can also acquire a VOIP number to use for your company. With this number, you will be able to receive calls wherever you are. Gmail makes it possible for businesses or company representatives in other countries to keep the same area or country code as the location of the physical business through the Calling feature.
21. Subscribe to Gmail Suite
Gmail is a big brand and presents a gigantic user base, all thanks to their amazing features that cost no penny, unless, of course, you want to upgrade Google Drive's memory. However, if you really embrace Gmail and cherish its services, then you may as well consider subscribing to the Gmail Suite. Suite presents a lot of cool features that can uplift your business, be it small or well-established. On Suite, you get features such as Drive, Sites, Calendar, Docs, Sheets, Slides, as well as revision-tracking software. To top that, Gmail Suite comes with extra storage of up to 30GB at a cost of $60 per year.
The features highlighted in this article are still not the full list of what Gmail has to offer. However, by implementing them in your daily Gmail emailing activities, you will be able to get productive results and use your Gmail account like a pro.