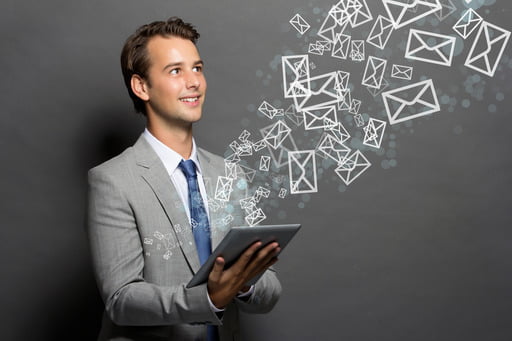 Most email services nowadays allow users to send files: images, zip folders, PDF, short videos, music tracks etc. Every year the file size limits grow bigger and bigger, and many email services compete for new users by offering higher limits. In case you need to send a really big file, some of them offer using Dropbox as a file transfer service. Once your files are uploaded to Dropbox, you can email a link to the recipient. The download process happens directly from Dropbox' servers.
If you are looking for a new email service to use, check out this article: Get the Best Email Account
Let's have a closer look at how to attach a file to email using the example of Yahoo Mail. The process is quite similar in any email service, so once you have experience with Yahoo, there will be no problems with any other platforms.
Using Outlook? Check out the following article: How to Attach and Send Large Files in Outlook
You can't attach and send files larger than 25MB via Yahoo Mail and Gmail. However, the service allows you to share Dropbox and Google Drive files. This way, the mail's recipient will receive a link allowing them to access the file or folder through the selected cloud storage.
How to add attachments in Yahoo Mail
If you want to attach a file to your letter in Yahoo Mail, click on the paperclip icon after composing your mail. The attachment menu will allow you to choose from several options:
share files from your cloud storage

choose a photo from your recent emails

select files to attach from your computer (you can also choose multiple files)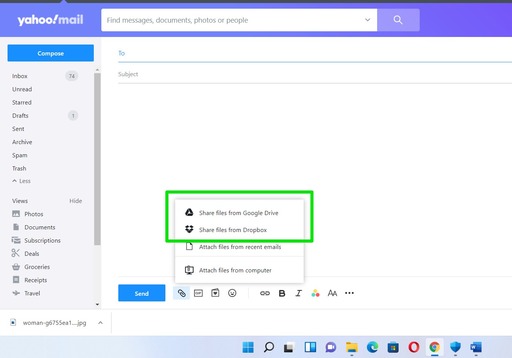 If your file is larger than 25MB, select one of the following options depending on which cloud storage you want to use:
Share files from Dropbox
Share files from Google Drive
Every file is automatically checked for viruses prior to the upload.
After the file upload progress has reached 100%, you can send your message.
How to send large files in Gmail
At the moment, Yahoo Mail lets you attach files of up to 25MB, which is the same as Gmail. The process of attaching a file is very similar: just find the paperclip icon and choose the file(s) you need to send. All of the files are also checked for viruses, with extra attention paid to .exe files.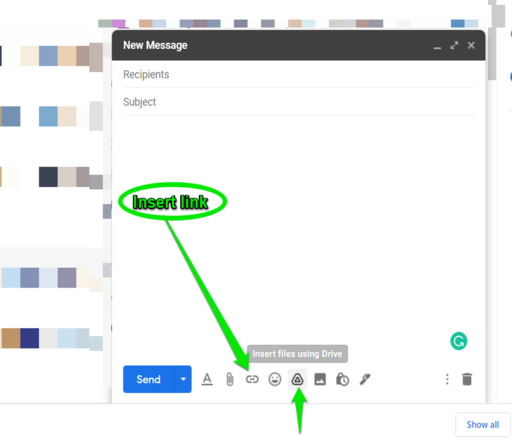 Some security checks may automatically consider an .exe file suspicious and send your letter without it attached. Even if it's attached and sent successfully, your recipient's inbox may ignore this attachment, so it will never be delivered. Just to be sure it's delivered to destination, it's better to upload this type of files to a third-party platform and then include a link in your letter.
Gmail also provides the option of inserting Google Drive files or inserting a link (if you're using another cloud service). Unlike Yahoo Mail, you'll have to click on the Google Drive icon to share files if you're using a computer. You can tap CTRL + K or click the "Insert link" icon next to the paperclip icon to insert a link.
Find more detailed information in this article: Problem Solved: Send Large Files with Gmail
How to send large files online
If you need to send a really big file or folder online, you probably shouldn't even consider email services because of their attachment size limits. As described above, you can upload your data to a third party server and just email a download link.
Indeed, cloud-sharing options now allow users to conveniently send emails without thinking about upload limits. However, these cloud storage solutions also come with limitations. For example, individual users on Google Drive can only upload or share up to 750 GB of files each day. Dropbox users can only upload files of 50GB or smaller through the website and would have to use the desktop or mobile app for larger uploads.
Using FileWhopper
If you want to transfer files without restrictions, you'll need a service like FileWhopper. The cloud-sharing solution allows you to send and receive files of any size without subscribing to a monthly or weekly plan. You're only required to make a one-time payment for the file(s) you want to transfer. What's more, you'll have a 50% discount for you second transfer of up to 5TB. Get a coupon after you've completed the first transfer!
Once you get to FileWhopper's website, you'll see a slider that allows you to check the cost of sending a particular file size. This way, you'll know what you can afford. If you're sending the file to a client, they can easily pay for it.
Allowing you to transfer files of any size does not limit FileWhopper's speed and security commitments. The service uses military-grade security features and zero-knowledge encryption to keep your data safe. You'll receive a password, which your recipient will use to access the file.
FileWhopper's multi-threaded technology ensures blazing-fast transfers. Your recipient can start downloading the file once you start transferring, and your transfer progress won't be lost if you're disconnected from the internet, or your computer turns off.
What's more, the process is straightforward. After selecting the files you want to upload, you'll be taken straight to the pricing page. After making payment, a small tool will be downloaded to your computer. The program facilitates the upload and download process and deletes itself once you've completed your transfer.