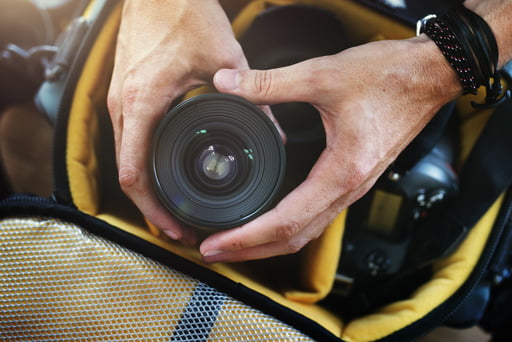 Photography is an art form – a fact that is evident to every photography enthusiast. If you are reading this right now, it means you are a lover of photography yourself.
Having a camera comes with its peculiarities. For one, you need to know how to keep a camera safe in a backpack. You probably already have a big bag dedicated to your camera, but what exactly do you put inside? Does it contain the necessary accessory gadgets to support your photography life?
We all know that with raw photography talent, patience, and dedication, anyone can capture breathtaking pictures. However, to get the best shots, you need to have certain accessories in your camera bag. They make your shooting adventures a lot more interesting, effective, and productive. After all, no matter the experience level, every photographer wants to do better and get more beautiful shots.
In this article, we are going to answer the question, "What should I keep in my camera bag?" The good news is that the accessories you need do not always have to be exotic or unnecessarily expensive. What's more, they can take your photography game to a whole new level!
If you are using long lenses, you need to know how to carry a camera with a long lens. The first thing you need to do is get yourself the right bag design with adequate space and shock protection.
Let's get right to it!
What Should One Carry in a Camera Bag?
You should always have the following accessories in your camera bag. That way, you can pick up your gear without delays whenever you need to head out quickly with your camera.
1. Spare Memory Card and Batteries
Have you ever found yourself ready to take that mind-blowing panorama, only to see your batteries run out or get the 'memory full' beep? If you have been there, then you understand how frustrating it can be. If you have not, you really do not want to find yourself in such a tight spot.
It is necessary and even wise to store extra memory cards and batteries in your camera bag because they will eventually come in handy. Having a bunch of memory cards tucked away will not take up much space. Also, get some extra batteries and keep them fully charged.
Spare batteries that you do not use should be charged at least once every three months. You should follow the storage guidelines for your battery product/brand.
2. Microfiber Cloth and Lens-Cleaning Wipes
Taking crisp and pristine pictures comes with a tag: you have to take good care of your camera lenses. If you allow your lens to get dirty, smudged with oil or dust, it will negatively affect the quality of your photographs.
Two essential accessories that you must have in your camera bag include microfiber cloth and lens-cleaning wipes. It is quite convenient that they are cheap and easy to maintain.
You can use microfiber cloths to clean your lenses or wrap your other accessories for added protection. Lens-cleaning wipes come in handy when your lens is covered with dust or oil. In such cases, microfiber cloths will not be efficient because they can create more streaks in front of your lens.
You can even use them to clean your camera and keep it free from dirt. These two accessories work hand-in-hand, which is why you should have them both in your bag at all times. They ensure that your lenses and camera are always at their best for fantastic pictures.
3. Mini Tripod
Tripods are great camera accessories. If you are a professional photographer, chances are you already own a durable one. However, standard tripods are heavy and can be a hassle to carry about, especially when you want to go on a long trek or nature hike.
This is where mini tripods come in. They are lightweight and portable and can easily fit into your camera bag. The best part is that they are cost-effective.
You should have one in your bag for those moments when you do not want to stress yourself with any heavy lifting.
4. Flashlight or Torch
If you love the night, then you definitely should have a flashlight handy and reachable. Taking night shots and capturing those breathtaking moments at the right time requires patience and precision in timing. You definitely do not want to find yourself groping through your camera bag in the dark to find what you need. A flashlight will make it easier to see what it is you are looking for.
Besides, if you are on a wildlife adventure, you do not want to stumble through the dark while trying to find your way back to your car after staying out longer than you planned. A flashlight is a backup that you will find useful when you least expect it. It is safer to plan ahead than to find yourself stuck.
5. Compact Binoculars
Sometimes you need to take a detailed look at the horizon to decide where to go or what to shoot. While some photographers use their camera lenses as binoculars, this can be impractical, and you run the risk of mistakenly damaging your lens.
Compact binoculars are smaller and more portable than regular binoculars. They can easily fit into your camera bag. Besides, if you mistakenly drop or scratch them, it will not hurt you as much as having the same damage happen to your camera lens.
Pack one pair into your bag and use it to view wildlife or beautiful spots when choosing a scene for your photography shots.
6. Plastic Bags
You might not understand the importance of having some plastic bags handy until you get caught in the rain during a photoshoot. Your camera can get damaged by the rain.
To avoid finding yourself in such a scenario, get a grocery plastic bag or a zip lock bag. They are cheap, and you can easily fit two or more of them into your camera bag. Should you find yourself caught in an unexpected downpour, they will be useful in protecting not just your camera but your other sensitive equipment as well.
Even if your camera is waterproof, your batteries, memory cards, and other accessories are not. They can easily get ruined by water entering them.
You can make a small hole in the plastic bag to fit your camera lens. This way, you can continue with your photoshoot in the rain without worries.
The plastic bag is a cost-friendly alternative. There are professional rain covers and raincoats explicitly made to protect your photography gear. You can upgrade to one of those if you have some extra money to spare.
Be sure to dispose of your plastic bags properly after use. Do not leave them in the wild after an adventure. They are great for protecting your equipment but can cause harm to nature if not disposed of adequately.
7. Extra Lenses
You might be able to manage with one lens, but if you want to up your photography game to a professional level, then you need to get additional lenses for different types of scenes and lighting.
You might find an unexpected scene that you need to capture with a macro shot, or you might find yourself in changing lighting conditions. In such cases, capturing the perfect image will require the appropriate lens, and if you do not have the right lens for the job, you will end up taking mediocre photographs.
Packing additional lenses will help you keep up with changing situations – an inevitable occurrence that you will encounter in the course of your photography adventures. The difference between a good picture and a great picture is using the right lens at the right time.
8. Air Blower
Cameras are sensitive and delicate devices that require a lot of care. To ensure a long life for your camera, you need to keep the right care tools handy at all times. These tools are especially important when you consider your camera sensor, including the elements making up the back and front sections of your lenses.
Your camera and additional equipment can get covered in dirt and dust with usage. Using your hands to clean them out is not a good idea. Not only is this ineffective, but you might push dirt into crevices that you will be unable to reach with your fingers.
That is why you need to get an air blower. Rocket blowers are affordable blowers that you can use to easily dislodge debris and dirt lodged in inaccessible parts of your equipment.
9. Multitool
This is something most people do not think about. A multitool is an essential part of your photography equipment that you should not neglect.
If you need to tighten some screws on your tripod, cut a rope or cable, set up camp, or repair a broken accessory, this nifty tool can be a lifesaver. Do not go on a photography adventure without one tucked away in your camera bag.
Multitools are affordable, and you can easily get one in a hardware store.
10. Bug Spray
It goes without saying that wildlife photographers and nature enthusiasts need to keep bug spray handy. Out there in the wilderness, you will come across bugs. While some of them can be an unwelcome nuisance, quite a number of them are downright dangerous and can harm you.
Always make sure you have a full can of bug spray with you at all times. Check your bag regularly to avoid running out unexpectedly. If you notice that the one you have is getting low, replace it with a full can as soon as possible. You definitely do not want to find yourself surrounded by these creatures, only to see that you have used up the little you had left.
It is also essential to get eco-friendly brands because we have to take care of nature. In addition, always discard a used can properly. Keep it in your bag until you get home or to a place where you can recycle it properly. Do not discard a used bug spray can in the forest; you can do better than that. Avoid littering.
Note: Always have a backup plan for your pictures. A lot of things can go unexpectedly wrong while you are out there working your magic. As a photographer, you need a backup service for backing up or transferring your files to the cloud. You will be glad you uploaded your pictures to a secure cloud-based service when you encounter an issue such as memory card failure. Memory cards can fail without warning, and you need to protect yourself against such occurrences.
Besides, you might want to share your new shots with your editor to enable him/her to commence working on them before you get back. Considering your photographs are precious and large-sized, you need to use a secure, fast, and trusted transfer tool. FileWhopper is a cloud-based service for transferring large files and folders with no limits! Seriously, you can share absolutely anything, no matter the size. It also uses military-grade encryption that protects your data from falling into the wrong hands.
In addition, you don't need to worry about the quality of your photographs. FileWhopper does not compress your files, thus preserving the quality of your work. The best part about this tool is that there is no subscription fee. Unlike other cloud-based transfer tools that require that you pay monthly subscription fees, FileWhopper allows you to make a one-time payment depending on the size of the file or folder you wish to transfer.
Conclusion
We hope this list will make your photography adventures more exciting and comfortable.
If there is any vital accessory that you think we missed, feel free to drop your suggestions in the comment section below.