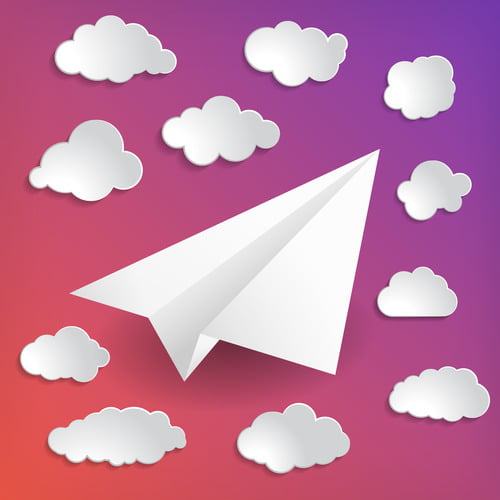 Social media apps have advanced and developed so much in recent times that we now have a wide range of options to select from. This makes communication a lot easier and improves the way we organize both our professional and private lives.
Aside from having plenty of options in terms of communication channels, we can also use various terminologies or lingo to express ourselves. You can take advantage of stickers and emojis developed for the platform of your choice.
Here are some of the ways emojis and stickers can make texting easier:
They are well understood in context and transmit easily identifiable emotions.
They make the conversation lighthearted.
They make self-expression easier for socially awkward users.
What Is Telegram?
Telegram is a cloud-based instant messaging and voice over IP (VOIP) service. Available on Android, Windows, Windows Phone, iOS, macOS, and Linux, this service enables users to exchange messages, videos, photos, audio, stickers, and other file types. The app is constantly updated, allowing users to stay with the most current version. You can use Telegram on desktop computers, laptops, tablets, and smartphones. You can even use Telegram Web, which is the platform's web version.
How to Find Telegram Stickers
Since its inception, Telegram has been focusing on user experience. Telegram stickers are among those features that make communication more fun and enjoyable. They are illustrations that help you transmit your emotions and that make it easier to convey meaning. There are a lot of Telegram tricks and some of them could be found below. Without dragging our feet, let's take a look into how to find Telegram stickers.
How to Find Telegram Stickers Easily – Option 1
Go to the Telegram app and open any conversation.
Tap the sticker icon located in the app's bottom left corner.
Scroll over the sticker packs that are already installed until the sticker icon with the '+' symbol next to it appears.
Tap on the icon to open a screen with new sticker packs. Next to each sticker pack, there should be an active 'Add' button.
Browse the sticker packs available, adding all those that you like or would like to use.
Should you change your mind about a particular sticker or sticker pack, you can just go back to the process, but this time around, click 'Remove' next to the sticker pack. It will be deleted from your list of stickers on Telegram.
How to Find Telegram Stickers Easily – Option 2
You can go about adding your stickers another way. This involves having some really 'cool' people on your conversations list. Imagine a scenario whereby you are chatting with an acquaintance and they keep on responding with some amazing stickers that you don't have. You like these stickers so much that you wouldn't mind having them in your gallery. There is no need to search for them. Tap on any of the stickers in the conversation. You'll be asked if you would like to add the sticker pack. Confirm the move, and your new set of stickers will be added.
How to Find Telegram Stickers Easily – Option 3
Alternatively, if you're strapped for time, there is an easy method of getting Telegram stickers: you can use the Telegram bot feature to download new sticker packs.
If you need more stickers and are ready to let a Telegram bot help you get them, then follow the instructions below:
Launch your Telegram app and navigate to Search.
Type in @DownloadStickerBot and tap to perform a search.
Locate Start at the bottom of the screen. Click on it and open Settings from the new menu that appears at the bottom of the screen.
You'll be presented with various sticker output format options to select from. You should make your choice. When selecting All Formats, note that your sticker packs will come in the zip format.
Proceed to add the link for the sticker pack of your choice. For instance, it may look something like this: http://t.me/addstickers/happiness.
You'll get a notification that your sticker zip file will soon be available.
Download the zip file, extract the files from it and save them for use in your chats on Telegram.
You can choose as many stickers as you like. Telegram presents so many of them that your options are virtually endless.
How to Find New Telegram Stickers using the Telegram Sticker Channel
If you need more information about the possible methods of downloading stickers in Telegram, you may find the Telegram Sticker Channel a great option. Don't worry if you don't know how to access it. After all, it is easy to find this channel. You'll recognize the Telegram Sticker Channel thanks to its logo featuring a cat wearing sunglasses. Explore the Telegram Sticker Channel, and once you know your way around it, you can find new stickers and download them.
How to Upload Telegram Stickers
While there are myriads of ready-to-use stickers available on Telegram, you still may wish to create some new ones. Luckily, it is easy to learn how to upload Telegram stickers. In no time, you will be able to express yourself in a way that you can truly call your own.
Telegram stickers should be PNG images on a transparent background, measuring 512*512 pixels each. The reason why most individuals prefer to use Telegram on desktop is that stickers are easier to create in the desktop version. If you want to create a unique Telegram sticker, you should use Telegram for Windows, Telegram for macOS, or Telegram Web. Each sticker must be a separate image file.
Here is how you can upload Telegram stickers:
Go to the Telegram sticker bot.
Type in the /newpack command and press Enter.
The Sticker bot will ask for the pack's name; type the name and send it.
Click on the File icon to get started on the first upload. Ensure that you're uploading a file and not a photo, otherwise the bot will automatically reject it.
You'll be prompted to assign an emoji to your sticker. Select one that matches the sticker best and send it by clicking Enter. (Telegram recommends assigning a maximum of two emojis per sticker.)
Repeat the above steps until you've uploaded all the stickers you want and type the /Publish command, then hit Enter.
You can add an icon for your sticker pack, upload it, and then send it to the bot. You can skip this part by sending the /skip command. This way, your first sticker will automatically become an icon for that particular sticker pack.
Then, send the bot a short name for use in the sticker pack's URL. Voila! You're done.
Be Cautious About Overusing Telegram Stickers
Too much of anything can soon lead to the opposite of your intentions. As much as you want to come across as cool and find easy means of communication, you still need to limit the use of stickers and emojis. Don't exhaust all the sticker packs you have in one conversation as it might make you appear too playful. Try some stickers and emojis while balancing them out with text. In layman's terms, this requires the application of common sense and chatting as you would normally.
Use FileWhopper to Send Large Files and Folders
If you don't know how you can send your extremely large files and folders online when you're on a budget, it's a good thing you are reading this as I am about to let you into one of the most convenient options. FileWhopper is a great way to send extremely large files and folders online in a fast and secure manner. The payment scheme used makes this program a gem: users are only required to pay for what they wish to send; no strings attached, no monthly subscriptions, and so forth. Users can send up to 10 TB of data at one go. Moreover, you receive your quotation instantly. It even gets better if it's your first time using the platform, as you're allowed to transfer your first 5 GB of data for free. The promotion is available for a limited period; thus, make sure you grab it while it lasts. Here is how the system works:
✔️ Select the file or folder you wish to send and get a quotation by adjusting the Calculate transfer price scale on the homepage.
✔️ Download the tiny FileWhopper app to securely upload your extremely large file or folder.
✔️ Copy the link to the uploaded file or folder and the password with which it has been encrypted and safely share them with the intended recipient(s).
✔️ Note that your uploaded file or folder will be kept ready for download for up to 14 days before being deleted permanently. However, the period can be extended for up to 90 days upon request.
[fwa-calculator]