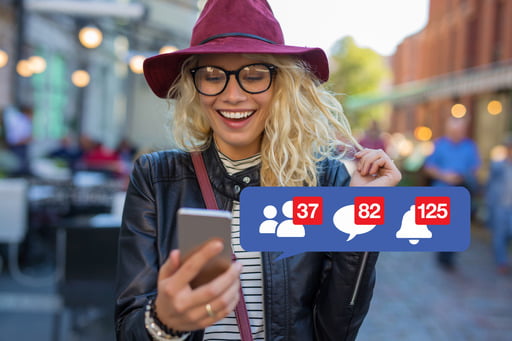 In some scenarios, secret conversations are the best way of regulating communication in a group as they allow only having select people on the thread. To gain access to a secret conversation or start one, you will need to download the Facebook Messenger app. On Messenger, you can create a secret conversation by sending a message to the recipient after enabling message encryption. According to Facebook, all Messenger secret conversations are encrypted.
You can rest assured that both you and the recipient are the only people with access to the encrypted message that relies on end-to-end encryption. The statement from Facebook reads as follows: "To verify the conversation is encrypted, compare the device key that appears under your friend's name with their keys on their device to make sure they match. You can compare devices in person, or via screenshot." Whether you decide to compare your device keys or not, you may rest assured your secret message stays encrypted and can only be opened by those in possession of the right key.
To enhance the security of your secret conversation, there is an option of setting an expiration time after which the messages self-destruct and the entire thread disappears, meaning your secret conversation can have a life span as short as you choose.
---
Warning!
It's still easy for other people to learn the contents of a secret conversation. All they need is the key or access to one of the phones. The other person can also snap screenshots of the secret conversation and send them to other people.
---
If you would like to know how to turn Facebook secret conversations on, first learn how to navigate Messenger. The person on the receiving end of a secret conversation also needs to install Messenger and know how to use the app.
Limitations to Secret Conversations on Facebook
You can easily learn how to use Facebook secret conversations, but there are some limitations that come with this app, and you will have to learn how to handle them. The Messenger secret conversations section was designed for one-to-one conversations, and it doesn't support group discussions. Voice or video calls are not supported either. Also, you cannot use secret conversations to send payments. However, you can go ahead and arrange to send payment details once you have made transactions using other platforms.
There are no other means of accessing secret conversations except on the Facebook Messenger app. Download the app on your iOS or Android device. Although it's an advantage that secret conversations are so private, they don't appear on your Facebook Chat history, and this can also come as a limitation.
The other limitation is that the Facebook Secret Conversations feature is only accessible on Messenger. If you start a secret conversation with someone, they will need to download and install Messenger before they can view the conversation. Also, if Facebook automatically decides that you and the other party are not friends, your secret conversation might get automatically filtered to spam.
In case you are wondering how to know that a message is a secret conversation, Facebook makes it easy by including a padlock icon beside the contact's profile icon. Once you see the padlock, you know that the particular contact is in a secret conversation with you.
How to Enable Encrypted Conversations on Facebook Messenger
You need to enable the Secret Conversations feature on Messenger before starting a conversation. Turning Facebook secret conversations on is easy. Find below how you can do it on your device.
If you're on iOS:
Go to the Facebook Messenger home screen and tap your profile picture (it is located in the top left corner of the screen).

Scroll down to the next page and open the Preferences section. Select the Secret Conversations option to open it up.
Toggle the On button, which is green, to enable the Secret Conversations feature.
To enable secret conversations on Android:
Launch the Facebook Messenger app.
Tap your profile picture, which is in the upper-right corner.
Open the Me page, and scroll down to Secret Conversations. Toggle to turn on the feature.
How to Start a Secret Conversation on a Tablet or Smartphone
Now that you know how to turn on the Secret Conversation feature, it's time you learned how to send secret messages in Facebook via Messenger. The process is not fully the same on iOS and Android. The steps outlined below are simple enough and can be followed exactly so that you can successfully have secret conversations on either platform.
Initiate a Secret Conversation on iOS
From the home screen, open the FB Messenger app and tap on the 'New Message' icon on the top right.
Tap 'Secret', which is on the top right.
Move to the contact icon of the person you want to start secretly conversing with.
Start typing a message. To add another layer of security, you can set a timer for the message to expire (self-destruct) after a specified period of time, which can be seconds, minutes, hours, or even days.
Type your message and send it like any other normal message.
A message sent with a countdown timer will show the recipient the clock icon so that they are aware of the time left before the message disappears. Learn more about Facebook features you might have been overlooking.
Initiate a Secret Conversation on Android
Locate the Pencil icon, which is next to the camera icon in the top right corner of your screen, and tap it to start a conversation.
A page with your contacts list will open up. Before selecting the recipient, slide the lock icon in the upper right corner to the lock position (enable Secret Conversations).
Tap the icon of the person you want to send a message to.
You will notice a timer icon next to the conversation box. Whatever time you set, the message will expire after that time, the countdown starting once the recipient has seen the message. Go ahead and compose your message.
Tap the arrow on the right of the message screen to send the message.
Verification of FB Secret Conversations
As you might know already, all Facebook secret conversations are protected via the latest encryption techniques. To increase privacy, there is an option of arming your conversation with end-to-end encryption by sending and comparing device keys. Both parties in the secret conversation should receive device keys that match. Here is how that happens:
Open a secret conversation.
Tap the contact's name to select it.
Tap the option 'Your Keys.'
Double-check and confirm that the key displayed under the contact's name matches the key on their device.
Make sure to confirm that there has been no interception and both ends of the conversation hold matching keys. To check that, you can send screenshots of the keys to each other or compare your keys in person.
Accessing a Secret Conversation on Multiple Devices
Although it's easy to access your apps across devices and continue conversations, you have to understand that FB Messenger secret conversations don't come with that privilege. Once you open a secret conversation on a device, you cannot access it on another gadget, even if you log into it using the same Messenger account.
If you lose your device and would like to continue with a secret conversation, you can add another device. However, the old messages that were sent or received using the lost device will not appear on the thread on the new device. To add a new device and have a secret conversation, sign into FB Messenger from the new device. Access Messenger and you should be able to view all your new messages. The other person you were chatting to will receive a notification letting them know you're now available on a new device.
Deleting Secret Conversations
You can delete all your secret threads and messages – but only from your phone. There is no way to control the other person or delete the thread on their end. You can, however, set a self-destruction timer for any sensitive thread to automatically disappear when that time lapses.
To delete a secret conversation on iOS:
From the Chats section, tap your profile picture in the top left corner.
Scroll down the page and select 'Secret Conversations.'
Tap on 'Delete Secret Conversations.'
Tap 'Delete.'
To delete a secret conversation on Android:
Launch Messenger and tap your profile picture in the top right corner.
Scroll down to open Secret Conversations.
Check 'Delete All Secret Conversations.'
Tap 'Delete.'
All secret conversations will be deleted and wiped off the device.