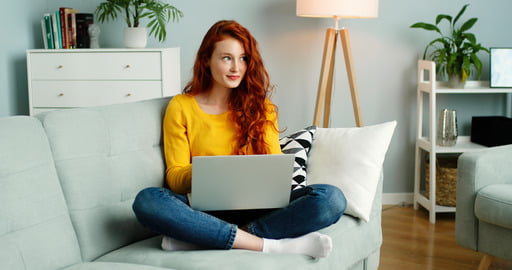 Many of us use large files regularly. Whether it's for work or our personal needs, we need a way to share this data—especially media files—with our colleagues and friends. Recorded videos and other media formats are an essential way of preserving memories and information. However, it can be a bit difficult to transfer them, especially when you consider that you cannot send big-sized files through email quite easily. This is because such sites have a limitation on the data size that you can send at once.
You don't have to worry because all hope is not lost. There are easy ways to send a large file over the internet as long as you have a working connection.
What Are the Best Ways to Send Large Files over the Internet?
In this guide, we will show you the best ways to share big files. Whether you want to send them through email or an alternative method, keep reading for more information. The article is in two parts:
Part 1: How to send large media files through email by compressing them
Part 2: Other tools for sending large files online for free
Part 1: How to Send Large Media Files through Email by Compressing Them
If you have a large-sized video file that you want to share with someone over the internet, compressing the data is one easy way to go about it. All you need is the right tool. However, you cannot use just any tool—you need professional software. One such application is Wondershare Uniconverter (formerly known as Wondershare Video Converter Ultimate), which is compatible with both Mac and Windows platforms.
Wondershare allows you to compress large-sized video data so that you can easily send them by email. It will let you reduce the size of your media file without losing much of its original quality. It supports almost all video formats, which makes it a very convenient tool. Also, you can perform modifications such as trimming, adding watermarks, cropping, rotating, among others. Among its other advantages are:
Checking the quality of the compressed video in real-time preview
Downloading videos from thousands of video sharing sites, including YouTube. All you have to do is copy the URL and paste it into the Wondershare app.
Supporting batch conversion. That means you can compress and convert multiple files at the same time.
Additional toolbox functions, such as GIF Maker, VR Converter, Metadata, etc.
How to Compress and Send Large Files Using Wondershare UniConverter
1. Open Wondershare Video Compressor
Before you begin, you need to download and install the application on your PC or Mac. After doing that, launch the app and go to the Video Compressor tab.
2. Add the Videos for Compression
In this step, select the Document icon. This allows you to browse, choose, and add the videos you want to compress from your device storage.
3. Customize Compression Settings
After adding your choice video, the app will display every piece of information about it, such as resolution, video format, video size, and video length. To commence file compression, you have to manually set the File Size, Quality, Resolution, Format, and Bitrate that you want. Also, there is a progress bar, which you can drag to change all the settings quickly. To check how the video will look when it is done, click the Preview button.
4. Compress the Video for Email Sending
Click on the option written File Location. This allows you to select where you want the app to save the video file after compression.
After choosing the file location, select the Compress button. This will start the video compression. Once the process is complete, you can now go to your email and send the data without difficulty.
Part 2: Other Free Tools for Sending Large Files Online
It is a well-known truth that compression reduces the quality of a video file. Although Wondershare ensures your media's resolution is not diminished by a lot, it still has limitations. If you do not want to use a compression app to send large files by email, other tools can help you. All of them have their unique features, with some better than others.
1. Google Drive
Google Drive is a popular cloud-based tool from the tech giant Google. Designed for sharing large-sized files, it comes with file storage and synchronization feature that makes it convenient to store data on Google servers. This allows you to access uploaded data across multiple devices.
The app gives users free 15 GB of storage space. After uploading a file, you can create a link for it, which can be given to whomever you want to share the uploaded data with. This link can be sent by email, and the recipient simply needs to open it. Once they click the link, they can view or download the media on Google Drive. Users who are looking for larger storage capacity can subscribe to the premium paid plan.
Pros
It is easy to understand, use, and manage.
It has friendly and intuitive features and interface.
It supports multiple document types.
It's cloud-based, which means you can access your uploaded files from any device in any location.
Cons
The plug-ins are quite limited.
It can be cumbersome to search for uploaded files.
2. FileWhopper
FileWhopper is also one of the best platforms for large-sized file transfer. It is a cloud-based service, which allows users to upload and share folders of whatever size. All you have to do is add the file(s) you want to send, and it will automatically display the price for you. It will then install a very small-sized app on your device to ensure the data sharing is not interrupted by network failure. This tiny app also encrypts your upload for added protection.
The best part about this tool is that it requires no monthly or weekly subscriptions unlike the other apps on this list. You simply pay for the folder or file size that you wish to send, and that's it! Also, it allows you to send huge files without any limits whatsoever. You can send data of more than 100 GB with ease, which means you don't need to compress or convert your video files before transferring them. It preserves the original quality of your media files.
FileWhopper is a tool built for security, which is why it encrypts your files while sending to ensure hackers cannot intercept them. This makes it an excellent platform for sharing sensitive data. It also protects your upload with a password, which limits access to you and the recipient only. While the transfer is in progress, the app generates a download link. You can share that link with the recipient by email or any other social media app.
It comes with additional features such as simultaneous upload and download. This allows a recipient to begin downloading the folder while the transfer is still in progress.
Pros
It offers a simple user interface for easy file transfer.
Your first transfer of up to 5GB is free.
It has simultaneous upload and download capabilities.
It can share files of any size.
You don't need to compress your video before sending it.
High-grade encryption capability for added security.
No monthly or weekly subscription is required.
It has high upload and download speeds.
It is not affected by sudden network interruptions. It resumes transfer once the connection is restored.
Cons
There's none that we can think of.
[fwa-calculator]
3. Dropbox
Dropbox is another cloud storage service that makes it easy to synchronize files in addition to client software and personal cloud options.
This cloud-based app allows you to create folders on your PC that you can synchronize with Dropbox servers. If you have other devices where the app is installed, the specified folder and its contents are also synchronized and shared with these systems. It comes with a basic plan, which gives you 2 GB of free storage space along with many other features. However, if you need a bigger storage capacity, you can subscribe to the paid plan. This will also give you access to advanced features that aren't available on the basic plan.
The tool supports multiple platforms on PC, such as Mac, Windows, and Linux systems. Smartphone users can install Dropbox on Android, iOS, and Windows devices.
Pros
You get to enjoy easy syncing of files across multiple devices and operating systems.
It allows for file sharing between multiple users.
You can create multiple versions of the same file, which can be viewed across different platforms.
Cons
Sometimes, it can be difficult to locate uploaded files.
Only 2 GB of storage capacity is given for free. You have to pay to access more space.
File syncing and sharing is quite slow.
There's very little security for uploaded and shared folders and their contents. It might not be the best platform for sharing sensitive data.
4. One Drive
One Drive is another tool for transferring large files designed by the popular Microsoft Company. It is a synchronization and file hosting service that makes it easy for users to store and share their files over the cloud. Uploaded content can be synched, shared, and accessed over multiple devices and platforms.
The One Drive service offers users 5 GB of free storage space. If you need a bigger capacity, you can get the paid plan. If you have a subscription to Office 365, there are plans available for you too. After uploading your video file, you can generate a link. You can share that link via email and other social media platforms, such as Facebook, iMessage, etc. You can even send them by text message. The recipient can click this link to view and download the file.
Pros
It integrates with Microsoft Office tools, allowing smooth collaboration.
It supports multiple platforms.
It has an option that allows you to link your One Drive account with social networks.
Cons
It does not support Chrome OS.
Some vital features are lacking in Web apps.
There are security issues with sharing and storing files that need addressing.
5. pCloud Transfer
pCloud Transfer is a cloud-based storage service that has gained popularity among users. It allows you to share, store, edit, and download files across multiple devices. You can send up to 5 GB worth of data without registering on the platform. All you need to do is add the files you want to send on the tool, add your mail id (as the sender), and that of the recipient. Then, attach a message and send it. The interface is simple to use, and it allows you to send large files to as many as ten recipients at a time.
Pros
It has a simple and easy-to-use interface.
Allows users to share files with up to ten people at a time.
Users can upload and send files over email without having to register on the platform.
Cons
It has limited storage capacity.
It lacks additional functions and features.
6. WeTransfer
WeTransfer is a free large-file transfer platform that allows users to send data of up to 2 GB in size. To share media files and documents on this tool, you don't need to install any program on your device or register on the platform. Simply add your email (as the sender), including that of the recipient, and then include the message you want to send to them. The application will take care of the rest.
If you want to send files or videos larger than 2 GB, you have to subscribe to the paid premium plan, which gives you access to additional storage. This also comes with extra features, such as password customization, password protection, among many others.
Pros
You don't need to do any registrations or install any programs.
It has a friendly and simple user interface that makes it easy to upload files.
The platform generates downloadable links, which users can use to share large files.
Cons
The free plan only gives 2 GB worth of storage.
The uploaded files get deleted automatically after a period.
No additional features and functions on the free plan.
Conclusion
Listed above are the best and most popular tools for sending large files. You can use any one of them whenever you find yourself in a situation where you're unable to send big-sized videos or documents through email attachments.
If you are looking to send sensitive data without worrying about safety, FileWhopper is your best help. It's also very useful for sending heavy folders at high speeds, which the other tools in this article will be unable to do with ease.