Do you remember the times when transferring files between phones was an impossible task? Today you can send files between devices using cloud services or Bluetooth. But what can you do if you need to transfer really big files between two mobile devices? In this article we are going to discuss all possible options for transferring large files between smartphones.
Options for Sending Large Files Between Smartphones
First of all, let's subdivide all existing methods of transferring data between smartphones into wired and wireless. Using a USB OTG cable is a wired method. This is a very easy option, but it involves using wires and a computer.
Of course, the most convenient way to transfer data between mobile devices is wireless. But there is still more than one way to do it:
Bluetooth is extremely popular, but it has its drawbacks. It can be used mostly for sending or receiving a few files that are not very large in size. Although technically you can actually send large files via Bluetooth, it can take a lot of time and requires a lot of patience.
Find more info about transferring files using Bluetooth in this article.
Cloud services or file sharing services
Using cloud services and file sharing platforms is a good idea if you have a stable internet connection. Without a good connection you may face problems with uploading and downloading data.
This method has its limits too, and they are tougher than with most other options: most email accounts don't allow large file attachments at all.
Wi-Fi Direct is a good way to send large files from one smartphone to another that is located a few feet away. This method is very convenient and simple when you are only transferring files within one room.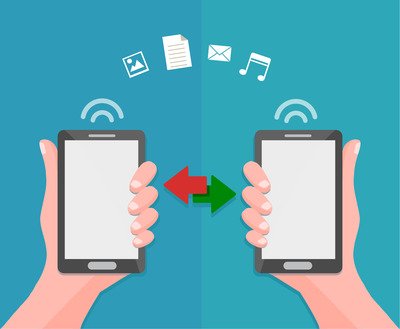 How to Transfer Big Files Between Android Smartphones
Google Play store has lots of different apps that will help you transfer large files between Android devices.
Wi-Fi Direct technology helps you transfer files quickly. This technology allows exchanging large data over Wi-Fi at relatively high speeds, and lets you share any type of content without worrying about an internet connection.
Android devices can connect to each other directly to transfer large files. Additionally, there is an option to create a group of several devices. This method is quite simple: all you need to do is turn on the NFC option on devices and enter a PIN. All transfers will be secured and protected by WPA2™ (Wi-Fi security technology).
Before starting to share files, you need to accept an invitation for a connection from the other Android device. Two or more connected devices form a Wi-Fi Direct Group with the latest Wi-Fi security.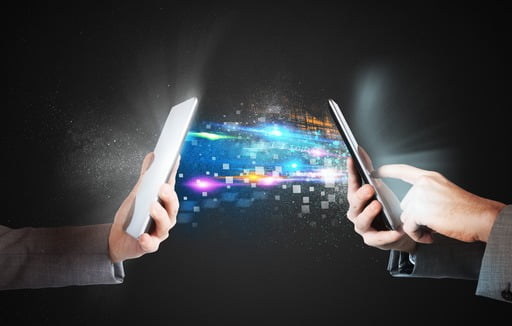 How to Transfer Big Files Between Android and iOS Smartphones
If you need to transfer large files between an Android smartphone and an iOS device, you can't use the Wi-Fi Direct feature. In this situation the best way is to use a regular Wi-Fi network.
The SuperBeam app can help you share files instantly. You can download SuperBeam Pro from Google Play store and use it for 14 days for free. To quickly transfer files using SuperBeam, you need to have a Wi-Fi hotspot or Wi-Fi Direct. After installing SuperBeam, you will see a new sharing option for your files. In the SuperBeam app you will get a network URL to download files that are shared.
On your iOS device, you can install the FileMaster–Privacy Protection app, which is free. This app is one of the most powerful file managers with file sharing and cloud storage features included.
After installing the app on your iOS device, enter the home network URL from the Android SuperBeam App (under the "Other Devices" option). Now you can download the shared file via FileMaster and save it. This way you can transfer all types of large files, such as video or photos.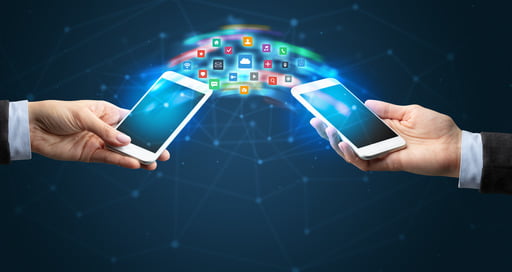 Sending large files between smartphones is very easy using Wi-Fi Direct. No matter if you have an Android or an iOS device, transfer large files quickly and without any hassle. This is the best way to send large files if you store files locally on your smartphone.
What is your favorite app for file transfers between smartphones? Share in the comments below.