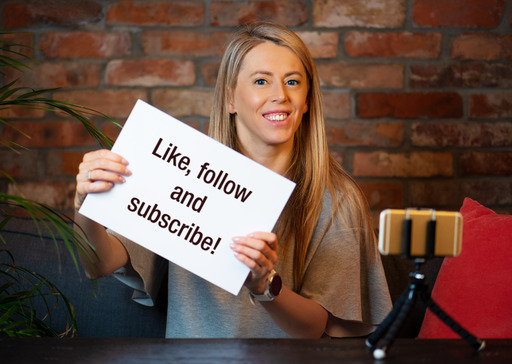 YouTube is a video sharing and social media platform with over 2.3 billion users. This makes it a great marketing option for businesses and individuals.
However, you need to set up a YouTube channel to start creating and sharing YouTube content. But how do you start a YouTube channel? We've compiled a simple guide below. Just keep reading.
How to Start a YouTube Channel: A Beginner's Guide
1. Create your channel with Google
If you have a Google account, you can use it to set up your YouTube channel. You don't need a particular phone or computer to do this. The following steps will get you started:
Head to YouTube's official website and select the Sign In option.
You'll get a prompt to provide your login details. Enter your Gmail ID and password.
Once you log in, click on your user icon in the top-right corner of your screen.
After that, select Settings from the drop-down menu.
Note: The above drop-down menu works for your Google account and your YouTube account since Google owns YouTube.
The last step will redirect you to your account overview. Then navigate to the "Your YouTube channel" tab and click on the "Create a new channel" option under it.
After that, you can proceed to set up the channel details. The first step will be to choose a channel name.
2. Create your channel name
Your YouTube channel name is vital for success. It's your YouTube business card because it informs users about you and what you have to offer on your channel.
YouTube has over a million channels. Your channel name should be unique and searchable to make it outstanding. With an appropriate YouTube channel name, you stand a chance to get more subscribers, views, likes, and shares.
Keep in mind that consistency with your name is key to building your brand. For instance, if you're a famous influencer and known by an alias or name, using the name or alias as your YouTube channel name is a good idea.
The following tips will also help in selecting an appropriate YouTube channel name:
Choose a name that's easy to remember.
Choose a channel name that resonates with your target audience.
Choose a name that's relevant to your niche.
YouTube channel names are case-sensitive; it's best to use capitals for readability.
Not only will a memorable channel name engage your viewers, but it will also help them to recommend you or check back. So, ensure you choose your name carefully.
Fortunately, YouTube allows users to change their channel name in the future. This means you can choose a temporary channel name for now and change it whenever you need it.
3. Customize your channel
Once you select an appropriate channel name, the next thing to do is to customize your channel. This is where the bulk of the work is. To do that, click on the Customize Channel option to start customizing your channel.
Channel customization involves three stages, and they include the following:
a. Add your basic info
Click on the Basic Info subsection to get started.
The Basic Info section contains your channel's name, its description, external site links, your contact info, and lots more.
Your channel description also appears in your channel's About section, YouTube's search results, and even Google's search results.
In most cases, it's the first thing anyone who stumbles on your channel will check. So, it should represent your personality, who you are, and what you have to offer as a YouTuber.
Also, the Basic Info section contains your channel's URL – your channel's standard web address. This is usually a complex combination of upper- and lower-case letters and numbers that's not easy to remember. Your original URL will also include your unique channel ID.
Fortunately, you can customize your default channel URL to have a simple, professional, and shorter channel URL that's easier to remember. But to do that, your channel needs to be at least 30 days old and have at least 100 subscribers.
YouTube will notify you via email once you're qualified for a custom URL. Also, you'll see a notice in your channel's Basic Info section and your channel dashboard.
Additionally, you can add external links to your website or other channels in the Basic Info section.
b. Add branding elements
Once you're done with the Basic Info section, you need to add channel art (branding elements) to the channel. These elements include your profile picture (or your brand's custom picture), video watermark, and banner image.
You can start adding these elements by clicking on the Branding section. Now, let's see their specifics.
Profile Picture
Your YouTube channel's profile picture is an excellent opportunity to showcase your brand, engage your users, and create a first impression. YouTube will display your profile picture anywhere your channel appears on the platform.
Click on the Upload button to select a suitable profile picture from your device. Make sure your profile picture meets the following criteria:
YouTube only supports GIF, JPEG, PNG, and BMP file formats. It does not support animated GIFs.
YouTube recommends an image size of 800 x 800 pixels, but you can use a picture that's at least 98 x 98 pixels.
The image size should not exceed 4 MB.
Banner Image
The banner image only appears across the top of your channel. It gives a visual representation of your channel's content, making it an essential part of your channel.
Your cover photo should have the following essential elements:
A color scheme matching with your brand
A solid value proposition
External links to other social networks, landing pages, blogs, and so on
Keep in mind that your banner image or cover photo will appear differently on mobile devices, TV displays, and desktops – YouTube might crop larger images. YouTube recommends using an image with an aspect ratio of 16:9 with at least 2048 x 1152 pixels and a maximum of 6 MB for optimum results.
Video Watermark
A video watermark is a graphic logo containing the video's name, your channel name, and any other information related to your channel.
It displays in the bottom-right corner of your uploaded videos and during live streams. It provides copyright to your content. Users can even subscribe to your channel through it.
However, you need to select its display time before it takes effect. You can display your watermark at any of the following display times:
During your entire video: It will appear throughout the video.
At a custom start time: It will start showing at a set time during the video.
At the end of the video: It will appear during the last 15 seconds of the video.
YouTube recommends a video watermark that is at least 150 x 150 pixels and less than 1 MB in size.
c. Customize your YouTube channel's layout
This section is the last step in customizing your channel. It allows you to choose and organize what viewers see when they visit your channel.
First, set up a Video Spotlight – the main video viewers see when they open your channel. You can showcase two types of videos depending on whether the viewer has subscribed or not with the Video Spotlight feature.
For non-subscribers, you can add a channel trailer. A good channel trailer should do the following:
Highlight your video content
Specify what services you have to offer on your channel
Encourage viewers to subscribe
On the other hand, you can add any featured video for returning subscribers.
You can remove or change both videos at any time.
Next, you can set up featured sections.
Featured sections let you customize what viewers see on your channel homepage. To add a featured section, click on Add Section to feature playlists, channels, or videos.
You can highlight playlists that you or others created in the Playlists section.
Also, you can display your other channels and collaborators in the Channels section.
Lastly, the Videos section can automatically group videos for you. For instance, all newly uploaded videos will appear under the Uploads section of your channel.
YouTube allows you to add up to 12 sections to your channel homepage.
The layout structure helps organize your content to ensure viewers do not feel overwhelmed by your videos. It also helps to declutter and display your channel in the best light.
How to Create YouTube Video Content
This is an essential part of starting a YouTube channel. Uploading content is straightforward on YouTube, but creating engaging and relevant videos is the real deal.
The following factors will give you a good head start:
1. Identify your audience
YouTube is the largest user-generated online video sharing platform with over 2.3 billion active users worldwide. With that large audience, you can expect a diverse targeted demographic for your content.
However, the key to success is to target a smaller group and get them to like and share your content. Once you've identified your audience, you will be able to develop better content topics.
2. Determine your audience's needs
Creating irrelevant content for your audience will reduce your channel's rating and following. Ensure you research your audience to ensure your content engages them and meets their needs.
3. Select the type of your content
Once you've determined your audience's needs, you need to figure out how to pass your content to them. Here are the most popular YouTube video types:
Educational
Product reviews
Interviews
Narratives
Q&As
Reactions
How-tos / video tutorials
4. Choose appropriate equipment
The equipment depends on the video type. You can save up by taking videos with your smartphone and upgrading later. You can get other equipment, such as a tripod, lighting, shutter release, etc., to create high-quality videos.
5. Prepare video scripts for your content
It's best to prepare an outline for your content before you start. It helps to organize and maintain the flow of your video. It also helps ensure you don't leave out any relevant information during the shoot.
After that, you can proceed to create your YouTube content.
YouTube is popular for sharing videos. However, the default length of videos you can upload is 15 minutes. To upload videos that are longer than that, you need to verify your account. Also, if your web browser's version is not up to date, you can't upload more than 20 GB on YouTube.
Fortunately, there is a YouTube alternative with no size limits: it is called FileWhopper.
FileWhopper is a file transfer tool that allows users to share files and folders of any size and format without security concerns. It protects all transfers with military-grade zero-knowledge encryption. Besides, FileWhopper has no monthly or annual subscriptions. Instead, it uses a pay-as-you-go model – that is, you only have to pay for the files or folders you share depending on their size.
Conclusion
The above tips contain the essential things you need to know about how to make a YouTube channel.
Was this guide helpful? Please leave a comment below.