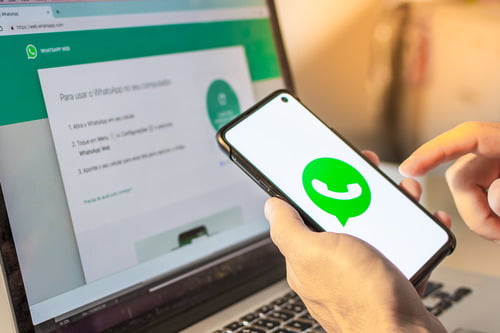 When it comes to messenger apps, WhatsApp seems to have taken supremacy in the arena. It's not only a communication platform but also a highly convenient mobile application that allows us to share photos, videos, audio files, or even locations seamlessly. WhatsApp is faster than email, and you can get feedback in real time, which makes it great, especially if you're having a good time and want to brag about it to your friends.
On WhatsApp, users can now send a variety of file types, such as APK files, PDFs, Word documents, and video formats like MP4, AVI, MKV, and MOV. The only catch is that there's a limit to the size of files that you can send across to your contacts. In today's post, we dig deep into the world of file sharing and show you how to send large files through WhatsApp.
What Is the Maximum File Size for WhatsApp?
Can one send files larger than 100 MB on WhatsApp? I presume you know that's not possible, at least not directly via the app anyway. But hang on a minute. Does that mean there are other ways to send large files on WhatsApp? That's right – but more on that later.
The size limit for sending video files to your contacts on WhatsApp is 16 MB. In other words, your video will be trimmed down to between 90 seconds and three minutes depending on the quality of the video. The same case goes for other media files like images and audio files (including voice messages). Considering the high resolution that current smartphones have, it means that a short video of around 30 seconds can be as large as 20 MB or even more. For documents, the maximum limit is set at 100 MB.
Recently, WhatsApp introduced the "Status" feature, which allows users to upload an image, link, or video clip that automatically disappears after 24 hours. The limit for videos uploaded to "Status" is capped at 30 seconds. So far, there are no indications that the duration will increase. All we can do is wait and see.
With that in mind, do you understand the logic behind the data transfer limitation? According to developers at WhatsApp, allowing users to share large files over the platform will clutter their servers and may cause downtimes. Plus, remember that the media files you share with your contacts are stored in your phone's storage. This means that your phone storage will be filling up pretty fast.
To avoid this, WhatsApp simply gives you a common platform to share files of a limited size. Mind you, it's possible to share an entire YouTube video with a resolution of 1080p via WhatsApp because you only need to send the link to the video as opposed to the video itself. In other words, the YouTube video you shared remains on YouTube servers rather than on WhatsApp servers.
How to Send Large Media Files on WhatsApp
To bypass the limit that WhatsApp has set, you can use the built-in editing feature in WhatsApp or download various editing apps from Google Play or App Store to reduce the size of the video that you want to send. However, for advanced editing options and faster conversion, we recommend desktop apps and checking this article out.
On the other hand, you can split the video into shorter pieces that you can easily share. The only problem with these methods is that the quality of the video may be affected, plus who'd enjoy watching shorter clips of a long video sent separately?
Alternatively, you can use third-party cloud storage of your choice, such as Google Drive or Dropbox, to upload the file that you want to share and share the link via WhatsApp. When the receiver opens the link, they will be able to access the file from the same cloud storage and, if they want, download it to their smartphone.
How to Use Google Drive
Google Drive makes it easy for you to share files via WhatsApp. Like we mentioned above, all you have to do is upload a video, audio file or any other type of document and share the link with your contacts.
Here's the step-by-step guide:
Open your gallery or the location containing the file that you want to upload, tap on the "Share" icon, and select "Save to Drive".
Wait for the file to finish uploading. This may take a while, especially if it's a large file.
Next, long-press the link and tap on "Copy the link". You'll see a notification that the link has been copied to your phone's clipboard.
Now, open WhatsApp and send the link to the contact(s) you want to share the data with.
Your contact(s) can access the file simply by tapping on the link.
The same procedure can be applied to other cloud storage platforms like OneDrive and Dropbox – only the steps will be different.
Send Large Files Hassle-Free
If you find the entire process of converting or compressing files irritating and a waste of time, we offer you the next best alternative to sharing videos larger than 16 MB. FileWhopper allows you to transfer a file or folder of any type and size, even 20 TB, for a one-time fee that's calculated based on its size. The process is simple:
All you have to do is visit the site and select the file or folder that you wish to transfer. FileWhopper automatically calculates the cost of your transfer. You only pay what's due, not a cent more.
Click "Continue" and follow the on-screen instructions.
Your file or folder will only be stored in the cloud for 14 days so that your recipient can download it before it's permanently deleted (additional time and downloads are available at an extra fee). More importantly, the data you send via FileWhopper is encrypted, which means that only the person with the password generated in the app can access the data. Why lose the quality of videos that you want to transfer to your friends and family while you can use FileWhopper effortlessly? Give it a try today.