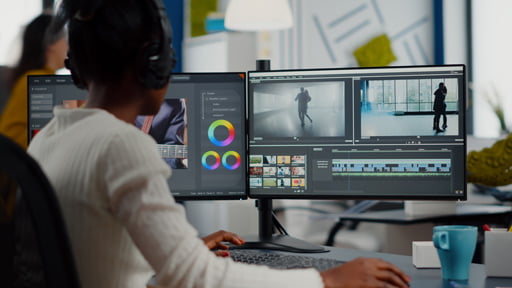 Final Cut Pro X is a powerful video editing tool for post-production. It lets you make all sorts of edits to video and audio, do advanced color grading, design and edit closed captions — and more. The program comes with a comprehensive toolkit that has everything you need to edit and deliver videos from scratch.
It sounds like a dream, doesn't it? Well, there is one small catch, and as a Windows user, you probably already know about it. Does Final Cut Pro X work on Windows 10? Unfortunately, it doesn't.
And if you are wondering how to install Final Cut Pro X on Windows 10, your better bet would actually be to look for Final Cut Pro alternatives for Windows.
And this is where we come in. In this article, we will give you an overview of ten great alternatives to Final Cut Pro X for Windows (both paid and free).
Let's get started!
The Top 10 Final Cut Pro X Alternatives on Windows
Let's start with several top-rated free software options that can do a lot of what Final Cut Pro X can do.
Here are our top picks:
Avidemux
Shotcut
Blender
HitFilm Express
Lightworks
Avidemux
Avidemux is a free and simple alternative to Final Cut Pro and is the perfect option for beginners.
The software supports different video file formats: AVI, MPEG, MP4, DVD, and ASF. The program is very straightforward with no technical complexities. It has a very simple and non-intimidating interface, which makes it a great match for those just exploring video editing. With it, you can perform lots of simple tasks, like cutting, trimming, encoding, and more.
If you navigate to Video Filter Manager, you will find more editing features hidden there. You will be able to crop, rotate, flip, and add borders, logos and even duplicate frames for a given duration. Additionally, you can add subtitles in SRT, ASS, and SSA and adjust the saturation, brightness and color of your edited videos.
There are several downsides to mention too. The program's interface is lacking a timeline, and you won't be able to preview all filters applied — you'll see just the one you have selected.
All in all, Avidemux is a great choice for video editing beginners and for very basic video editing.
Shotcut
Shotcut is quite similar to Avidemux in what it can do. It is a rather basic tool with well-presented but limited functionality. So, if you've been using Windows Movie Maker as your primary editing tool and want to go a step up, Shotcut is the way to go. But it's not something you would use for more advanced video editing projects.
The program comes with a clear but highly customizable interface that allows you to dock and undock panels.
Shotcut supports lots of different audio and video formats, and you can work with 4K resolution as well.
Shotcut is one of the best free video editors out there that can help you out in a wide range of different projects. Compared to Avidemux, it comes with more editing tools and gives you more control of your projects.
Blender
Blender is more geared towards professionals. It supports advanced video editing functionality, like the Luma Waveform, live review, the Chroma Vectorscope, and histogram showcases.
You can also use it to work with audio mixing, waveform visualization, and video scrubbing.
A great thing about Blender is that it's an open-source program that is absolutely free to use.
The software is perfect for managing your basic video editing needs (like cutting, splicing and more) but can also work on more advanced tasks, like video masking. This makes it a great option for both beginners and more advanced video editing enthusiasts — but the feature set on board is not as complicated as with Final Cut Pro X.
HitFilm Express
HitFilm Express works both on Windows and macOS and supports 8K video projects.
Currently, it is one of the best video editing solutions for 8K editing. It is an all-in-one toolkit for complex video projects that require audio and video editing. You get lots of other advanced features on board, including professional audio mastering and color correction.
Lightworks
Lightworks works on Windows, macOS and Linux and is probably the most well-known video editing program on our list. Lightworks has been used in a multitude of Hollywood productions, from LA Confidential to the Wolf of Wall Street, and is a pretty much all-in-one solution for all your video editing needs.
It is one of the most powerful video editing programs with lots of advanced features, like professional-level color correction, video capture, and extensive format support.
Lightworks is free — but there is more functionality if you use the paid version of the program. Upgrading to Lightworks Pro will cost you $25 a month.
With that, even if you decide to stick with the free version, you should have everything you need for comprehensive video editing. The one downside is that you will only be able to use video files with a resolution of up to 720p. The Pro version opens your options up to editing in 4K and editing videos for YouTube.
In general, Lightworks is recommended for more advanced users, and if you are just starting out in video editing, you may find the tool a bit intimidating.
Now that we've covered our top picks for free video editing software, let's take a look at what you can get if you are willing to spend a bit.
In some cases, a paid solution can help you save lots of time and give you more room for creativity. However, it's a good idea to do some research on the program you plan to commit to and make sure it has the functionality you need.
We will look into the following tools:
Filmora Video Editor
Wondershare FilmoraPro
Wondershare Filmii
Vegas Pro
Adobe Premiere Pro
Filmora Video Editor
Price: $39.99 for a one-year subscription; $69.99 for a lifetime subscription
Filmora is a great alternative to Final Cut Pro X for beginners. It comes with a similar dark interface, and the editing and trimming processes on both tools are almost the same.
With Filmora, you can perform your basic video editing actions, like color tuning, noise removal, video stabilization, and more. The program supports 4K resolution, and there is a very handy split-screen feature on board that lets you edit your video on multiple footages.
A great thing about Filmora is that you can download the trial version of the app for free and try it out before committing to a subscription.
Wondershare FilmoraPro
Price: $149.99 for a lifetime subscription
FilmoraPro is a powerful video tool for those who want to edit professionally. It comes with an intuitive interface, and you will be able to quickly find the features you want. You will also have access to lots of cool video effects, like bolts of lightning and rain, with dragging and dropping.
Color correction with FilmoraPro is very easy, and you can use the color wheel, LUTs and more to adjust color settings. With smooth keyframes, you will also get to have more control over text, titles and animation.
One of the best things about FilmoraPro, however, is that it offers lots of easy-to-follow free video tutorials that can help you get started with video editing.
Wondershare Filmii
Price: $9.99/month or 34.99/year
Wondershare Filmii is unlike any other video editor on our list and is a great option for novice users. The program comes with an extensive collection of smart-themed templates for quick and easy video creation.
So, if you are looking to make movie-like videos for social media but don't want to invest a lot of time in production, Filmii has got you covered. You get all the tools you need to quickly make an eye-catching video complete with catchy customizable captions and aesthetic filters.
But that's not all. While Filmii does offer you an easy way out, it also gives you the option to explore more complicated editing techniques. All you need to do is go into the advanced editing mode — there, you will be able to personalize your videos to your heart's content.
All in all, Filmii is definitely a very infesting solution for video editing — and a great option for social media video content.
Vegas Pro
Price: $599 for a lifetime subscription
Vegas Pro is a powerful professional tool for video editing — as you have probably guessed from its price. It comes with an advanced set of features for creating, editing and enhancing movies and audio materials. Its powerful functionality lets you create all types of video content and gives you lots of editing abilities, like GPU enhancement, saving media formats, a multitude of video adjustments, and more. The program also supports 360-degree editing, 4K UHD and 3D adjustments.
The biggest downside of Vegas Pro is the high price. However, there are regular discounts on offer, and you may be able to get the software at a bargain price.
Adobe Premiere Pro
Price: $20.99/month
Even if you are very new to video editing, you have probably heard of Adobe Premiere Pro.
With Adobe Premiere Pro, you get access to various functionality for both basic and advanced video editing. It lets you edit multiple video clips at the same time and quickly transfer bits from one video to another.
One of the greatest features of Adobe Premiere Pro is a tool called Lumetri Color, which allows for Photoshop-level color modification in your videos.
What's more, Adobe Premiere Pro is a very flexible program: you can import motion pictures from other software, including Final Cut Pro, and export them to other apps too.
Based on its pricing and features, Adobe Premiere Pro may well be the best alternative to Final Cut Pro X.
And there you have it. We hope you now have a very good idea of what to use instead of Final Cut Pro X in Windows 10. Let us know which program you've decided to go with in the comments below.
And there is just one more quick suggestion that we are happy to share. Once you've edited your video, you may want to send it to someone. You probably won't be able to do that by email because of its size — Gmail restricts its attachment limit to 25MB. A cloud storage app may also not be the best option — if you are sharing several large files, you may need to pay for a subscription, which is often an expensive monthly commitment. But there is another way — you can use FileWhopper. The program lets you send over files and folders of any size (even if they are 10TB!) without having to pay for a subscription. With FileWhopper, you only pay for what you are transferring based on the file or folder size. Here are a few more FileWhopper's features that make it a great video sharing tool:
[fwa-calculator]
It's quick and easy to use: all you need is FileWhopper's tiny app, which will auto-delete once done.
All your transfers are protected with zero-knowledge encryption.
You can choose who will pay for the transfer — you or the person receiving your file or folder.
Your transfer progress is protected. If a connection failure occurs, your transfer will simply pause and then resume right from where it left off.
The recipient of your file or folder doesn't have to wait for it to be fully uploaded to be able to download it. As soon as you start the upload process, they can start downloading the file or folder on their side.
The best thing about FileWhopper is that you don't have to trust our word or the reviews you read online. The program lets you make your first 5GB transfer for free — no strings attached. This way, you can test-drive it to make sure it offers everything you need.