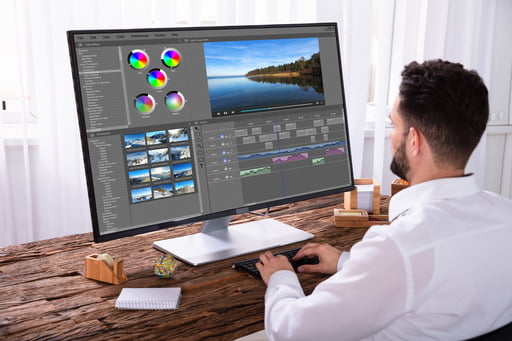 Adobe After Effects video editing app is special software that allows users to execute professional digital motion editing and compositing.
When it comes to making engaging and fantastic motion graphics, Adobe After Effects takes the crown. With impressive features such as data-driven animation, immersive virtual reality effects, VR comp editor, and VR rotate sphere, it is no surprise that it is a widely sought-after tool. In addition, it gives you access to enhanced 3D pipeline, motion graphic templates, GPU accelerated effects, among a myriad of other things.
However, it has its disadvantages. As a beginner, you might have a hard time familiarizing yourself with the numerous tools within this app. Even though you can simply use the After Effects Template to make your work easier, suffice it to say that the learning curve is steep. Besides, the price might seem daunting, depending on your budget. For this reason, you are probably looking for After Effects alternatives to enable you to enhance your videos easily and at an affordable rate.
Fortunately, you can choose from several options. There are free alternatives to After Effects as well as paid ones. We will explore each of them to help you decide on what best suits your needs. You will find that they are somewhat similar to After Effects versions available on Linux, Windows, and Mac.
Alternatives To After Effects
As already mentioned, there are free and paid After Effects alternatives. Let us take a look at some of them.
Top Free After Effects Alternatives
1. Wax
Wax makes it on this list as one of the best After Effects alternatives that you can use for free. In addition, it is excellent for beginners who are looking for an easy-to-use tool with straightforward features.
Wax is a lightweight app that is available on Windows platform only. It gives users access to compositing and special effects, similar to what you find on Adobe After Effects. Depending on your needs, you can use it as an independent app or a plugin with Sony Vegas programs.
Using Plugin Adapter, you can use VirtualDub filters, Windows Movie Maker, and DirectX plugins on Wax. This allows you to experience real-time effects on most graphics cards.
Key features
Available as a plugin to Premiere.
Allows creation of 2D/3D video effects.
Utilizes graphics acceleration for video processing.
Pros
Gives you access to hundreds of built-in presets.
You can use the Transition and Plugin SDK feature to add more plugins.
Cons
When it comes to importing files, Wax only supports AVI and WAV formats.
2. Natron
Natron is free open source software available on Mac, Linux, and Windows platforms. If you are looking for an After Effects alternative that allows you to customize the interface and functions, this one is for you.
Unlike After Effects, Natron gives you more control over the OpenFX architecture. In addition, you can generate multiple layers of shapes, masks, and mattes, which can be used for creating immersive effects.
Key features
Allows users to enjoy GPU rendering for better acceleration.
Gives users in the community access to plugins.
Pros
Available on multiple platforms.
Access to more than 250 free plugins from people around the world.
Cons
It only supports 2D/2.5D effects. 3D effects are not available.
3. HitFilm
HitFilm is another top alternative to Adobe After Effects for Windows and Mac users. If you are looking for an all-in-one tool for VFX software, compositing, and video editing, HitFilm Pro is the app for you.
Unlike Adobe After Effects, HitFilm makes the process easier with its preset effects, allowing you to create professional Hollywood-standard videos quickly.
Key features
820+ VFX and presets are available.
Has full support for almost all media formats.
Pros
Enjoy making high-speed effects with its multi-core and GPU accelerated system.
Access to an active HitFilm forum to help you solve any problems you might encounter.
Top Paid After Effects Alternatives
If you are looking for something more and willing to pay a few bucks, here are paid Adobe After Effects alternatives that are more affordable.
4. Nuke
Nuke is a powerful tool for compositing and VFX available on Linux, Windows, and Mac. It competes adequately with Adobe After Effects. With its diverse tool kit, which you can use to create effects while on the go, it makes it possible to collaborate with others easily, no matter your location. This feature makes it great for commercial use.
In addition, Nuke allows customization with its multi-channel processing ability. Whether you want to use it for personal purposes or to create movie effects, it is excellent software. However, when compared to other paid After Effects alternatives, it has a much higher price.
Price: $1629/quarter; $4758/lifetime
Key features
Access to lots of tutorials on how to use the tool for users.
Can be used to make VR projects.
Pros
Nuke Studio, Nuke, and NukeX work smoothly together to create effects.
Many movie companies use it to make immersive effects.
Cons
Might appear intimidating and difficult to beginners.
5. Eyeon Fusion
Eyeon Fusion is an affordable After Effects alternative available on both Linux (by using a customized Wine) and Windows platforms. Developed by Eyeon Software Inc., it is as cutting-edge as After Effects. Users even argue that its compositing software is more advanced than Adobe After Effects.
It is used widely for film, HD, and commercials digital compositing. In addition, professionals utilize Fusion to create stunning visual effects. To put this into perspective, consider that movies such as Sin City, Avatar, Terminator Salvation, Lost, among many others, have used Fusion for their post-production.
Price: $299
Key features
Full support for creating 3D animations.
Advanced compositing software.
It is used for top Hollywood movie effects.
Pros
It is owned by Blackmagic Design. This means that you can create visual effects with it alongside its software.
It is designed for professionals in the film-making industry.
Cons
It has a steep learning curve, especially for beginners.
6. Apple Motion
Apple Motion is an Adobe After Effects alternative for Mac users. You can use it for motion graphics and compositing, allowing you to create stunning animations in 2D and 3D. In addition, it comes with customizable stylish titles and transitions.
You can even use Apple Motion to create effects for Final Cut Pro, another video editing tool from Apple. Unlike After Effects, you get real-time feedback while editing. You do not need to render before you can view the changes to your work.
Price: $299.99
Key features
Users can create 2D/3D tiles with its advanced tools.
Drag and drop function for creating effects.
More than 200 filters are available.
Pros
You can easily create high-quality effects as a beginner or professional.
You can save your work at any point during the editing process.
Cons
Unlike After Effects, it has an entirely different editing workflow and logic.
How to Transfer Videos To A Client or Collaborator
Now that you are done editing your videos and adding those dazzling and mind-blowing effects, you want to send them to your client. If you are collaborating on a job, you need a channel that allows you to transfer and receive large videos with ease. However, we can all agree that this is not as straightforward as it sounds. Videos that contain effects are usually heavy, and having the right transfer app is essential.
We recommend using FileWhopper. This is cloud-based software that allows you to transfer, receive, and store files and folders of ANY size over the web. No matter how large your finished videos may be, you can send them at a-go with this tool. You are not even required to sync your data once you turn on your computer. Here are reasons why you will love this app:
Unlike most other cloud storage platforms such as OneDrive, FileWhopper does not require any long-term commitments from you. You do not have to pay monthly or yearly subscription fees before you can send your files. This means that you only pay a one-time amount for what you want to transfer, depending on the size of your videos. This app is the true definition of "pay-as-you-go." Simply select the video(s) that you want to transfer, and you will see a price value for it; no extra or hidden charges.
What makes this app unique is its ability to transfer and store videos of ANY size. There are no limits to what you can send, no matter how large they might be. Other cloud storage platforms place a size limit, forcing you to purchase more expensive long-term storage packages. If you cannot afford to pay, you have to cut or compress your videos, thereby reducing the quality of your files. With FileWhopper, you do not need to worry about any of that; you can upload any video size, and you only need to pay for what you are sending.
You enjoy uninterrupted transfers with FileWhopper. Even if you experience blackouts or internet connection failures, your upload progress is saved automatically. Once power and connection are restored, the app will resume sending the data from exactly where it stopped. You do not have to start all over. This saves you time and money.
FileWhopper has military-grade encryption that ensures your data transfer is protected at all times. Its zero-knowledge encryption ensures that no one (not even FileWhopper) can access or hack your data. Once you initiate an upload, you will receive a password, which you can set up yourself or request for FileWhopper to generate one for you automatically. Without this password (which is not stored on any FileWhopper servers), no one can gain access to your videos or folders.
FileWhopper utilizes a tiny-sized app to ensure seamless upload and download speeds. Once your video is sent successfully, the application will automatically uninstall itself, saving you the effort to do so yourself. You also receive a delivery report immediately after the file or folder reaches its destination.
If you have a video or any other file format that you need to send, go to the official FileWhopper website right now and try out this handy tool. Your first 5GB transfer is completely free!
Conclusion
Above are the 6 best Adobe After Effects alternatives. You can choose the one that best suits your needs. You can also use the FileWhopper app to send your finished work to your clients or collaborate with other editors on large projects.