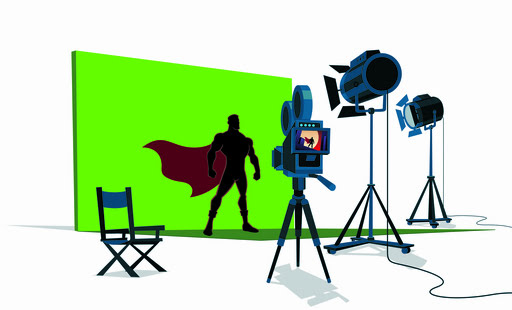 In recent years, video content has become extremely popular. As you are reading this, hundreds of videos are being uploaded to YouTube and other platforms. YouTube alone can boast over 500 hours of new video content uploads per minute.
To make a good video, you will need the right editing tools. One of the key programs to have in your video editing toolkit is green screen (or chroma key) software. With green screen software, you can replace the background of the video you are shooting with a clip or image of your choice. This can come in handy in lots of different editing situations, such as when you want to diversify your video backgrounds, add special effects, enhance your presentation, and more.
Today, we are looking into some of the best green screen apps that you can use to make quality video content.
Adobe Premiere Pro CC
Adobe Premiere Pro CC is a comprehensive toolkit for professional video editing. The program lets you edit your videos via a timeline: you can cut clips, make ripple and slip edits, include special effects and stylistic additions, and lots more.
Key features:
Options for 4K editing
360-degree video editing
Multicam editing functionality
Social media sharing options
Comfortable user interface
Lots of editing functionality on board
Chroma key feature
Options for collaboration
Pricing:
Premiere Pro CC requires a subscription. You can get it as part of the Adobe Creative Cloud subscription at $39.99 per month.
If you want to get access to Premiere Pro CC exclusively, there are several pricing plans to choose from:
$31.49 per month when paid monthly
$20.99 per month when paid annually
$239.88 per year when prepaid in full
Wondershare Filmora
Wondershare Filmora is another popular video editor that is suitable for both amateur and professional video projects. It's an easy-to-use program with lots of popular features on board, like Titles, Layers, MultiCam, and more. You can also use it to use a green screen in your videos.
Key features:
Lots of video and audio effects
Easy-to-use timeline interface
Quick editing tools: drag, stop, rearrange, and more
Easy media imports from smartphones, tablets, computers, and more
Scene-by-scene editing
Chroma key editing
Pricing
You can get Filmora starting from $44.99 per year (Mac users) and $39.99 per year (PC users) for the basic plan.
The best deal is the Perpetual Plan, which gives you access to all of the software's functionality (including chroma key) for just $69.99 per year.
Camtasia
Camtasia is video editing and chroma key software that is very simple to use. It's probably the best match if you are looking for basic green screen editing and is the perfect choice for beginners.
Key features:
Simple user-friendly interface
Lots of built-in templates
Screen recording options
Chroma key editing
Pricing
There is only one price plan with Camtasia: to use the software, you will need to make a one-time payment in the amount of $249.99 with a 30-day money-back guarantee.
iMovie
iMovie is classic video editing software for Mac and iOS users. It's also the best chroma key program for Mac users, and it comes with that premium look and feel often associated with Apple products.
Key features:
Very easy to use
A library of professional movie templates
4K video support
A selection of audio and video transitions
High-fidelity filter options
Special effects
A library of soundtracks
Options to add custom graphics and logos
Seamless editing across all Apple devices
Chroma key editing
Pricing:
iMovie comes included free of charge on all macOS and iOS devices.
Lightworks
Lightworks is the best choice for applying real-time effects. Plus, even the basic version of the software comes with green screen effects. Applying a new background is easy and simple and will not require any editing experience. With Lightworks, you also get access to professional-grade features that come with a light learning curve.
Key features:
Support for various video formats
Fast export to MPEG4/H.264
Multicam editing
Real-time effects and built-in presets
Professional Boris FX plugins
Customizable interface
Real-time collaboration options
Chroma key editing
Pricing
Lightworks offers three main pricing plans: $24.99 per month, $174.99 per year and $437 for a lifetime license.
VSDC Free Video Editor
VSDC Free Video Editor is a popular free video editor that comes with green screen software on board. It's one of the most feature-full and effective free programs with chroma key editing support. The software uses a non-linear editing style and will let you do lots of editing, from
split-screen effects to light and color correction and more.
Key features:
Supports most video formats and codecs
Video and audio conversion
Lots of video and audio effects
Simple and friendly interface
No payment needed
Chroma key editing
Pricing:
The program's basic version with free green screen software on board is free. If you want more pro functionality, you can opt for VSDC Pro Video Editor at $19.99.
Final Tips
We hope that our list of chroma key software has been helpful and you've been able to find the green screen editor that is your perfect match. In addition to green screen software, you will also need a reliable and efficient way to transfer your videos online — whether to a client, family or a friend. The thing is, video files are typically quite large. And sending a large file online is not particularly easy. In a lot of cases, you will need to get a paid subscription to a cloud storage service, compress your file or use a USB drive. Fortunately, there is now a better way to go about it. Meet FileWhopper.
FileWhopper is a service for transferring large files and folders online — and we mean LARGE. With FileWhopper, you can easily send over a 10TB folder — no questions asked.
Here are a few more things you might like:
FileWhopper doesn't require a subscription. All you will be paying for is the transfer you are making at the moment — and your fee will be calculated based on the file's or folder's size. Another great thing here is that you can choose who pays for the transfer. For instance, if you are sending a video to a client, you can ask them to pay for the file transfer on their side.
Sending data with FileWhopper is safe and secure. The platform uses the strongest form of online data protection – zero-knowledge encryption – to make sure that no one except for you and your recipient will be able to access your data. What's more, if your transfer gets interrupted (for example, there is a power failure or connection loss), your transfer will be safe and resume from where it stopped as soon as things get back to normal.
Using FileWhopper is a breeze. You will just need to download its small app, which will guide you through all the steps of the process and then auto-delete when it's done.
Another thing to mention about FileWhopper is that you don't have to trust online reviews to be able to make a decision about buying it. Head over to FileWhopper.com and test out the service for yourself: you can transfer your first 5GB file or folder for free — no strings attached.