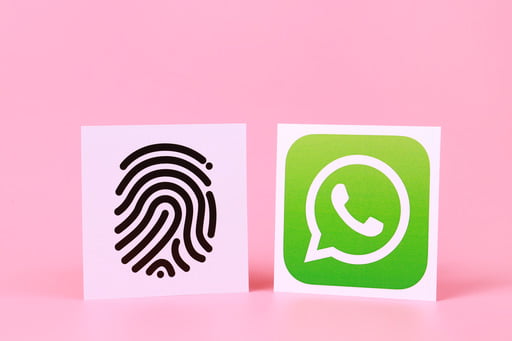 If you own a smartphone, you must be familiar with Facebook's WhatsApp. It is one of the most popular messaging apps today, with over one billion users worldwide and over 55 billion messages sent daily. The app doesn't cost anything to download and use – all you need is an active internet connection. It is especially useful if you want to chat with family and friends from all over the world without paying SMS charges.
But in this era of sophisticated cyberattacks and privacy risks, is WhatsApp safe for you and your business?
Keep reading to find out.
What Are the Security Risks of Using WhatsApp?
Many users have reported that their accounts have been hacked. In most cases, the victims were caught off guard. This is how it all starts. The attacker gets hold of your number using a compromised phone belonging to one of your friends. They then install WhatsApp on their device and enter your phone number as the account number. Since it's a new device, WhatsApp will require you to verify the account, and the system automatically texts you a code.
The attacker contacts you via text or Facebook, pretending to be your friend. Naturally, you'll think it's your friend actually texting. They ask you to kindly forward them the unlock code sent to your phone by their network so that they can unlock their phone.
Since you trust your friend and you have no reason to doubt them, you forward the code without thinking. In fact, that code is the WhatsApp authentication code for your account. This means you've just granted the attacker full access to your account. While they won't have access to your message history or contacts, they will receive any new message from your contacts and groups, and they can message your contacts.
Luckily, you can prevent this by setting a PIN. This number is different from the authentication code, and the attacker will require both to authorize the new install. Unfortunately, hackers are already ahead of the game, setting up their own PIN after hijacking your account. This makes it hard for you to recover your account.
WhatsApp has a solution to this, though. When you reinstall the app on your phone and enter the verification code, it locks out the attacker. But you have to wait seven days to reclaim your account.
The Dangers of Using WhatsApp for Business Communication
Considering the digital threat that exists, should one use WhatsApp for business? Many organizations and businesses have banned employees from using WhatsApp for any business-related communication. Unless the message they want to send is truly private, personal, legal, and non-work-related, then no one is allowed to use WhatsApp or other consumer messaging apps in the workplace, yet 41 percent of UK workers admit to using WhatsApp for work-related stuff.
So, what are the security threats associated with using WhatsApp for business communication?
1. WhatsApp Has Limited Admin Controls
The admin features in WhatsApp only control groups, and still, they are too limited for the messaging app to be used for confidential communication. It was designed as a personal messenger and is not integrated with corporate admin control features to limit user access to sensitive organization data.
For instance, if you allow the use of WhatsApp for official business communication, what is to prevent an employee from misusing confidential company data when they leave the organization?
Additionally, if you have created a WhatsApp group for employees to handle work-related communication, there is a concern that material shared might be 'unsuitable' (or NSFW – Not Suitable for Work). And once it's shared, it cannot be removed by administrators, which can create inappropriate and awkward scenarios.
2. Communication Cannot Be Monitored
Due to the lack of admin controls that can let you regulate communication in WhatsApp, there is no way to know if employees are sharing unauthorized information with the outside world. WhatsApp does not have a feature that allows you to monitor communication taking place within the app, and anyone can create unauthorized groups and communicate without your knowledge.
In the event an employee is terminated, the messages will remain on the app on his/her phone. This creates a potential risk of personal and unauthorized communication, which can lead to the leakage of confidential data.
3. Mobile Devices Get Stolen All the Time
If you use WhatsApp for business communication and, bad luck, your smartphone gets stolen or you lose it, there is a potential risk that you will lose official data or, worse, the data will land in the wrong hands.
WhatsApp doesn't provide a security layer that prevents the loss or theft of data. The lack of data access controls on user accounts in WhatsApp makes your work-related data easily accessible to anyone who steals your phone.
4. It's Against WhatsApp's Terms of Service
It's a violation of WhatsApp's policy to use the messaging app for work-related communication. The app was developed for personal use, and if you are an enterprise and breach WhatsApp's policy by encouraging employees to use it for official business communication, then you risk being slapped with a hefty fine, as stated in their terms and conditions.
5. There Are GDPR Compliance Issues Associated with Using WhatsApp
WhatsApp may not be fully compliant with GDPR. It uses your information to operate, improve, understand, customize, and support your interaction with the app. The latest regulations require that businesses adhere to their home country's data protection laws to ensure the security of their customers' and business partners' data. However, WhatsApp has access to your metadata, which allows it to enable message exchanges between you and your contacts. This means it collects information like your messages, account information, connections, status information, usage logs, transactional information, device information, and cookies.
Do you know what WhatsApp does with this kind of information? WhatsApp is owned by Facebook, and it integrates the messaging service with Facebook Messenger and Instagram at the back end. While Facebook claims this move is intended to support end-to-end encryption to enable secure communication, many people see it as a cause for concern, given Facebook's privacy issues.
As noted earlier, any employee can add anyone, including customers and suppliers, to a WhatsApp group. This is already a cause for concern, and if the employee goes ahead and gives access to their WhatsApp contacts, and those contacts include customers or other employees, their data can be uploaded to Facebook without the consent of those contacts.
6. WhatsApp Doesn't Maintain Proper Business Records
Businesses are legally mandated to maintain proper business records, including all work-related communication. For sensitive data, like a patient's records or financial records, there are additional requirements that have to be met.
Unfortunately, WhatsApp doesn't provide adequate controls over these records. On the contrary, WhatsApp uses encryption technology, which is a shift towards maintaining high levels of secrecy and anonymity.
7. WhatsApp Groups Can Be Created Without Your Knowledge
We mentioned earlier that anyone in your organization can create a WhatsApp group without you ever knowing. There is simply no way to tell if a group exists in the first place since you don't have an admin dashboard for WhatsApp.
Even if you happen to find out, you cannot be sure who is in the group since phone numbers act as the profile names. That means there might be ex-employees, competitors, former customers, and past contractors in this group, meaning they have access to your business information.
8. Data Cannot Be Permanently Deleted on WhatsApp
Let's say you find out that some of the contacts in a WhatsApp group are former employees or outside contractors. There is nothing you can do to revoke access to your business data once it's on WhatsApp. The data is stored on an individual's phone, rather than in a central location, which means that even if you remove certain individuals from a group, they still have access to the information that was sent earlier.
WhatsApp acknowledges this in their terms of service: "Please remember that when you delete your account, it does not affect the information other users have relating to you, such as their copy of the messages you sent them."
WhatsApp for Business
If you wish to communicate with your customers, you can opt for WhatsApp for Business. The business app allows you to update customers on their orders, stock availability, and so on. However, you cannot use it as an internal communication tool for your business, and you will have to look for alternatives like Slack.
If you allow employees to use WhatsApp in the workplace, be sure to set some guidelines about what they can and cannot do with it. For instance, let them know that
their WhatsApp accounts can be hacked and sensitive information harvested, including pictures, screenshots, and other confidential data, and
they risk losing their jobs and being prosecuted in case of a confidentiality breach.
Is WhatsApp Safe and Secure?
With all the security loopholes that can easily be exploited by hackers, plus the risk of employees sharing, intentionally or otherwise, sensitive company data, WhatsApp is generally unsafe for exchanging work-related information. And as with any app connected to the internet, there is some risk of cyberattack.
About FileWhopper
WhatsApp has a maximum file size limit of 100MBs for documents and 16MBs for recorded videos. What if you have more than 100MBs of data that you want to transfer to your friends or family?
FileWhopper is your best option in this case. You can transfer data of any size, even files and folders of 10TB, without having to worry about high charges, the safety of the data, or storage issues. With FileWhopper, you get 14 days of free storage, giving your recipients enough time to download the file or folder. Chances of data loss are zero, and the app is designed to execute the data transfer fast and securely.
To use the service, all you have to do is follow these five simple steps:
Select the file or folder that you want to transfer.
Get a quote based on the file/folder size.
Run the FileWhopper app, which facilitates faster data transfer and ensures absolute security and privacy.
Copy the download link and password and share them with your recipient.
Commence the transfer.
That's it! No complications, no monthly subscriptions, and no risks.