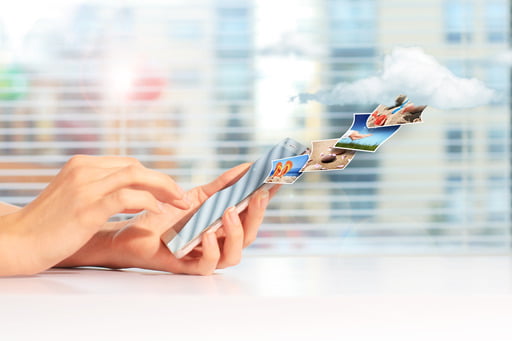 Have you ever considered how your life would be like if you didn't always have a helping hand of your phone or computer? Give it a couple of seconds…well, it would be much less comfortable, right? You're well on point to be worried about a tech-less lifestyle. If anything, you're looking for more ways that will help you improve and increase your digital interactions.
Photographs are all fun and games. For the most part. But in reality, they are the memories and recreations of the days of our lives. Without pictures to look at, there is no way of being able to have a long conversation and actually 'hold it down.'
The Changeover – Phasing Out the Physical Photo Albums
Back in the day, every family used to have and rely on physical photo albums. Whenever the photographer came, took pictures and developed them, they would then be arranged inside the album.
Over time, families started preferring hybrid photographs and frames. Then, as soon as the digital age took over, albums took the backseat. Now, only frames remain on the wall. Most people now keep their pictures on their smart gadgets and the most popular clouds such as iCloud and Dropbox.
Only professionals have enough knowledge about the other paid-for and free platforms that can be used for photo storage. This article will go over the top platforms that you can use to continue storing your pictures and photos. Note that this is a mixed list with both free and paid services. You need to understand a service first before settling for it. Don't let price be the only deciding factor - facts and more research count as well.
Top Cloud Storage Services for Pics and Photos in 2021
This is a list of the top cloud storage platforms that you can use in 2021 and going forward. On these platforms, you can easily store your memories and access them at any time. Go over the list carefully before deciding the right tool:
1. FileWhopper
While this cloud-based platform presents you with plenty of space to temporarily store your images, its main focus is on letting you send large files in a quick and safe manner. And, to top that, it doesn't cost you a penny when you send your first 5GB. You get to store your images safely and transfer up to 10TB of files. FileWhopper takes the lead in the industry due to its premium features that come at no cost. The cloud-based platform is best known for the following:
Safety - the servers used to store user details are secured, and the company's policy prevents any sharing of user data with any third parties.
Quick file transfer - FileWhopper ensures that your files are quickly transferred with no data loss.
Secured data - both sent and received files are encrypted to prevent any access from anybody other than the intended recipient and sender.
Huge storage space at no cost - this takes the cake if we are to consider how much money people are paying for extra storage online. FileWhopper securely stores your data for up to 14 days (or 3 months if needed) before deleting it from the servers.
2. Dropbox
Dropbox is a well-known brand within the cloud-based storage industry. It is one of the most used services among small to large enterprises seeking for safe and reliable cloud-based storage. Dropbox is the best in letting the user keep a variety of picture and photo formats. It is easy to use and is also backed by a proven legacy. The platform presents an intuitive file system that makes it easy to arrange your photos and pictures. It also has a mobile app that can be kept in sync with your Dropbox account, making it easy to access your digital files even on the go. The free version comes with 2GB of storage on top of the mentioned cool features. Interestingly, by successfully referring a friend, you score yourself an extra 500MB (up to 16GB in total). The paid version, Dropbox Plus, comes with extra storage space of 2TB. If you were wondering whether it is safe to store pictures in the cloud, well, Dropbox is the answer to that as they uphold cybersecurity above everything.
3. IDrive
Photographers who are concerned about security issues choose this cloud storage service because it has proved to be the best in terms of data protection. In addition, if you use multiple gadgets, you'll be glad to hear that you can get access to your photos on an unlimited number of devices. Two more features that make IDrive rank high among other cloud storage platforms are facial recognition, which comes in handy if you want to organize photos automatically, and "Auto Camera", which helps you automatically upload photos from your device to your IDrive account. As for the price, you can get 5GB storage for free, but if you need more space, you can opt for the cheapest paid plan, which is $14.62 and includes 1TB storage on unlimited computers.
4. Backblaze
Let's put it straight: the biggest weakness of Backblaze is that you're tied to just one computer and one account. For additional devices, you'll need another subscription, and while you can back up your Mac or PC, mobiles aren't covered. The major strength of Backblaze is the price: for $7 a month, you get unlimited storage capacity. Also, the service is very easy to use, and all your files are backed up continuously and automatically.
5. pCloud
This cloud-based platform is easy to use and presents a simple design with rich features. pCloud is already commanding the cloud storage industry by providing an ideal service to those in search of cost-effective feature-rich cloud-based storage. The best part about pCloud is that you do not have to keep on paying recurring subscription fees periodically. Pay once and you have just bought yourself a lifetime experience with pCloud. The brand provides users with 2TB of storage. It also has effective features that enable users to preview or access thumbnails of raw pictures and photos. With the collaboration of a browser extension named Nifty, you get to directly save videos and images to your pCloud account.
6. Flickr
If you are thinking of what the best photo storage in 2021 is, you might want to turn to Flickr. It is a free cloud-based picture and photo storage platform that is packed with premium features. Following a change of ownership, Flickr has even reached better heights. Compared to its competitors, Flickr won't suck your pocket dry for extra storage space. The platform gives you an opportunity to keep up to 1000 pictures and videos for free. Although the free version comes with advertisements, you will not be obstructed. The ad-free version comes at a cost of $7/month or $60 billed yearly. Also included in the paid version is unlimited storage space for your pictures, photos, and videos.
7. Irista
Irista isn't much of a beast compared to its giant competitors, but there is something catchy about this platform that makes you want to store your pictures and photos on their servers. For starters, the platform is designed in an intuitive manner and presents an interface that is gallery-driven. The platform has a unique style in displaying your images. It also accepts a variety of file formats and has got a user-friendly layout. Irista lets you filter some of your images with ease. Your account can be easily integrated into social media accounts for easy sharing of pictures. They also have got a flexible subscription pricing system, which presents up to 6 subscription plans. The free version will give you up to 15GB, and the premium versions offer from 100GB up to 10TB, depending on the premium selected.
8. OneDrive (Microsoft)
Together with Dropbox, OneDrive is among the industry gurus that have established a reputable track record. Backed by the internet's leading brand, Microsoft, OneDrive comes with some cool features that let you experience a balanced technological tool to increase productivity. Just like one of its competitors, Google Drive, OneDrive presents an easy-to-use structure. However, OneDrive has an edge when it comes to smooth integration with its sister apps from the Microsoft Office. As good as it may seem, OneDrive is office-oriented, which makes it pace behind the likes of Flickr when it comes to which cloud storage is best for photos. When it comes to pricing, OneDrive has got fair prices. The free version gives users up to 5GB of storage for their photos and pictures. For $1.99 per month or $69.99 per year, OneDrive will reward you with an extra 100GB of storage.
9. Google Drive
Google Drive (also known as GDrive) is part of G Suite, which consists of Gmail, Docs, Hangouts, Sites, Currents, Vault, and Marketplace, to mention a few. It is backed by a strong brand, if not the dominant one, within the internet industry. Since Google Drive is part of G Suite, you will understand why it is more office-oriented, such that it lacks the auxiliary features presented by the likes of Flickr. However, it does the intended work to its best capability to those looking to safely store their pictures and photos on a cloud server. GDrive has got excellent tools that can help your business excel. Actually, it is widely used within the online business industry to store digital files due to its reliability and easy integration with some of its sister apps.
GDrive also gives the user unlimited space to store their high-quality pictures. With Google Drive, instead of uploading a huge file every time and sending it to the recipient, which will take a ridiculous amount of time, you can simply share the link to it. The free version of Google Drive gives you up to 15GB at no cost. For extra storage, you will part ways with $1.99 to receive 100GB. There are also various premium plans that will give you up to 30TB for $299.99 per month. Obviously, the ultimate subscription plan is best suited for businesses.
Deciding Which Cloud Storage Platform Is the Best for You
Hopefully, you have had the question "What is the best free cloud storage for photos?" answered. Just in case you missed it, the best platform is the one that meets your needs. Maybe, it's the number one on our list - FileWhopper, especially if you want to focus on secure file transfer and upload unlimited data and share it with family or friends!
On FileWhopper, you get to upload up to a terabyte of data instead of only being limited to just 5GB on One Drive or 15 GB when using Google Drive. You need to use a cloud platform that takes care of you, your data and your privacy. Since everything uploaded on FileWhopper gets deleted automatically after 14 days (or 3 months if this amount of time is requested), you would do best to notify your family and friends to save the pictures as soon as you provide them with the link and password.If you need something else, you can take care of that by selecting another cloud storage platform. Our purpose is to provide you with accurate information so you can make an informed decision.