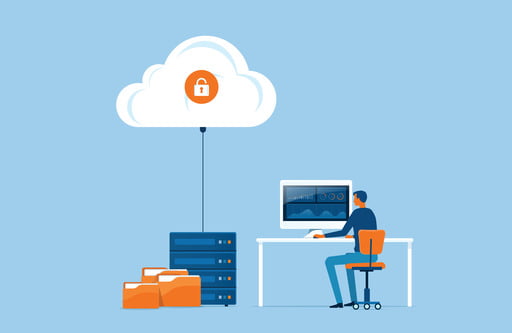 Cloud storage and file-sharing services have become rather indispensable, especially for remote workers. Companies need their employees to be able to store and transfer files online. Storing files in the cloud has the advantage of anywhere file access and sharing. It also removes the inconvenience of using a local storage device.
We've put together a list of top cloud storage systems in 2021 so that you can pick the one that is right for you. Save and access your important files, including spreadsheets, Word documents, PDFs, videos, photos, and more - no matter their size and no matter your location.
How to Choose a File Sharing Service for 2021?
The following criteria will give you an idea of the best storage and file-sharing platform:
1. Compatibility with other software:
The best cloud storage services, including Dropbox and Box, are able to work well with other services and apps. This allows you to seamlessly view and edit your files across multiple apps, which is advantageous to you. So make sure that the service you go for can work with other tools.
2. Capabilities:
Another thing to look out for is the service's range of capabilities. Services often specialize in a specific area. For instance, SugarSync is a good choice if you are interested in syncing your folders so that you can access them anywhere, on any device. SpiderOak is fantastic when it comes to security. Some services, such as Microsoft OneDrive, Apple iCloud, and Google Drive, focus on everything – they excel at file and folder syncing, device syncing, and playing media. Some of these platforms can function as collaboration software, allowing real-time co-editing of documents.
FileWhopper lets you securely transfer files and folders as large as 10 TB. FileWhopper is a pay-as-you-go service, which means that no monthly, quarterly, or annual subscriptions are required. You simply pay according to the size of each file or folder you want to transfer. You also get free storage: the items you upload are left on the server for a period of 14 days, just in case the person meant to receive them doesn't start the download on time. The best part is that the service allows simultaneous uploads and downloads – as you are uploading your file or folder to the server, the receiver can be downloading it at the same time, meaning they don't have to wait for the upload process to complete first.
Online backup services, such as Carbonite and IDrive, are meant for disaster recovery and are different from cloud storage services, although they are similar in some ways. Some allow sharing and syncing. Thus, going for a cloud storage service that has backup features is extra beneficial.
Common sense suggests that uploading files to the cloud means they are protected from local disk failures – and that is the idea of a backup, right? However, online backup at its core involves backing up all the files on your computer – and not just those that are synced.
So the difference is that while backup involves bulk storage to safeguard all your files in case of an emergency, syncing is about managing your selected files. That is, you upload the documents you need to the cloud to allow easy access. Online backup is about protecting everything on your computer so that you won't lose it in case your local drive fails. Unlike syncing, online backup does not guarantee that you can easily access your stored files. It's about keeping your files safe.
3. Free service:
You can create a free account on most cloud storage platforms. However, the free accounts have limitations, such as the size of files you can upload and the amount of storage you have. Some services, on the other hand, offer a trial period.
It is preferable to go for services that allow you to use a free account, even if the storage space or file size is limited. They are preferable because you can use the free account for some weeks and get used to the service. This way, you will have an idea of how it works and whether an issue might occur with your particular setup.
After you've made a choice on what service to go for, subscribe to its premium account to get additional support from the provider. You can then call in if anything goes wrong, and you will get help in resolving the issue. Paying for cloud storage also provides other benefits, such as being able to upload or share really large files and also getting a lot more space. But that's not all. You also enjoy better security and more features that facilitate collaboration and teamwork. Getting a paid account can give you access to your file version history: For instance, if your colleagues have made some undesirable changes to your file, you can restore the previous version of it.
A good cloud storage service must do the following:
Ensure safety: That is, your personal information should not be shared with third parties and must be stored on secure servers.
Secure your data: Your files must be encrypted so that only you and people you've given permission can access them.
Enable fast transfer: Data uploads and transfers should be speedy; no loss of data should occur.
What Cloud Storage Solutions Are Worth Using?
Here are some of the best cloud storage options in 2021:
1. Dropbox
Dropbox has been on the market for over 12 years. It still ranks above the file-syncing and cloud storage services provided by the likes of Microsoft, Google, and Apple. It is reliable and easy to use, and it works on most platforms.
You can set time limits and password protection on your shared files, and the recipient does not need to have a Dropbox account. You can share files via URL on Windows, macOS, Android, Linux, and iOS.
Dropbox only allows 2GB of free storage. If you need more space, individual plans are offered at $9.99 per month. Business team plans begin from $16.58 per month. You can get a discount for annual subscriptions.
Pros:
Cloud-based, cross-platform
File sharing is simple
Con:
2. Google Drive
Google Drive is quite good. Files are speedily shared via links or emails. Unlike Dropbox, Google Drive does not provide time limits or password protection for shared files, but you can control the level of editing that the file recipient is allowed to do. The service works very well when it comes to sharing files from Slides, Sheets, and Google Docs.
Google Drive is supported on both mobile and desktop devices. It offers free 15GB across Drive and other services, such as Gmail. You can get a paid subscription starting from $1.99 per month if you need more storage space.
Pro:
File sharing is simple and intuitive
Con:
File uploading needs some improvement
3. WeTransfer
You don't have to register an account before you can use WeTransfer. Nevertheless, you will have to provide your email address on which you can be contacted.
Using the service is as easy as selecting a file and then entering the email address of the recipient. You can also copy or email the link to the file you want to share. The link remains active for up to one week. WeTransfer has an app for Android and iOS devices.
The platform is free, but you can pay for the Plus account, which allows you to password-protect your files, set a time limit for downloads, modify the appearance of the Share screen, and many more. It costs $14 per month or $145 per annum.
Pros:
Accessible via a one-page website
Does not require sign-up or registration
Con:
Conclusion
Collaboration and easy access to files anytime, anywhere are crucial in today's world. Cloud storage and file-sharing platforms make viewing, editing, and sharing files and folders easy. When choosing cloud storage and file-sharing services, it is advisable to subscribe to those that ensure the security of your data and personal information, work well with other platforms, and facilitate collaboration.