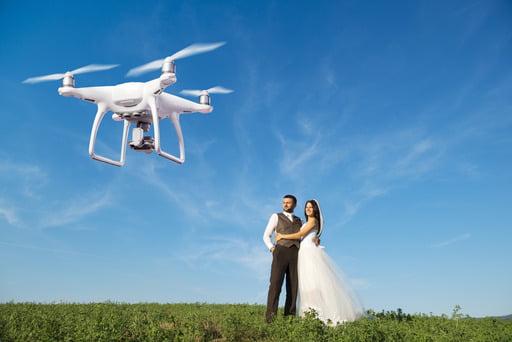 Without a shadow of a doubt, one's wedding day goes down as the best day of their life. From the dress and tux selection to the bridal squad and everything in between – perfection must be the order of the day. Whichever way we look at it, moments from the day must be captured and safely stored as reminders for later on. This gives videographers and photographers the most important task of the day.
Professional photographers or videographers know that they are just as good as the equipment owned. If you want to capture the best visuals, then you need to be daring and have the best tools money can buy. Skill and talent are a must, but the right cameras and equipment are equally important. With technology always evolving, not everyone has the time to learn the ins and outs of modern photography. We have taken the task of compiling the top ten drones that can be used to capture the best moments of the wedding day.
How to Select the Best Drone for Wedding Photography
When it comes to weddings, aesthetics means more than anything. The aerial photography that comes with drones adds a lot to the classiness of a wedding. However, choosing the best drone for capturing your wedding moments can become challenging as modern brides and grooms are literally spoilt for choice.
When looking for the best wedding photography drone, the top three factors to take into consideration are:
Portability – the perfect drone can easily be carried around to take footage when and where possible. Thus, the size does matter. While you wouldn't want your drone to veer off course because it is too windy, you would want a drone light enough to go to great heights and take as much aerial footage as possible.
Cost – even for professional videographers, the cost is always a factor. You would do better with a drone that will not break the bank. It must be affordable but not too cheap – you are after quality work, after all.
Image quality – the kind of footage that will come out is what is used to show the importance a wedding holds. After considering the size and price of a drone, you should make sure it is of an acceptable quality level.
That said, before buying a drone for wedding photography, decide what factors are the most important to you.
Top Ten Drones to Capture Wedding Footage
Unmanned Aerial Vehicles (UAVs) known as drones are ever-evolving technology. Keeping up can be quite challenging. Whenever you decide to get a new drone, start by checking the new additions and what the market has to offer at that moment. Our list of the best drones of 2020 contains a wide range of options. We have selected drones that already have a camera that can shoot 4K video at a rate of 120 FPS and drones requiring the attachment of a GoPro camera. We have categorized the drones into two sections depending on the level of proficiency required to operate them. To know what drone is best for wedding photography, keep reading.
FileWhopper – Upload and Share Wedding Footage with No Size Limits
So, you've worked hard to master the art of operating your drone and finally captured the best possible wedding footage. Now you need to share it with those who need it. Memory sticks and USB drives can do the trick, but to a certain extent. USB devices are restricted in terms of storage capacity, or you may need to transfer your video to someone living far away from you. FileWhopper is a professional file-sharing platform that allows you to upload files and folders of any size and share them in a safe and secure manner. In the meantime, to get acquainted with the platform and how it functions, you can give it a try by checking out its current promotion that allows transferring your first 5 GB for free. Using the platform is straightforward. Follow the steps below:
1. Visit the official www.filewhopper.com website and click either Upload File or Upload Folder.
2. The FileWhopper tiny app will ask your permission to get temporarily installed on your desktop (for the duration of the upload and transfer; it is deleted afterwards).
3. You will receive an immediate quote in less than 5 seconds.
4. Go ahead and upload your wedding footage.
5. Your file or folder will be encrypted with a password. You will then get a link to the uploaded material. Only share the link and the password with those you want to have access to the footage.
FileWhopper is an excellent, professional way of sharing drone wedding footage with the newlyweds and their friends and family. Offering simultaneous upload and download, the tool allows your recipient(s) to start downloading the footage as soon as you begin the upload process.
Professional Wedding Photography Drones
Some of the drones on the list are quite expensive, but they are well worth their price.
1. DJI Inspire 2
DJI has always created what we know as the most reliable drones. At the top of our list of premium drones is DJI's Inspire 2. This is the ultimate choice for anyone looking to create a great wedding video. It can be used with either of the detachable cameras equipped with interchangeable lenses. Each of the cameras is controlled by one controller, meaning two can be connected simultaneously, one piloting the drone and the second moving the video camera. When using these cameras, you can capture RAW 5.2K videos at 30FPS or 4K at 60FPS. Still, footage can be captured at 20MP.
Also equipped with an integrated SSD, the Inspire 2 drone records high-quality video without experiencing any lag.
DJI Inspire 2
features Spotlight Pro, which is compatible with 5.2K Gimbal cameras;
can sense and avoid obstacles;
helps to achieve a seamless workflow; and
provides intelligent flight mode control.
2. Yuneec Typhoon H Plus
One of the best drones on the market, Yuneec Typhoon H Plus is loved by photographers who specialize in aerial footage. It can easily go head-to-head with DJI's Phantom Pro 4 model. Equipped with a 3-axis 20MP Gimbal camera, the Typhoon H Plus drone can record 4K aerial video for up to 30 minutes.
The drone comes with an Android-powered built-in controller. Also able to detect and avoid obstacles, this drone has intelligent autonomous flight modes. Excellent for shooting footage at a location with a lot of tall trees. With a 5-rotor fail-safe mode, this drone is great for wedding shots.
Yuneec Typhoon H Plus
offers up to 30 minutes of flying time,
connects within a one-mile 2.4/5.8 GHz Wi-Fi range,
shoots 20MP photography and 4K video, and
withstands wind speeds of up to 35 MPH.
3. DJI Matrice 600 Pro Hexacopter with Remote Controller
As already established, DJI takes the lead when it comes to drone technology. And Matrice 600 is no exception. Currently retailing at close to $6000, this is not your average drone. Not just about any photographer needs it or will know how to use all the features offered by this drone. When discussing the crème de la crème of drones, you can use DJI Matrice 600 Pro Hexacopter with Remote Controller as a point of reference, but in practice, only a handful of professionals can afford it.
Recommended for those who need to work with DSLR cameras, this drone comes with an A3 flight control system and can be upgraded to the pro version. It can take loads of up to 15.5 kg and take off without issues.
DJI Matrice 600 Pro Hexacopter with Remote Controller
offers up to 35 minutes of flight time,
is compatible with various Gimbal cameras,
has a wide base with a diagonal wheelbase of 44.61 inches, and
has a hover accuracy of +/-0.5m vertically and +/-1.5m horizontally.
4. PowerVision PowerEye 4K Camera & 3-Axis Gimbal Professional Aerial Imaging Quadcopter
This drone has the Micro Four Thirds (MFT) system enabling the connection of different lenses and boasts detection intelligence that lets it avoid objects within 30 feet. While it can fly up to 5 km, providing high definition video, it's still a super portable device (600mm UAV).
5. DJI Mavic Pro Platinum 2
Interested in the best 2020 wedding drones? Then consider DJI Mavic 2 Pro Platinum 2. This is the drone of the year for any videographer looking to make a name for themselves. Usually priced at US$1730, it now retails at $1600 on Amazon. The Hasselblad L1D-20c camera has a 20MP 1-inch CMOS sensor. With this drone, you can capture the best aerial shots in vivid detail and stunning colour.
This drone has one of the longest lifespans thanks to its standard remote controller that has up to 135 minutes of battery life when fully charged. Just download the DJI GO 4 app on your smartphone to enjoy the full features. The app runs on Android 5.0 and above or iOS 10.0.2 and above.
DJI Mavic Pro Platinum 2
houses an intelligent battery, remote controller and Gimbal protector, among others;
features Active Track 2.0 and Hyperlapse;
can stay in flight for up to 31 minutes; and
has built-in GPS and radar features that help it keep steady while flying and land back exactly where it took off.
6. Force1 Red Heron
This is one of the most simple-to-use drones. It's super easy for photographers to master the art of using the drone. It's an RC quadcopter drone that has a low level of noise. This makes the Red Heron drone a good choice for filming in areas with wildlife where peace must always be maintained. It's great for beginners who want to take professional shots but cannot afford high-end drones.
Force1 Red Heron comes with a 13MP camera. The drone has an average flying time of 15 minutes.
Force1 Red Heron
boasts a 120º wide-angle 720p HD camera,
is capable of taking off and landing with one push of a button,
has two rechargeable batteries (7.4V 1000mAh LI-PO),
functions with a 360-degree flip, and
can hold at high altitudes.
7. DJI Phantom 4
Whenever the discussion is around what kinds of drones photographers use, DJI is always part of the answer. Before the introduction of Mavic 2, Phantom 4 had been one of the best picks. Phantom 4 is still a popular drone among wedding photographers. Since the drone is available in Basic and Pro versions, consumers can choose whichever works best for their needs.
When compared to Mavic 2, Phantom 4 takes a better position because it comes with an ISO range of between 100 and 12800 and a 20MP camera. It gives photographers the ability to record video in 4K resolution at 60fps.
DJI Phantom 4
offers a long flight time of about 30 minutes;
supports H.265 4K videos at 30fps or H.254 4K videos at 60 fps, all with a 100Mbps bitrate;
can sense obstacles from five directions; and
has an onboard camera that uses a 1-inch Megapixel CMOS sensor.
Affordable Beginner-Friendly Wedding Camera Drones
Last but not least, we have some high-performing drones that can help you get the best wedding footage without breaking the bank. For the beginner photographer, this is the section to start the search.
8. EACHINE E520
Sporting a rugged and strong look, the EACHINE E520 drone features a 4K camera that can shoot live video. This drone is most loved for the Follow Me mode. When in this mode, the drone automatically follows behind you, capturing great shots. Available for just a little over US$100 on Amazon, this beast is a great tool for any photographer.
The drone has a Wi-Fi distance range of 50-70 m and an R/C distance of 80-100 m. The drone is light as it only weighs 280 grams, including the battery.
EACHINE E520
has a maximum flight time of 17 minutes and a 1200mah battery,
has visible LED lights,
offers an adjustable 120º wide-angle 4K HD camera, and
features one-key take-off or landing with an emergence stop option.
9. Potensic T18 GPS Drone
Potensic T18 is an FPV RC quadcopter that produces 1080 video and images. It is a good budget drone. Although it only has 10 minutes of flight time per charge, this drone boasts the Follow Me mode. Wedding guests will enjoy luring the drone around to different sections of the venue. You would want to purchase this drone with additional batteries so it can keep shooting wedding video without switching off.
Potensic T18 GPS Drone
features GPS positioning and GLONASS positioning,
has a 1080P HD Wi-Fi camera and 75º adjustable angle,
is perfect for capturing high-speed picture transmission in real time, and
offers a longer flight time and distance control of up to 300 m for an improved flight experience.
10. Ryze Tello Quadcopter Drone
Ryze Tello Quadcopter Drone is the last entry on our list of the top 10 wedding photography drones in 2020. This is a super drone, not only because it is affordable but also because there's no need for FAA registration. Weighing just about 80 grams, this drone is also super small, its dimensions being 6 x 6 x 1.3 inches; thus, it's not a UAV that must be registered.
Controlling the drone can be fun depending on the method selected to control it. You have the option of using a remote, or you can download the Tello app. You can also use the Scratch programming interface. Newbies and those who are not really into tech are better off sticking to the first two options when controlling this drone.
You should consider getting this drone because you can get RyzeTech Tello powered by DJI. We have already said that the DJI technology is trusted by many and anything related to or powered by it is usually well worth its price tag.
Ryze Tello Quadcopter Drone
offers a maximum flight time of 13 minutes,
comes with a 5MP camera and shoots JPEG photos and 720p MP4 video,
has two antennas to stabilize video transmission, and
has a set of propeller guards and a pair of 4x propellers.
Which drone is best for aerial photography? Which is the most reliable drone? Actually, it's the one that you can master and start using professionally as soon as possible. The most reliable drone always produces the best videos and pictures when used correctly. Should you still want more information on selecting the best wedding camera drone in 2020 and beyond, then don't hesitate to research more and get further information on drone tech.