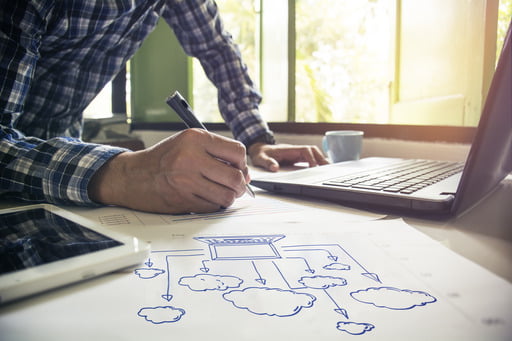 Most individuals and businesses readily accept the notion that backup and recovery are the most important aspects of a fully functioning system. As of 2018, a lot more companies were moving their data management to the cloud. Setting up data management, backup and recovery have been pointed out by the IDC as the first step when moving to a cloud infrastructure.
In the past, businesses combined multiple software solutions to create recovery and backup for disaster preparedness. In the end, this caused inefficient workloads that were overburdened and an increase in the operating expenditure (OPEX). In a cloud environment, organizations manage to back up and recover data in an efficient, reliable and secure manner often dramatically reducing costs.
Consider these five reasons when moving your backup and recovery into a cloud.
Cost Effective - When considering the reasons to move backup and recovery into the cloud, the top priority should be about saving money. Again, the IDC report clearly indicates that companies simply move to the cloud for economic reasons. The numbers never lie and show clear projections. Before the use of the cloud, companies had to spend a lot paying for physical data centres that stored their backup infrastructure. When using the cloud, there are a lot of options given including subscriptions that allow you to pay for consumption-based contracts. The company only purchases enough resources to complete the tasks on a use-per-need or pay-as-you-go basis thus significantly reducing or completely eliminating superfluous opex.
Connect Silos - The introduction of a hybrid cloud environment allows organizations to connect data management systems while getting rid of separate workflows that are dumped in favour of consolidated infrastructure within the cloud. Compared to the traditional backup structure, where datasets are kept separate according to a physical location and there is no automated centralization or integration, the cloud system proves to be more efficient. Without using physical tapes, your company can easily do data backup and archiving. When all data in the system is managed, accessed and controlled in the cloud, it's possible to get rid of errors and reduce overhead while boosting the efficiency of processes.
Update Processes - The traditional methods of backup required that each data process had its own on-premise infrastructure and solution. When backing up, companies would end up with a lot of physical infrastructures that each required their own strategies for data backup and recovery. However, when using a cloud model, all processes are streamlined, accelerated and improved to allow for faster backup and recovery. Cloud environments allow for all processes to be as current as of the date.
Eliminates Downtime - When using a cloud environment, both your data and processes require zero downtime. There is automatic access to software and security updates on data that is managed in a cloud, totally removing the need to process what comes with a physical infrastructure. There is seamless sharing, moving, accessing, recovering and backing up of data when everything is in a cloud environment. Say goodbye to the cumbersome downtime of on-premise setups. With the cloud environment setup, data management is on-demand and you can, therefore, access your data and any backups if and when you need them.
Ensures Compliance - the cloud makes it easy to stay updated and comply with all concerned rules and regulations. For international companies, even when data management is in the cloud, local data residency requirements still need to be followed. Some countries have strict regulations that require data storage to remain in that region and not be moved to another location. When using a hybrid cloud platform, data can stay connected without having to remove datasets from specific regions. Security compliance can also be followed when using the cloud. Without creating silos, it is possible to isolate cloud regions that have extra protections to be stored separately within the cloud. There is no need to sacrifice accessibility because the flexibility of cloud data storage comes with data protection when compliance requirements are adhered to.
Discover A Lot More
There are a lot more reasons to move your backup to the cloud. These five were only handpicked for you to have a better understanding of the cloud if you were still considering it. If you are not yet ready to move to the cloud, then that's okay. You can do the little things that include using FileWhopper only to send large data online securely. FileWhopper doesn't require any subscriptions. It works on a pay-as-you-use basis. The first step is to upload your large data, then get a link that can be shared with your recipient. Once the file started uploading there is a lifespan of 14 days, after which it is totally deleted. If your organisation is not yet ready for the cloud, FileWhopper presents you with the perfect solution that allows you the freedom to explore cloud environments until you are ready for the big move.