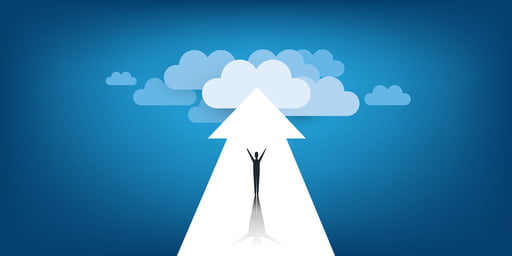 The COVID-19 pandemic brought with it unexpected political upheavals, social unrest, and economic drains. This has made 2020 a unique year in all regards, one that we won't forget easily. Businesses will look back and remember this year as a year that brought significant changes to the way we see work. Migrating to the cloud is one move that many organizations are already executing. You'll be on the right track by joining this trend.
Some businesses were ahead of the technological trend, and they reaped the benefits. For example, organizations that incorporated remote work into their company culture before the pandemic found it easier to migrate their entire team to the work-from-home environment, while business owners that always saw working from home as a big "NO" struggled to keep up with the change when the pandemic hit. This is why forward-thinking organizations have been moving their businesses to the cloud.
In this article, we will look at the main advantages of cloud migration and why you need to embrace cloud technology in 2021. Moving forward, post-pandemic, cloud computing, cloud-based software, and cloud data solutions will help you move with the times and keep your business at the top of its game.
What Is Cloud Computing?
Cloud computing is a technology that stores data and programs on the internet instead of on your hard drive or computer. In essence, you need to have an internet connection to access the information you need. Whenever you listen to songs on Spotify or log into your Google Drive app, you utilize cloud technology. This technology allows you to easily store and access tremendous amounts of data.
Cloud computing for personal use is different from that needed to operate a business. As a business owner, you have to decide if you want to implement the PaaS (Platform-as-a-Service), IaaS (Infrastructure-as-a-Service), or SaaS (Software-as-a-Service) cloud service.
PaaS provides a framework that allows you to come up with customized applications that are best suited for your needs and manage them. With SaaS, you can simply use applications designed and managed by a third party. As for IaaS, a vendor hosts your infrastructure, which you can access over the Internet on an on-demand basis.
What Are the Main Characteristics of Cloud Technology?
To better understand what cloud services are all about and why businesses are moving to the cloud, you need to understand their unique characteristics:
1. On-Demand Self-Service
The most convenient and perhaps most important characteristic of cloud computing is that it provides services on demand. The self-service feature means you can easily get access to the services you need. Your requests are automatically processed, and the involvement of the provider is not required to complete them.
2. Broad Network Access
Cloud computing services can be accessed through a wide range of platforms. This means you can use various types of devices to get the resources you need. Whether your team is using laptops, smartphones, tablets, or desktop computers, they can access the cloud.
3. Multi-Tenancy and Resource Pooling
Multi-tenancy allows multiple users to share the same cloud resources while protecting their data and privacy. For example, we can say that tenants living in the same building share the same infrastructure. However, each tenant has their own flat. While the tenants enjoy the amenities provided by the same infrastructure, they have their security and privacy maintained. This is what multi-tenancy is all about. Resource pooling makes it possible to use the same resource base to assign resources to multiple users.
4. Rapid Scaling
Cloud computing allows resources to scale up or down quickly in order to keep up with demand, meaning users get what they need when they need it. This form of elasticity enables an application to handle changing volumes of data. For example, if an application suddenly experiences/exhibits a surge in traffic volume, additional servers will be provided automatically to meet the demand. Therefore, the service remains unaffected. This means the cloud can easily increase or reduce resources based on what is needed.
5. Measured Usage
This feature measures resource usage per person. This means users only pay for what they use. In essence, the amount each user will pay varies depending on their usage of the service provided.
What Are the Benefits of Cloud Migration in a COVID-19 and Post-COVID-19 World?
The benefits of cloud migration are numerous. It doesn't matter if you're part of a small, medium, or large company; you'll find that the benefits cut across all business types and sizes. The pandemic encouraged a shift from a traditional office setting to a more decentralized network of remote employees spread across different locations. This remote working environment is best suited for cloud technology. It allows workers to easily access company-related data in a secure environment, whether they're working from home or the office.
If you take advantage of cloud technology, you can easily move your data and software that you use for your business's daily operation to the cloud. This allows your workers to access them and do their job from any location.
What are the benefits of cloud migration? Let's take a look at some of them:
1. Flexibility and Cost
In terms of storage space and processing capacity, the cloud is limitless. This is a great advantage to companies, whether big or small. Companies that invest in this technology will find it easier to scale their operations during this pandemic and in the future. In a time when every dollar counts, this offers cost-effectiveness for every company size – a vital aspect of all businesses.
As your business grows, you'll need more resources. Migrating your company to the cloud will provide you with limitless resources to support your needs and structural evolution. This is something to keep in mind because the COVID-19 crisis won't be here forever. Your client base will grow, and so will your staff base.
Imagine having to restructure constantly as your company grows and modify your business model to suit every economic change. By simply moving to the cloud, you eliminate this hassle. The cloud offers you fantastic flexibility for easy scaling. With flexible storage, you don't need to constantly upgrade your hardware or always spend extra money on additional data-handling programs.
In addition, the cloud gives employees the freedom to work anytime they choose at their own convenience. This is because, unlike when working in the traditional office, they can access the cloud from anywhere at any time. They simply need to have a working internet connection. It also encourages collaboration among team members. This is because each employee can see a project's progress, add their input, and share ideas without the stress of commuting to the office.
Since the cloud automatically adjusts to accommodate increases in site traffic, it's easier to connect with your clients at all times. You'll have satisfied customers because they know they can reach your services whenever they need to.
2. Reliability
Another benefit of cloud migration is reliability. As there are multiple servers available, you don't need to worry about downtime. If one server is down, another will take its place, allowing you to access your data without interruption. This keeps all your data safe and easily accessible.
3. Efficiency
While many businesses are still hesitant about cloud migration, business leaders who have embraced this technology are confident that it's a worthy investment. Imagine the time and money you'll save by having all your data in a single and secure place where only you and your employees can access it.
Also, because you don't need to spend money on getting, upgrading and maintaining physical equipment and because you can avoid other additional expenses, your operating costs will greatly reduce. Another thing to remember is that moving your business to the cloud eliminates the need for additional IT personnel and even extra onsite servers. Your service provider handles your technical needs without even meeting you physically. Think of the resources you'll be able to save.
How often do we worry about paying for resources we don't use? As mentioned earlier, cloud services allow you to pay according to use. This means you won't have to waste money paying for features you don't need or use. You only pay for what you need and what your business uses.
4. Cutting-Edge Security
Security is at the very center of cloud services. To keep your data and company information safe, cloud hosts constantly monitor and update their data security mechanisms. Cloud technology utilizes state-of-the-art encryption to ensure that the only users who can access your data are the people you authorize. Cloud-computing hosts also have additional security features that they offer to their users, meaning that businesses that moved to the cloud now have better security for their data. This shows the security advantage that the cloud offers.
5. Easy Mobile Access
Considering that there are more than 1 billion smartphone users in the world, being able to access the cloud from a mobile device is a huge plus for your business. Employees can easily check and receive work updates on the go. This is especially useful if you have workers that constantly travel or work freelance. This not only boosts productivity but also increases employee satisfaction and loyalty.
6. Easy Data Recovery
Migrating to the cloud means you can easily back up and recover your data. Even if your laptop, tablet, or smartphone malfunctions, you can quickly retrieve your data because it's backed up in the cloud. Cloud technology offers users various solutions to help protect and recover their data quickly.
In addition, the cloud offers disaster recovery solutions to protect you from unforeseen situations. In such scenarios, you won't have to incur additional expenses to access your data. This feature is useful for all businesses, big or small. You no longer have to worry about data loss because of damage, theft, or misplacement. As long as you have an internet connection and a working laptop, you can easily log back to the cloud to regain your data.
7. Performance and Speed
Cloud systems are at the top of their game when it comes to performance and speed. Performance is a factor that matters to many businesses. High performance and speed mean you can accomplish more in little time, allowing you to attend to your customers faster. This will not only improve returns but will also increase customer satisfaction levels. You'll find that very few solutions can compete with the cloud in speed and performance.
The COVID-19 pandemic has also increased the need for efficiency and speed, and this increased need will remain long after the virus is defeated. This is why top businesses are migrating to the cloud in order to boost productivity.
This pandemic period is the perfect time to move your business to the cloud before the race leaves you behind. This is why FileWhopper was designed by one of the top technological teams in the world to help you transfer tremendous amounts of data without stress. This is a cloud-based platform that allows you to share large files and folders of any size at high speed. Is it 100 GB, 5,000 GB, or more? There are absolutely no limits to the size of data you can share with this tool. It enables users to upload and download these heavy files and folders at incredible speeds.
Conclusion
Discover the benefits of cloud technology today by joining the forward-thinkers. Don't be left behind in this technological trend that has the potential to take your business productivity to new peaks. Accelerate your growth in 2021 and beyond.