Today you can chat with your friends or colleagues using different instant messengers, or even easily have a video chat. However, if you need to send a letter or a professional proposal, you will probably prefer to use your favourite email provider. But are you sure that your email and all attachments are secured? How can you make sure that your email is sent via a safe provider?
We recommend using one of the known secure email providers. Why is it so important?
Almost all email providers use dated protocols, which are pretty easy to hack. Cybercriminals may use your email account for spamming, or log into online accounts that were registered using this email address.
Get ready to fight off online threats by reading this article: Be Prepared to Beat Online Threats.
Today we would like to discuss the most secure email providers that can help to prevent cyber crooks from stealing your personal information.
Bonus: we will also share some secrets to secure file transfer. Now you can send large files online and not worry about security issues.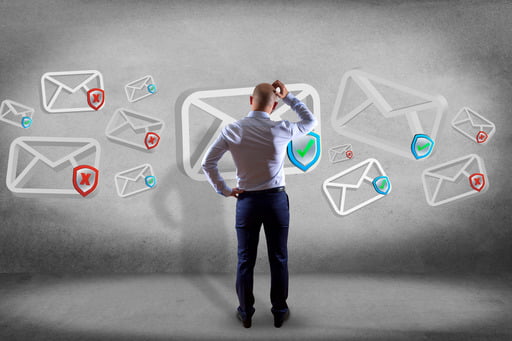 ProtonMail
ProtonMail is the first secure email provider on our list. It operates at very high safety standards imposed by strict Swiss privacy laws. All emails are secured automatically with end-to-end encryption. If you send a message to an outside email address (not a ProtonMail account), the recipient will need to use a password to open it.
ProtonMail has a totally free version, but you will be limited in storage (only 500MB) and in the number of emails per day (only 150 emails).
ProtonMail sports a handsome modern design, and creating a new account with it is a pretty straightforward process. You won't be asked for any personal information when registering.
There is a great option of setting email expiration time. Your email and all attachments will be deleted automatically after the period of time that you specify.
Note that just like Outlook or Gmail, ProtonMail has limits on attachment size: you can attach files up to 25MB.
Want to send large files online? Choose a secure file-sharing service like FileWhopper. It lets you send even a 1TB file or folder, and all your data is encrypted. You just share a download link and a file password with the recipient using a secure email provider like ProtonMail.
Kolab Now
Another good secure email provider is Kolab Now.
Kolab Now uses PFS (Perfect Forward Secrecy) for your emails to ensure security. To create a new account, you need to go through some steps:
Add basic information about yourself
Custom features for your account (adding two-factor authentication, how much storage you need, etc.)
Kolab Now makes it very easy to share files or folders online, but your recipient should also have a Kolab Now email account. Kollab Now is a great option for business accounts: co-workers can share emails and files with each other in a safe way.
You also get an email tagging option, which is very useful if you need to highlight some of emails, notes or upcoming events with different colors.
Unfortunately, there are no free Kolab Now accounts, but the fee starts from $4.39 per month and you can ask for a refund within 30 days if you are unhappy with this service.
CounterMail
CounterMail is one of the most secure email providers. The biggest difference from other email providers is that CounterMail uses diskless web servers. This way CounterMail ensures that everything is done to keep your anonymity.
The first sight at the website may leave you disappointed, because the design is very simple and not that attractive. But the most important feature in CounterMail is security.
With CounterMail, your email communications will be totally secure. You can even use a CounterMail USB Key, which is a file that's combined with your password to increase the security when logging into your account. Another interesting feature is Safebox, a secure place for keeping your usernames and passwords. But you should note that there is no option to reset your password. Forgot your password? Your data will be inaccessible.
Creating a new account in CounterMail is very simple. All you need is your username and password. You can attach a 32MB file to your message.
If you send a message to another CounterMail account, it will be encrypted automatically. All external emails will be encrypted only if the target address uses OpenPGP.
You can use a CounterMail account for free for seven days and only send emails to other CounterMail accounts.
Tutanota
Tutanota is a very easy to use and secure email service. All Tutanota clients (apps) are published as open-source. Tutanota mail offers a free plan with 1GB of storage, but the free version is for private use only. With Tutanota you can send files of up to 25MB in size as an attachment. Need more storage space or advanced options? Check out Tutanota paid plans.
If your reсipient also has a Tutanota account, your message will be encrypted automatically. External emails are encrypted in a different way: the recipient needs to enter a password when opening an email link. It will take some time to create a good password, because it must be strong enough to satisfy the safety requirements. Read more about creating the strongest passwords. And don't forget to share this password with the recipient after sending your message. If you forget your password, there is a recovery code you can use to restore access to your email.
You can also choose the two-factor authentication option in settings for added security.
Hushmail
With Hushmail there is an option for sending encrypted or unencrypted messages. Before creating a new account, learn about collecting personal information on Hushmail.
Note that you will need to have a mobile phone at hand to create a new account. Also, it is very important not to lose your passphrase for log in, because you won't be able to recover it (for personal accounts).
The interface is user-friendly and easy to navigate. First of all, turn on the security features, because they are off by default. With Hushmail you can send digitally signed emails. For more security, turn on two-step verification in your account settings.
How is Hushmail email encrypted? It is done through a sender-created security question. The message recipient should answer correctly and only then the email will be displayed. The maximum size for an email attachment is 20MB. For sending large files by Hushmail you will need to use some other options, such as a file-sharing service.
There is a free trial for a Premium plan, but it only lasts for 14 days and has a storage limit of 25MB.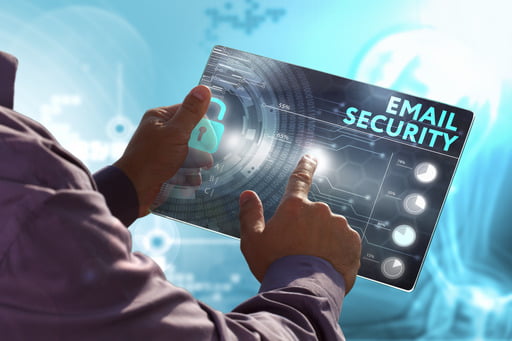 The Most Secure Email Service: Conclusions
Sending emails using an unsecure email provider could be very dangerous. In this article we discussed the safest and most secure email providers that we've been able to find. Choose the one that works for your needs: personal or business, free or paid, by the amount of storage space, message encryption, etc.
Use the comments to share your ideas on how to send emails in a secure way and how to share large files in them.