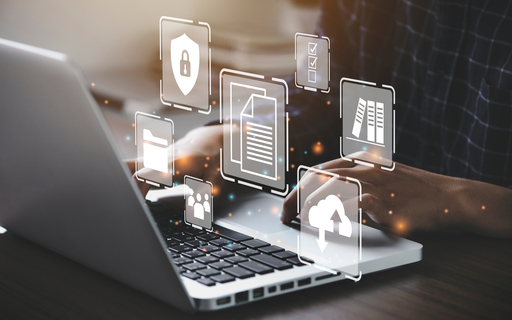 File-sharing solutions for large organizations have unique needs that small companies do not share. As a big company, hundreds, if not thousands, of people will use your solution each day.
So it's crucial to choose an enterprise file sharing that supports your customers' needs for efficient file sharing. It's also essential to use the right file-sharing solution that can withstand your business's large data storage requirements.
But how do you choose the best enterprise file sharing? Even though you have many options, only a select handful are made to meet the demands of your business.
This guide explains enterprise file sharing and how to choose the right one.
Let's begin.
What is Enterprise File Sharing?
Enterprise file sharing allows businesses to safely share data and files with partners and other interested parties in one convenient location. In addition, the EFSS or enterprise file sync and share allow companies to transfer files to different locations, both outside and inside the organization.
The EFSS has become an essential collaboration tool. And that's because it helps team members to share files such as documents, videos, photos, etc., across multiple devices, platforms, and other channels. Storage options for enterprise file sharing range from local servers to the cloud and even a combination. But the golden rule is that data never leaves a company's data repository, no matter where it's physically located.
In addition, EFSS includes server-side synchronization, which allows for real-time data updates across all connected devices.
That means that with EFSS, employees aren't tied down to a specific location to keep working. By using EFSS, you can maintain stringent security and compliance regulations.
Main Features of Enterprise File Sharing
In addition to its primary function, which is the constant, minute-by-minute tracking of all file transfers, EFSS also comes with the following features and capabilities:
High Storage Security
Enterprise file sharing uses file scanning, data loss prevention, and encryption mechanisms to improve security. It also monitors exfiltration transmissions and data breaches.
Enterprise file sharing uses file scanning, data loss prevention, and encryption mechanisms to improve security. It also monitors exfiltration transmissions and data breaches.
The EFSS also has
identity access management to control who accesses documents,
Authentication processes, and
key tracking features
Data Access is Both Transparent and Consistent
When sensitive information is at stake, such as during a personal file transfer, EFSS provides visibility for businesses. EFSS not only provides visibility into who is reading documents, but it also synchronizes data across devices and platforms.
That way, everyone has access to the most recent data update.
Important Administrative Processes
Besides sharing and data storage, enterprise file sharing also runs critical processes like recovery and backup. In addition, they also provide automated functions like scheduled file transfers to save you time and effort.
Offers Workflow Features
EFSS has workflow features that allow users to edit, create, comment, and keep track of file versions.
Supports Large File Transfers and Unique File Types
Enterprise file sharing can help you send enormous files that would have been difficult to send using older file-sharing methods. Additionally, it supports file formats with unique file extensions.
EFSS Offers Reporting and Regulatory Compliance
If your company falls within finance, healthcare, and pharmaceuticals, you must comply with regulatory standards like SOX, HIPAA, and GDPR. Enterprise file sharing has reporting features that tell auditors and regulators that your business adheres to data-related standards.
Enterprise File Sharing vs. Personal File Sharing Solutions
Enterprise file sharing is a class of business systems that ensures an organization's safe and open exchange of files. That's the main difference between personal file sharing solutions.
The EFSS features enable high-level file synchronization and sharing over a network. In addition, these systems are pre-designed with features like APIs, user permissions, and integration.
Enterprise file sharing is based on the premise that businesses should innovate to make data more accessible. As a result, it's better than personal file-sharing solutions, which usually come with limited data transfer.
Before cloud storage, networks had severe limitations on the file sizes that could be shared and accessed simultaneously.
Modern businesses are adapting to the changing nature of work by instituting practices like enterprise file sharing. This coincides with the emergence of trustworthy cloud services, where central repositories can act as protected centers for managing sensitive information.
Top 5 Enterprise File Sharing Platforms
FileCloud
With FileCloud, you can build your internal system for syncing and sharing files. Furthermore, as a software-only offering, it allows you to choose between on-premise and public cloud IaaS deployment models.
FileCloud is compatible with Linux, Mac, BlackBerry, Windows, Android, and Windows Mobile. Also, it's compatible with various productivity suites, including Apple Keynote, Microsoft Office, and Excel.
Its extensive Application Programming Interface (API) allows for simple incorporation into Enterprise e-discovery, Digital Rights Management (DRM), and Analytics systems. In addition, it has HIPAA-compliant audits, endpoint backup, and data leak prevention (DLP).
Files.com
This enterprise file-sharing solution is a cloud-based file management system that provides a single location for storing and sharing files. The features platform includes the ability to collaborate and share files.
But cloud storage is the main attraction. Before you can share files, you must upload them to Files.com. Because of this, the system can monitor and restrict who can access which files.
Consider Files.com if you must meet the regulatory requirements for handling customer information securely. For example, if you adhere to PCI DSS and HIPAA requirements, you'll get a signed Business Associate Agreement (BAA) from the service.
ExaVault
ExaVault is a cloud service that can host an FTPS or SFTP server, allowing for encrypted file transfers online. As a bonus, the service can also function as a company-wide file server, with individual user accounts set up for each worker.
Sharing large files is easy when you upload them to ExaVault's cloud server. You can provide access to others and set your level of privileges. Also, you can revoke or set the access to expire at a specific time. System administrators can also remove permissions to certain files.
The ExaVault service offers an additional method for transferring data to remote locations. For example, if a file exists on the server, you can generate an access link and send it instead of the file.
VMware Hybrid Cloud
VMware's hybrid cloud service provides businesses with a shared resource pool of network, virtualized storage, and compute infrastructure. The purpose is to host cloud-based applications and services via interconnection with on-premises hardware.
The vCloud software is used for both public and private clouds. VMware's VCloud Air Advanced Networking Services bridge the gap between the private and public clouds.
That allows you to set up and manage multiple virtual networks that adhere to your pre-existing on-premises security policies. It also uses a single WAN connection to access the VMware public cloud.
In addition, this helps system administrators keep their resource management practices open and transparent.
Citrix ShareFile
Citrix ShareFile is a cloud service that provides multiple safe file-sharing options based on its cloud infrastructure. In addition to sharing files, this service also allows you to work together on them.
You can use ShareFile as your central file server because of its available storage capacity. To share a file with others, simply upload it to the ShareFile system and provide the receiver with a link to the file's shared location.
This way, they can access the file directly from the server rather than wait for a copy to be sent. Furthermore, because only one file needs to be uploaded, FTP clients don't have hog bandwidth when their customers are away from their devices.
All these enterprise file sharing services have their pros and cons. So you'll have to check to know which is right for your business. But there is one enterprise file solution you should first consider, and that's why we left it for last.
Let's go through it in the next section
Why Choose FileWhopper Business Solution?
FileWhopper is the best option compared to traditional subscription services and cloud-based storage solutions. It's a file-sharing service that charges you only for the data you move. Many commercial purposes are well-served by the pay-as-you-go model.
Simply upload the files or folders you need to send to the FileWhopper system and obtain the download link. Then, send it to your recipient.
The FileWhopper system is designed solely for file sharing and not for real-time collaboration. So it's more lightweight than some of the options mentioned in the previous section.
How FileWhopper's Fees are Calculated
The FileWhopper service contains a tool to facilitate the uploading process for a cost. And it's calculated according to the size of the file being uploaded. Also, the file is saved in an encrypted format and protected with a password to ensure that only the intended recipient can view it.
The file can't remain on the FileWhopper server indefinitely. This is not a system designed for frequent data retrieval. If no one opens the file within 14 days, FileWhopper will remove it. However, the time frame can be extended if necessary.
Only the recipient can download the file; after that's done, it's deleted from FileWhopper forever. However, the sender can pay for multiple downloads if more than one recipient needs access to the file.
You Pay for the Space You Use
When using FileWhopper, you only pay for the space you use. However, to upload a file, you'll be charged a fee proportional to the file size you are sending.
You can preview the total cost using the slider for your desired file size at the base of the service's homepage. Transferring files up to 5 GB in size is free. Massive files incur a huge price tag, and the limit is 10 terabytes.
High-Level Data Protection with Zero-Knowledge Encryption
FileWhopper places a high priority on users' right to limit access to their personal information. Therefore, it has built-in zero-knowledge encryption, a state-of-the-art method of protecting data, to guarantee the highest security level for every file or folder transmission.
Zero-knowledge encryption ensures that your password key remains safe even if the servers are compromised. And that's because neither the service providers, servers, nor other data storage units have access to it.
Conclusion
It's great to have options. But narrowing down the right enterprise file sharing solutions that work for your business can be challenging. That's why we recommend the options listed in this guide.
You need file-sharing software to facilitate client communication, transfer huge files, and maintain security standards. The technologies discussed above are top choices for secure cloud-based file sharing in the business world.
You can start with FileWhopper because it offers premium data protection with zero-knowledge encryption. The file transfer is also straightforward, so you should have no problem.
The FileWhopper Enterprise solution is set for release by the end of 2022.