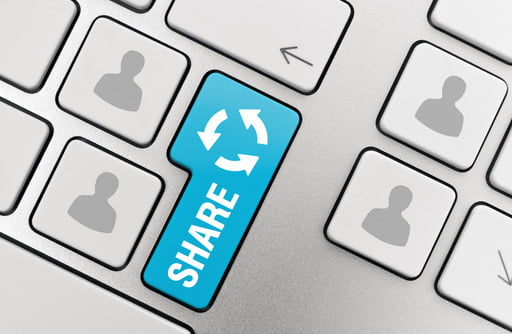 Small files can easily be shared via email. However, the same cannot be said for big files, especially if you would like to share anything that weighs more than 1 GB. Just like every challenge around technology, there are already excellent solutions for such a challenge. Ever heard of peer-to-peer (P2P) file-sharing?
Before you go into the details of peer-to-peer file sharing, it might be of good interest that you learn about FileWhopper. FileWhopper is more of a professional file sharing platform than it is peer-to-peer. Anyone looking for the best way of sharing files, regardless of the size and maintaining the file quality should consider this service every time. With FileWhopper, you only pay for the space used. Once files are uploaded, you get a link that you can share with anyone you want. There is a 14-day lifespan for both upload and download. After which, the file will be totally erased without leaving any trace online. Of the methods listed in this article, FileWhopper stands out as the safest method without requiring any commitment from your end. If you feel like the challenges and cons of P2P sharing are not worth it, then consider taking your time to understand and maybe even use FileWhopper.
P2P file-sharing software allows you to easily share files online regardless of the size. File-sharing can be with anyone, as long as they have the link or access. You can upload up to 1 TB worth of files easily without any challenges.
List of File Sharing Software for P2P File Sharing
Each P2P method comes with its own pros and cons. You need to carefully sieve through them and find one with the best cons for your purpose. Best yet, visit all the websites to find an interface that's easy for you to maneuver around. Below is a list of Peer-to-Peer file sharing applications that you can use:
1. Deluge
If optimum protection for your files is your major concern when searching for P2P file-sharing software, then use Deluge. The service comes with a built-in encryption system that encrypts all the files being uploaded or downloaded, thus completely protecting your files. There is a feature to fully protect the client itself by adding a password to the data. Privately share files protected and backed up by the built-in encryption feature.
2. Ares
Ares offers one of the best P2P platforms by far. Rich with features, this light and advanced file sharing method offers fast downloading, even when accessing more than one shared file. You have the option of streaming the video or audio while downloading to preview the quality or content in the download. Other platforms require payment for this feature, which is free on Ares. You can also easily manage your files and keep them in easy categories. Use the best option that allows you to scan the files and ensure they aren't carrying any malware.
3. Vuze
This P2P file-sharing software is one of the easiest with a paid subscription. It comes with a free version as well for those who would like to check it out first or cannot afford paid subscriptions. Select between the Vuze Leap and Vuze rich memberships. Take advantage of all their advanced features including the converter, remote access and plugin support. The best news is that the free version has most of the features needed by the basic file uploader or downloader, hence it's quite practical and easy to use. For the full package, just upgrade your membership and enjoy the full experience.
4. GigaTribe
GigaTribe adds an interesting feature to this list. On their P2P file-sharing platform, you can share files with up to 500 people! How? Simple, instead of uploading files like other P2P file-sharing software, on GigaTribe, you simply upload files to view. At their discretion, those with the link decide on the files they want to download. Create your own room and select a username that you will use when inviting those you want to have access. Files can be viewed in real-time and downloaded without limitations. Make it even more personal by creating a chat room for conversations during the file-sharing sessions.
5. Tixati
Tixati has a simple interface and provides you with all the advanced features to share files. Comes with a super-light client and allows really fast uploads and downloads of files. Encryption is provided for both uploads and downloads. Is ideal for P2P file sharing in a more professional usage as it also offers peer management, NAT, IP filtering NAT, bandwidth management, as well as download scheduling.
6. Sharest
This service offers the advanced features. Using Sharest, you can activate the "share with friends" feature and only your friends will get the direct file sharing. Comes with a lot of advanced security features to help protect your files against malware and viruses. Your connection is always protected.
7. File Transfer
This P2P file-sharing method is probably the least complicated this list has to offer. You can use File Transfer when making a secure connection between two computers and sharing files of any size. A direct connection is used and requires very simple configuration. If one of the computers goes offline, when switched back on, the connection resumes where file transfer was paused without loss of any data.
Your answer to what are the most common P2P file sharing programs has been given with this list. Of course, there are bound to be changes to this list, keep checking it for more updates.
Common Challenges of Using P2P File Sharing Software
You now know how to use software for peer-to-peer file sharing. You can dive straight into testing each option on the list until you find the one that works best for you. However, before you become over-excited, keep in mind that these come with some common problems. The negative aspects of peer-to-peer file sharing methods include:
They tend to host a whole lot of viruses that can be disguised by renaming it as the file you are searching for prompting you to easily download and even install the virus. Some of the viruses are even clever enough to be embedded in actual programs, so they easily hide on your PC once installed.

This software promotes piracy. Illegal files can be uploaded and downloaded and this might lead to lawsuits and other legal action against you while you may have just installed without the full knowledge of what you are downloading.

Run a risk of disappearing anytime. If your selected platform just decides to relocate, they can go without your knowledge and you will be left stranded as all of your files disappear along with the site.