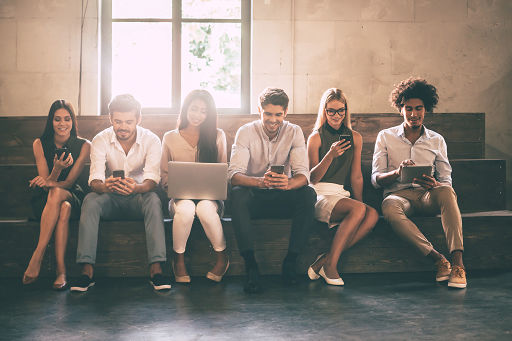 We all have plans to spring clean our homes. This is obviously a great way to make our lives more organized. That said, many people forget that their phones and computers are like homes: they can accumulate clutter and, therefore, need to be cleaned and tidied up periodically. The thing is, we spend so much time on our phones and PCs. To enhance your experience when using your gadgets, you need to organize your devices from time to time. And what's a better time to do so than the beginning of the year?
Organizing your devices will not only give you a seamless experience but also increase productivity. A cluttered device can be slow in response and drain fast. It also takes forever to find something, especially when you are in a hurry. Not organizing your devices is also risky as you can mistakenly delete an important file that you didn't know was inside the folder you wanted to get rid of. In this article, we will give you the most up-to-date information on how to tidy up your devices this year. Here is what you can enjoy on a clean, tidy device:
Increased productivity;
Better responsiveness;
More space to store important data;
Enhanced security measures.
Transfer Media Files Off Your Device
We always want to carry photos with us as they remind us of a particular experience. We all have different reasons to want them around. For some, it is simply about gloating over being to a particular place (and the photo simply serves as evidence), while to others, it's like having their loved ones or pets close to them. Now, you may have wondered, "Should I store photos on a mobile phone?" Well, storing photos on your mobile phone is not safe. For starters, a phone can be easily lost and you do not know what kind of person will get hold of it. As safe and protected as you may feel your device is, there is always one way or another of accessing the data on it. Therefore, you don't want your private photos in the wrong hands. Better, transfer your photos and sensitive data to a cloud-based drive or another PC. This way, even if you lose your phone, your photos have been backed up already. Moreover, keeping your photos elsewhere will create more space on your phone to take more pictures.
Back Up Important Files
There are many ways that you can lose data stored on your smartphone. Phones are small devices that we take everywhere with us. You can drop your smartphone in water, and your data will be gone. So, if you want to be an organized individual and keep your data safe, then this is the right time to back it up.
Backing up data is not as complicated as many portray it to be. You don't even need a specialist to do so. The process is not intimidating, and all you need is to find a suitable cloud-based solution to back up your data with. There are plenty of trusted backup solutions to rely on, and most of them can be set to back up your data automatically. If not sure how to back up your data, you can read our tutorial and learn how to do that.
Get Rid of Idle Apps
This is an easy task when cleaning up your devices. There is always that one app that you will install because a friend told you about it, only to discover you are not interested in it. You forget to uninstall it or leave it to check it sometime later. The list of such apps continues to increase until you are out of space or your device just seems cluttered. Well, you need to give yourself time to get rid of such apps. Uninstall them one by one until you are sure there is nothing unnecessary on your device. You know your phone, so it shouldn't be difficult to identify apps you do not use. You can remove unused apps from your PC as well. The process requires more attention compared to deleting clutter from a smartphone, but it doesn't need any serious tech skills to execute.
Install Tune-Up Software
Tune-up utilities are one way to better the performance of your device. If you haven't used a tune-up utility on it yet, now is the time to do so. The best part about using a tune-up utility is that the software does everything for you. What's needed from you is selecting the best utility to use and watching it do the dirty work for you. If you are not sure what to choose, then take advantage of the trial periods presented by various tune-up utility platforms to test out their performance.
Upon selecting a tune-up utility, be sure to read the instructions and watch tutorials on how to operate the app you want to install so you don't mess things up. The process might take longer if it's your first time running a tune-up utility on your smartphone or PC.
Clear Cache and Empty Your Trash
Clearing your browser cache can seem like an unnecessary procedure, but it does help you keep your system clean. You most likely know how to do that on your PC, but did you know that you can also do it on your smartphone or tablet? Clearing your browser cache is pretty easy as you only need to locate the History option on your browser and delete everything.
Trash accumulates when you delete unwanted files and apps on your device. The deleted items are simply moved to a particular folder and kept there without being visible to the user. However, your ultimate goal is to free up space and clean your device. Therefore, you need to get rid of the trash, which means your deleted files will be permanently removed from your smartphone with no way of recovering them.
There are also other places where you can delete unwanted data to clear up space, and these include old text messages, social media search history, and WhatsApp archives.
Clean Your Email Inbox
If you find your inbox section with more than what you can handle, then you really need to perform a clean-up. In most cases, what makes your inbox overwhelming is a lack of categorizing. However, we will discuss that later. Keep your inbox clean by moving unread messages to their own folder. Obviously, the fact that you haven't read them means they are not so important. Thus, moving them to a new folder doesn't necessarily mean you are ignoring them: you are just removing them from sight. Remember to name your folder in a way that will remind you of what you're keeping in it. You can label your folder as "Unread 2019" so that you can always refer to it if there is something you need.
Opt Out of Bulk Emails
Select the email messages you don't actually open and unsubscribe from them. The fact is, you don't read them not because you can't but simply because you don't need them. Therefore, unsubscribing from such emails will save you the stress of receiving what you don't need. Go through your emails and look for those you're not interested in receiving and make sure you unsubscribe from them.
Refresh Your Playlist
We all love music (so they say). Regardless of the music service you are using, there comes a time when you are no longer listening to particular music and it is just there because you once listened to it. The New Year comes with new things, and obviously with new music hits as well. Yes, we know that there are some classic songs that do not fade with time. The songs being discussed here are one-hit wonders, rendering them outdated. Look for those and get rid of them. Music services, such as Spotify, can easily get crowded with playlists. Therefore, you need to keep tabs on what you still want to listen to. Updating your playlists so that they align with your taste should also be a necessity. For instance, if you want to start a workout, including gym songs as a new playlist will actually motivate you. You can even have several playlists, as long as the songs are what you like at that moment.
Be it a smartphone or tablet or PC, keeping your device clean will give you the best performance results. Moreover, it is easy to keep track of unknown software on your device when it's clean and everything is in plain sight. A clean device has better security measures than an untidy one. Therefore, if are yet to decide on whether or not to tidy up your devices, this article should be your answer.
FileWhopper
: Service for Sending Large Files and Folders With No Limits
On another note, if you want to send a large file or folder securely online, FileWhopper is your go-to guy. With so many services offering what they call "the best deals," FileWhopper presents what you need in the best possible way. For starters, with FileWhopper, you are not obligated to pay any monthly subscriptions as you pay a reasonable one-off fee depending on the size of the file or folder you wish to send.
Here is what makes FileWhopper stand out from the rest:
✅ With FileWhopper, you can send files and folders of any size.
✅ The service is super-fast due to the use of multi-threaded technology.
✅ You don't have to worry about subscriptions as you only pay a reasonable one-time fee based on the size of what you want to transfer.
✅ The service is secure and safe to use as it encrypts and protects your data using a password.
Here is how it works:
1. Select the file or folder you wish to share and get a quote based on the size of the data.
2. Download and install the small FileWhopper app to upload your large file or folder fast, securely and safely.
3. Copy the link to the uploaded data and share it with the intended recipient(s) (you can send your file or folder to one person by default; however, extra downloads can be easily added).
4. Share the password used to encrypt your data for secure delivery with the recipient(s).