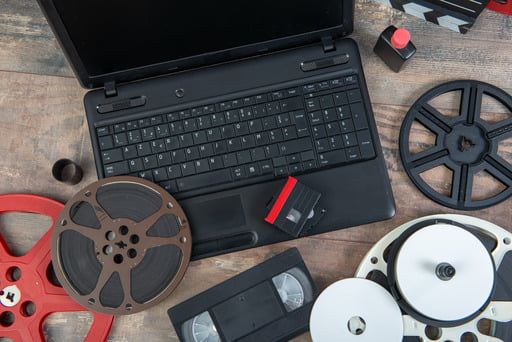 For years, all home videos needed was an excellent handheld camera, and then they were saved on VHS tapes. And remember all those exciting TV shows that were recorded on cassettes as well? Those were the days…However, to say that using a VCR (video cassette recorder) to be able to read your VHS content is frustrating is an understatement. So, first, there's the stress of needing a video player that can read VHS tapes – VCR. These are now so rare that they can be considered collector's items. You end up having to buy them at ridiculously high prices. And in addition to that, while using VHS tapes, you will still be afraid of the tape breaking since it's impossible to mend and the recorded content is automatically deleted.
If you're tired of being concerned or worried about your VHS tapes, there is a solution to all of that. It's now possible to digitize your old tapes. This way, you will get to enjoy your old memories at any time using modern decoders and other forms of video play. You will need a couple of items to get started. Start preparing and get yourself:
A video cassette recorder (VCR)

An analog converter

Software that can be used to digitize your VHS tapes

Your VHS records, of course, and blank DVDs, if you want to have your video stored on a disc rather than as a file on your PC, to get started.
Preparing for VHS to DVD Conversion
To get started, use the analog converter to connect your computer to your VCR. Following the colors, coordinate the ports. The yellow is for video, while the red and white ports are for audio. You can set up a connection using either the SCART adapter or RCA cables. Take the USB end of the converter and plug it into your laptop, then swiftly connect the opposite end to the VCR.
Use the instructions or manual that accompanies your analog's software for converting. Following the instructions or reading through the entire manual will help you learn how to play around, make the necessary changes and format the video. Regardless of the software you have, it is necessary to first play the entire video so that it can be captured by the software.
Where to Get a VCR
Before you start stressing about what software to use, have you asked yourself about the most important tool – the VCR? Without this electromechanical device, there is no way of recording your VHS content on your DVD. This is similar to your modern decoders, but it only works with videocassettes. It's important because you will need to use it to play back the recording.
If you still have your old cassettes but no longer own a VCR, you can check for a replacement online. Search the likes of eBay and Amazon. Some local dealers may have VCRs on sale, so you might want to check around before resorting to shopping online. Unless you really love buying online and prefer it over the local shops.
What Is the Best VHS to DVD Software?
Right, moving on to the perfect software for converting. You already know that you will need an analog converter. Most models come with their own software. That said, here are some of the top third-party VHS to DVD apps that will make your conversion process easier and faster:
Golden Videos VHS to DVD Converter

– the selling feature for this converter is its

Video Restoration Wizard.

Using this feature, you can edit old, faded or worn out videos and bring them back to life. Add some color and breathe more life into an otherwise dead recording. After your video has been converted, you can either write it on your DVD or save it on your PC using either the MPEG or AVI format.

Roxio Easy VHS to DVD 3 Plus

– using this converter, you can simultaneously capture VHS material and burn it on your DVD – all at the same time. This analog converter can also transfer VHS content directly to your laptop. Forget about DVD! Although it gives the option of selecting just 3 formats to convert your video to, this software is quite flexible about the mediums where video can be transferred to.

AVS Video Editor

– you can select to buy either an annual or a lifetime license for this editor. The software is one of the most user-friendly tools, and it gives you prompt pointers that aid the conversion process. Select either the DVD (MPEG2) or XviD (MPEG4) format and save the converted material. You can get carried away as far back as possible converting a wide variety of cassette formats, including SECAM and NTSC.

Diamond Video Capture VC500

– one of the best converters available. If you're looking for the best DVDs, then this is your number one option. You can use the software to swiftly edit and somehow improve your original video material. Excellent for those who don't have much time to spare as it only takes about eight minutes to burn a new DVD. The most outstanding drawbacks include the lack of HD video support as well as incompatibility with the macOS. If you're willing to look past these, then you can burn a 60-minute video in as little as eight minutes.

AVerMedia DVD EZMaker 7

– if you're mostly interested in sprucing up your original video material, then this is where you will find your solution. This converter provides you with over 500 special effects when you edit your video. If you're looking to convert and quickly upload video online, then EZMaker 7 is meant for you as it can upload straight to social media as well. After editing your material, you can easily move it to either DVD or your chosen social media.

Manhattan Video Grabber

– this is one of the VHS to DVD converters that are considered as the best and easiest to use. Using it is straightforward. Did somebody ask, is it possible to convert VHS to AVI files? Well, it turns out that when converting using Grabber, you get to select from seven video file formats, including AVI, MP4, WMV, and more. The availability of such a wide number of formats compensates for the fact that it can only burn substandard quality on DVD.

Virtual Dub

– In this list, Virtual Dub is the only free option. Because it is free, it doesn't come with advanced features provided by other analog converters listed. For example, this software lacks most of the editing tools and effects that a converter is supposed to have. That said, using any of its numerous filters, you can greatly enhance your video output. You can quickly get this free converter online from SourceForge.
There are a lot more tools available. You can research first and select the one that you like best or find the most useful for your VHS to DVD conversion.  
Out with the Old, In with the New
So, here is the sad truth: you will spend your money getting the best analog converter, VHS to DVD converter software and VCR on the market (and for now, it will be worth it since your efforts are pointed in the right direction), but in a few years from now or less, you might be needing new software to convert from DVDs. Has that thought crossed your mind? It's possible that you might find yourself searching for how to digitize DVDs instead of VHS tapes in the near future.
We have a solution that will eliminate all these worries for you. Consider digitizing your old tapes and keeping your videos as softcopies somewhere safe. This way you can send and share them anytime, anywhere. For this, you can use FileWhopper, which is a cloud service that allows owners to send some really big files online. This is a platform that was developed by a Microsoft Partner, so you are assured that you are sharing your videos on a legit platform.
When sharing your videos via FileWhopper, there are no monthly fees or subscriptions. This service is used as per need. If you are interested in sharing not only large but also really huge files no other platform can accept, then you should use FileWhopper. With everything considered, this will be a perfect service. FileWhopper allows you to store your video or any other media in the cloud for 14 days unless additional services are ordered (in which case the contents of the download are kept in the cloud for up to 3 months). If the recipient doesn't download it within 14 days, it is deleted.
Thus, FileWhopper is great for sharing beautiful raw footage, especially between videographers and other providers of event services. Everything uploaded on the platform has a standard 14-day lifespan and an on-demand storage maximum of 3 months. Also, if the video is downloaded before the 14-day period, it will be deleted completely from the FileWhopper archives.
For now, take a look at some of the benefits of using FileWhopper – maybe you will find a reason to try the cloud platform right now:
The tool is safe to use as any information on the platform is kept on secure servers and not shared with third parties.

Password

encryption

is provided. There is also a secure link allowing to easily access and download the shared contents. This way, the sender and recipients are the only ones able to access the files.

To avoid data loss, when uploading on the platform, you get assisted by the FileWhopper App.

For the 14 days that your file is kept on site, there are no storage charges. Absolutely free.
Avoid being one of those that find it necessary to search how to convert VHS to DVD. Go with the cloud. It's more convenient for you, and the cloud migration services will save you a lot of time trying to figure out the technicalities behind video conversion.