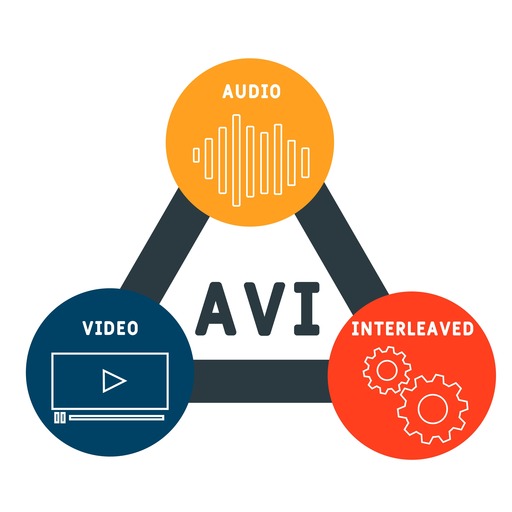 Most people are familiar with the AVI video format, especially given that it's been around since the early 90s. However, even though many have encountered it, not everyone has a clear understanding of what it stands for.
Now, if you have several AVI files sitting in various folders on your computer, you'll soon discover that they're taking up space. Of course, you need to do something about those files at some point.
Before you decide to delete your AVI files, consider converting, compressing, or sending them first. This article will show you everything you need to know about the AVI video format.
What Is the AVI File Format?
Developed by Microsoft in 1992, AVI used to be the standard video format for the Windows operating system. It consists of a multimedia container that stores video and audio through various codecs like XviD and DivX.
Compared to MOV and MPEG files, AVI uses less compression when storing files. Consequently, files with this format consume more space. It's also worth noting that anyone can create AVI files without using compression at all. Because the results are lossless, they are immensely larger. A minute of video is typically 2 to 3 GB in size.
Over time and no matter how many times you transfer or open them, lossless AVI files will not lose quality. Moreover, you can play the files without the need for any codecs. Thus, while the size is the biggest downside of the AVI file format, it still has some advantages.
How to Play the AVI File
Depending on your operating system, you can open the AVI file in different ways:
Windows
If you're a Windows user, you won't have trouble finding an AVI file player. All you need to do is double-click the video, then it will automatically open through your default media player. You can also right-click the file and choose your preferred media player.
Older Windows versions have Windows Media Player as the default media player for AVI files. However, this software cannot open all kinds of AVI files. A workaround here is downloading the free K-Lite Codec pack. Once you've installed the pack, you can play most of your AVI files.
If you're used to opening and playing MPEG files, you might find the process a bit challenging for AVI files. Things get complicated because of the codecs used to encode AVI files. If you want to play the files seamlessly, you need to install the right codecs.
macOS and Other Operating Systems
If you're using other operating systems like macOS or Linux, you can playback AVI files with a third-party application. In general, VLC Media Player is a versatile and practical choice.
However, if you're using a macOS, you may have to do more than downloading and installing VLC Media Player. You may need to convert AVI to MOV to ensure that the file is QuickTime-friendly. In general, M4V and MP4 file formats will also suffice.
Once you've converted the AVI file, you can open it on iTunes and even sync it with your other macOS devices. Now, if the file still doesn't open on QuickTime, you may have to download and install the right codec.
Other options for opening and playing AVI files include:
Adobe Premiere Pro
File Viewer Plus
Xilisoft Video Converter Ultimate
Kodi
Nullsoft Winamp
Microsoft Movies & TV
Eltima Elmedia Player
Xine
RealNetworks RealPlayer
If you don't like installing programs, you can try opening and playing your AVI files over the Internet. For instance, you can store the file in OneDrive or Google Drive. You should be able to open and play the file via these cloud-based storage services.
How to Convert the AVI File
As long as you have the right program, you can open and play AVI files. Now, what if you'd like to stick to your preferred media player? Well, in that case, you'll have to convert your AVI file.
Here are some of the formats you can convert your AVI file into:
.mov – QuickTime
.mp4 – MPEG-4
.webm – WebM video
.mp3 – MPEG-1 Audio Layer III or MPEG-2 Audio Layer III
.ogg – Ogg Vorbis Audio
.asf – Advanced Systems Format
.ts – Video Transport System
.wav – Wave Audio
.flac – Free Lossless Audio Codec
Here are some options for converting AVI files:
VLC Media Player
If you want to convert your AVI file for free, you can use VLC Media Player. Indeed, its primary purpose is video playback. However, it also comes with a built-in converter. You don't even have to endure ads or pay anything just to do so. On the other hand, the process can be a bit slow and there are a couple of nuances along the way.
HandBrake
While HandBrake doesn't let users convert files to AVI, it allows you to rip or convert AVI to MP4, MKV, or WebM. It may seem outdated, but it is still handy and packed with user-friendly features. The interface is also intuitive, allowing you to convert your AVI file within a few clicks.
Freemake
If you want an easy way to convert your AVI files without length or size restrictions, Freemake is a great option. It even lets users convert entire movies. If you need to process your family archives, you can do so and even turn them into a single video. However, if you're going to use the free version, be ready to accept the limitations. Your converted video will have a watermark.
How to Compress AVI Files
You'll either use lossless or lossy compression when you're working with AVI files. To reduce file sizes, lossy compression will permanently get rid of some data. Usually, the lost data is not something an average user would miss. 
For instance, if you're compressing a video shot outdoors, lossy compression would eliminate some unnecessary sounds that your mic picked up. Unfortunately, repeated decoding and encoding of the file will degrade the quality of the image and audio.
Now, if you want to compress AVI files and you're using Windows, your best option is WinZip. There are two ways you can do this:
Via File Explorer
On your keyboard, press Windows Key+E to launch File Explorer.
Look for the file you want to compress, then right-click it.
Select WinZip from the context menu, then click Add/Move to Zip File. You will see options on how you want your file to be compressed.
Choose the appropriate options for your file, including the encryption, storage location, and name.
Click Add.
Via WinZip
Open WinZip, then go to the left panel and look for the AVI file you want to compress.
Select the file, then go to the bottom of the left panel and click Add to Zip.
Go to the bottom-right corner, then click Save As.
Name your file, then click Save.
Pro Tip: Use FileWhopper to Easily Send AVI Files Without Compression
As we've mentioned, converting and compressing AVI files will degrade their quality. Now, if you want a better way to send these large files, your best bet is to use FileWhopper. You can use this service to transmit AVI files of any size quickly and securely.
Here are some reasons why you should use FileWhopper:
No file compression required to send AVI files online
Designed for larger file transfer – send up to 10 TB
No subscription fee – pay for the file you're transferring
Zero-knowledge encryption for foolproof data protection
File transfers are not affected by shutdowns and network interruptions
User-friendly and intuitive app
Indeed, FileWhopper is your best option for sending larger AVI files online. The best part is that your first file transfer (up to 5GB) is free!