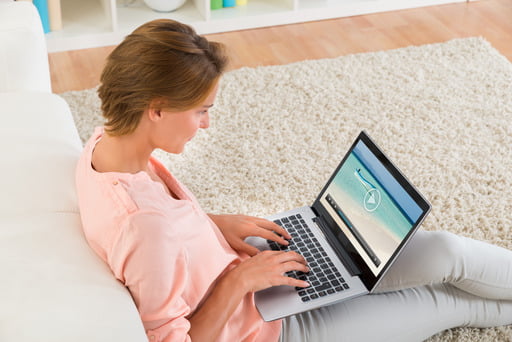 Whether you love free tools or not, one thing remains a fact, they make life easier. The file sharing experience in particular. Imagine not being able to quickly share a video you're viewing on Instagram or Facebook. That would be like going back to the days of DVDs and recording on tapes. But we're no longer in that era and there are free tools to help you share videos with your family and friends.
To begin with, you can learn about FileWhopper, a convenient online sharing platform. Using the services of FileWhopper, you can share pretty much everything, including videos, audio, documents, files, folders, etc. Share any format with your family and friends. How does FileWhopper work? Very straightforward: depending on what you are sharing, you can be done in a matter of seconds to minutes. If your internet connection is good, then you will manage to easily upload and share media or documents. Here is how:
Select the file that you would like to send your friends or family members.

Get the FileWhopper tiny tool that assists you to easily upload your file or folder.

Quickly complete the upload process using the FileWhopper tool.

While the upload is still in progress, you can share the link with the recipients you would like to have access to the file.

Securely share your file that is encrypted with a password to increase safety.

Once the link is opened and the contents are downloaded, they are automatically deleted.

If not opened, the contents in the link auto-expire 14 days after the upload has started.
After learning about FileWhopper and how efficient this tool is, there really isn't a need for you to continue going to the section with free tools to share videos with friends and family. But our job is to provide you with information, and the more sharing platforms you know, the better. You can read below to get more details about the four sites we have picked out that you can use to share your videos for free.
Four Free Tools to Easily Use When Sharing Videos
1. Facebook
Facebook is one of the most popular modern social media and sharing platforms. It is one of those services that has managed to remain relevant throughout the fast purge that other social media products have experienced.
Becoming even more popular because of its user-friendly interface, this platform is perfect when looking to share with family and friends. Facebook has users of all ages. To protect younger viewers or sensitive viewers, Facebook also gives the options of hiding or adjusting settings to suit the particular viewer. And since even grandmothers are on Facebook, you can easily create a chat for secret sharing. To get started:
Create a new post for whatever you would like to share.

Click the Photo or Video tab at the bottom of the new post's window.

The new option opens up prompting you to select what you would like to share.

Select and edit the settings to check those you would like to share with.

Play around with the options such as

Private, Public, Friends Except

, etc. until you get the one you want to use for the video.
You can share with specific people on your friend list. While uploading on Facebook, bear in mind that the videos have a length limit of 120 minutes and a size limit of 4GB. Also, the minimum width should be 600 pixels, and FPS is capped at 30.
There is a catch, to be able to view the video you shared, your family and friends need to have Facebook accounts. Otherwise, sharing this way won't work. That aside, there are also issues around Facebook's security system. Facebook has faced a lot of cases where the platform's insufficient privacy protection led to data breaches and accounts being hijacked. Thus, you have to be cautious about what you share on Facebook.
2. YouTube
YouTube remains the biggest free site where you can share videos online. Anyone can get started. It's actually easy to use the platform. All one needs is an excellent internet connection. Once you have it, read the rules and regulations, then start uploading unique content that won't be in violation of the YouTube rules.
Most people think that you need to have a popular channel and share things publicly when you choose to upload on YouTube. That is not the case. Once you have created your account, you can upload the video of your choice and share it only with your family and friends. To get started, approach the upload like you normally would; then you will be presented with a list of options for viewership. Select the video, then change the settings and select Private from the list where other options are Public, Unlisted and Scheduled.
When sharing only with family and friends on YouTube, there are two options on the list you should play around with, i.e. Unlisted and Private.
Private – you can use this option to invite up to 50 people with YouTube accounts to view your content. Viewing is only possible via invite.

Unlisted – use this option to share with as many people as you want. However, when searched on YouTube, the video won't appear. You can use this option to share with your family and friends who don't have YouTube accounts. It's still a private way of sharing, but it gives you the option of sharing even with those not on YouTube.
3. WeTransfer
You can consider WeTransfer as one of the best ways to share videos online for free. This is the best site if you would like to share your videos with friends and family without having to first open an account. They offer a plethora of options that you can select when sharing videos and your large files. Also, you don't have to worry about your videos being kept for too long: they will be stored just for seven days if you are using the free version of this service.
When using the free WeTransfer version, you get room to share up to 2GB. This site is flexible about your video's bitrate, format and all other details. Just focus on the file size and get cracking. If you are worried about some restrictions such as time and availability, you can upgrade to the paid version.
To get started on WeTransfer, you will need to get the email addresses of your family and friends that you would like to share the videos with. On the free version, you can only share with three recipients and the video will be kept for up to seven days. Once again, if these restrictions are problematic, you can always upgrade. Use the WeTransfer Plus version to send up to 20GB without availability limitation.
4. Cloud Storage
There is actually a long list of where to post videos online. But the best sites will always be those that are free and easy to navigate. You can also check out cloud storage platforms and discover the one that works best for you. Shockingly, not everyone is aware of the 15GB of storage offered by Google Drive. You can also take a look at Dropbox as they offer 2GB for free. OneDrive, on the other hand, comes with a free tier of 5GB for your file storage usage. You can upgrade on any of these cloud storage platforms when you want to.
When sharing videos, you will only need the link to the original upload. The link can be viewed even from tablets or mobile devices. Move around checking all cloud storage platforms to discover what they offer. If you find the best for your needs, you can try it alongside the other sites or platforms for comparison purposes.
By the way, while on the subject of cloud storage platforms, FileWhopper is also such an environment. You can better understand and use its services while comparing them with those of the other platforms. Even if you're already familiar with one of the file sharing tools on this list, you can still learn about others and how to best use them – individually or even in combination.