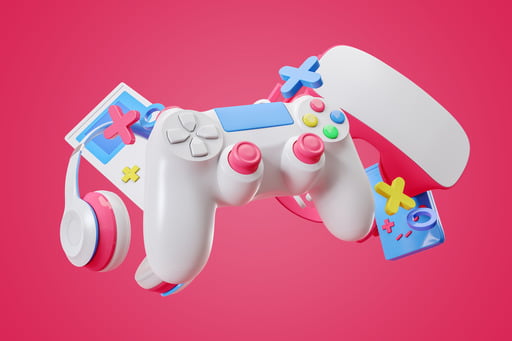 Find more gaming trends in 2021: The Main Gaming Trends in 2021.
The year 1972 saw the birth of modern gaming when Andy Capp's Tavern (a bar in California) debuted Pong. As people gathered to have a go at ricocheting a single pixel between two rectangles, who would have thought that a 120-billion-dollar industry was on the rise? Now look how far we've come.
As 2020 happens to be the industry's most unpredictable year yet, we'll discuss emerging trends and what matters most to gamers so that you know what to expect.
What Are the Biggest Video Gaming Trends of 2020?
The following trends are expected to grow in 2020:
1. Gaming Consoles Will Make a Comeback
Gaming was historically tied to PCs and consoles, but since smartphones became widespread, more and more people are moving away from purchasing gaming consoles. This decline that has persisted over the past five years will soon cease as console manufacturers continue to improve the gaming experience they offer. The arrival of a new console generation is in sight.
2. Remastered Games Will Take Advantage of the Nostalgia Trend
While new consoles may have better visuals and improved frame rates, not many people will purchase these devices without an assorted collection of games. It's no wonder that 15% of gamers continue to use the discontinued PlayStation 3 because of its cheap price point and a vast library of games.
Nostalgia plays a huge role in the choices of modern gamers. This means that a good way to gain a competitive advantage would be to offer backwards compatibility with older consoles.
3. Cloud Gaming Is on the Rise
Cloud gaming is a growing trend in the gaming industry. It's a technology that allows players to stream games on multiple devices without having to download/install them. 16% of gamers and 1 in 10 internet users take advantage of a cloud gaming service each month. These figures have been rising to nearly 1 in 5 among gamers between 25 to 34 years of age.
Google's entry into the gaming arena with the release of Stadia marked the very first solely dedicated cloud gaming service – no console or television is needed. Soon after, Microsoft and Sony introduced their new generation consoles, which will put Stadia's longevity to the test.
4. Broadcasting Now Matters More Than Ever
Twitch provided thousands of hours of user content last year, making over $1.5 billion in revenue in 2019. This is to show that broadcasting is now just as important to gaming as hardware and game releases. 2 in 10 internet users viewed a live streaming game in the past months. The numbers are now rising to 1 in 3 among gamers.
When PS4 was announced in 2013, Sony's introduction of the Share button gained more attention than the typical upgrades to performance and visuals. With the Share button that's conveniently placed on the game's controller, users didn't need technical know-how or any expensive tool to capture their gaming content and easily upload it to social media.
Although only a small number of gamers (9%) broadcasted a live stream of their gameplay in the past month, it's still something you don't see every day when a gaming activity is equally likely to have been done recently by both male and female gamers.
Mobile Game Market Trends to Expect in 2020
The main trends in online gaming in 2020 could be said to be as a result of an increase in mobile gaming.
What are the major mobile gaming trends in 2020? As a marketer, you need to know them and develop your strategies accordingly.
Mobile gaming has been making waves in recent years. It dominated the total revenue from the gaming industry in 2019. There were more than 209 million mobile game players in the United States alone. 2020 may yet be as exciting. So it is important that you know the modern mobile game market trends.
The mobile game industry thrives on technological advancements (including 5G, augmented reality, virtual reality, and cloud gaming). Emerging market trends are a direct result of these technologies. Monetization methods and the rise of hyper-casual gaming yield many mobile game market trends.
Here's what you should know:
1. Augmented Reality Gaming Will Keep Growing
AR has existed for a long time in the gaming world, and it keeps evolving every day. Both Apple and Google are investing heavily in the technology. AR will usher in new opportunities for marketers and monetization innovations. As the technology further improves, it will continue to have a place in the sun in 2020. It's interactive and immersive nature makes it perfect for mobile games.
Pokémon Go and Ingress are some of the older AR mobile games that are still very popular. Exciting new games, including Minecraft Earth and Harry Potter: Wizards Unite, are joining the genre.
Other Popular AR Mobile Games:
Temple Treasure Hunt
Jurassic World Alive
Ghostbusters World
Army of Robots
Zombie GO
2. Virtual Reality Is Rising
VR is increasingly being adopted in the mobile game industry. The technology can be enjoyed on mobile devices, notwithstanding that it's mostly focused on PC and console games. Gear VR and Google Cardboard are just two examples of mobile VR headsets that are budget-friendly. And we all know that smartphones are now being designed to be both AR- and VR-compatible.
Although mobile VR gaming still has a long journey ahead, make sure to keep an eye on it in 2020. The technology has many potential applications for both developers and marketers.
Popular VR Mobile Games
Hidden Temple VR Adventure
Proton Pulse
Sisters
Hunters Gate
Twilight Pioneers
VR Noir
Vanguard V
Zombie Shooter VR
vTime XR
3. Big Franchises Are Expanding to Mobile Devices
Call of Duty: Mobile was undoubtedly the most highly anticipated mobile game of 2019. The franchise's decision to adopt mobile gaming definitely yielded good results. The Elder Scrolls: Blades was another popular game that transitioned into the mobile gaming world in 2019. It works quite well for mobile, although you may find it to be a simplified version of the Elder Scrolls gameplay you are already used to.
Not minding that transforming a PC or console game into a mobile experience can be quite challenging, Call of Duty and Elder Scrolls were able to accomplish it nicely. It is expected that other franchises will follow suit in 2020.
4. Mobile Cloud Gaming Will Grow
A cloud gaming service forgoes devices and instead processes games on remote servers. This means that players no longer need to worry about whether or not their mobile device or PC hardware meets a game's specs. A device with a 5G connection is the only thing you need to enjoy high-performance cloud gaming.
Modern cloud gaming is fast, convenient and affordable. It will yet revolutionize the mobile game market. Although the 5G connection has yet to become the norm, it might by the end of 2020.
5. Cross-Platform Play Is Getting Increasingly Popular Among Gamers
Gamers can play on different devices. Playing on mobile is best when on the go. At home, though, most people prefer to play on their PC or gaming console. Cross-platform play makes it possible to enjoy the same game on all of these devices without losing game progress. It is becoming more popular among gamers. You should definitely keep that in mind in 2020.
Fortnite, Minecraft, Call-of-Duty (Modern Warfare), and PUBG are some popular cross-platform games.
6. Mobile Game Monetization Is Very Important
Monetization becomes increasingly significant for marketers as the mobile game market evolves.
There are several ways to earn from a mobile game, including in-game ads, rewarded video ads, mobile ad mediation, paid games, and in-game purchases.
In-game ads will remain a popular method in 2020, which in turn makes mobile ad mediation very important.
Rewarded ads and videos – where players gain in-game content by watching a video - are another major monetization trend. It works because players, advertisers, and developers all have something to gain.
Conclusion
2020 is indeed turning out to be a defining year for the gaming industry. A growing emphasis on mobile gaming means that social media platforms in the likes of Facebook and Bytedance are taking an interest in the industry.
Traditional gaming has undergone and continues to witness big changes. New trends continue to emerge as more and more contenders try to make their mark in the gaming arena.
Bonus: As a gamer, how do you transfer a game client or a large patch to your friends? A file sharing service like FileWhopper would be a great life-saver in that scenario. You don't need monthly subscriptions to use the service. You only have to pay based on the size of the file or folder you want to transfer (your first transfer of up to 5GB is absolutely free).
The best part is that there are no upload or download limits. You can transfer files and folders that are as large as 10TB. Your friends can get them using a password-protected link. The service allows simultaneous uploads and downloads so that there's no need waiting for the upload process to complete before they can receive the sent file or folder. Even then, FileWhopper provides 15 days of free storage, keeping your uploaded file or folder on the server, just in case there's a delay in downloading it.