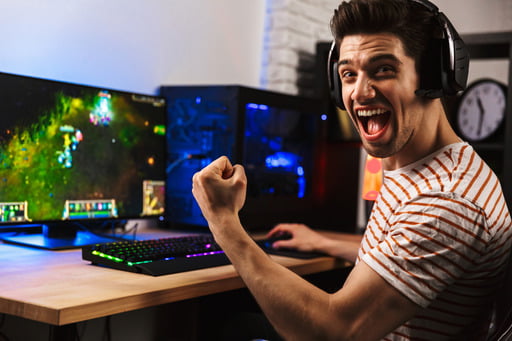 Whether you are a player or developer, you want to stay informed about recent happenings in the video game industry. With technological advancements, a lot has been happening, driving exponential growth and increased excitement for the future in the gaming world.
This can be confirmed by the recent release of the Xbox Series X and PS5. These consoles are proof that the gaming scene is about to experience new changes over the next few years. However, next-gen hardware is not the only thing trending in the virtual universe.
If you enjoy escaping to a picturesque world where the beauty of imagination is set free, then you need to keep an eye on these important events. Let's take a quick look at some of the main online gaming trends in 2021.
What Are the Biggest Video Gaming Trends of 2021?
1. Indie Gaming Takes a New Turn With Roblox
We are not strangers to indie gaming. This is a development that has added variety and creativity to the gaming universe. However, you might be unaware that there are newer platforms offering support to this genre.
Stardew Valley and Among Us are on the list of indie games that have become bestsellers because of platforms like Steam. However, you might be excited to know that there are new competitors in town.
Enter Roblox! This platform is taking gaming to the next level by focusing on scaling up the indie game trend. It aims to achieve this by combining game creation and distribution in a single app. It is safe to say this plan is working. Roblox currently has more than 150 million active users per month.
It is important to note that the majority of these users are not developers and do not use the dev kit. However, there are still many who utilize the Roblox Studio game engine to build and distribute their games.
If you are aspiring to be a game developer or looking to try something different, you can use the Roblox platform to get quick feedback from players. Take advantage of Roblox's large user base of gamers to build something beautiful.
2. There Is an Increase in the Number of Games Offering Diversity
The gaming world has been dominated mostly by males. However, this is changing as more females are beginning to show interest in mobile gaming.
While looking at modern mobile game market trends, reports show that 65% of women in the United States enjoy them in their free time.
If you're into this version of virtual reality and looking for an answer to the question "What are mobile gaming trends in 2021?", you should find this exciting.
Recent results in the PC and console field show promise as well. For example, games like Animal Crossing are contributing immensely to attracting more females to the virtual universe.
Overall, it is estimated that women make up 46% of PC and console gamers. This is encouraging and shows promise. In the near future, we should see a 50/50 split of male and female players.
However, these results show that the video game industry is still male-dominated. It explains why most gaming protagonists are male.
People are starting to take notice of this lack of diversity. Following its release, a successful RPG titled Kingdom Come: Deliverance received criticism for failing to represent minorities in its virtual world.
It is exciting to see this new trend bringing a much-needed change. The virtual reality industry is starting to pay more attention to representing diversity within its games. Developers are creating more worlds with women and minorities playing prominent roles.
For example, The Last Of Us Part II features a female protagonist, much to the delight of players.
3. Steam Has New Competitors in The PC Gaming Arena
The PC gaming industry is a big mover. A report by Newzoo shows that it is worth around $35 billion. To understand how huge this is, consider that the entire console gaming market is worth just as much.
However, one company has enjoyed a higher share of this money flow for years. Steam, a marketplace owned by Valve, has been at the forefront of affairs. It rose to prominence because of its ease of use that allows users to buy, browse, play, and review PC games in a single app.
47% of developers publish their games on Steam. This popularity can be largely attributed to the first-mover advantage that the platform enjoys. It is the first app to offer this variety of features, bringing publishers and players together in one place. This gave rise to a community where ideas are shared, ranging from building mods to discussing bugs on forums.
However, Steam is slowly losing this advantage as new competitors are coming on the scene. One such platform is GOG.com. It announced its presence by branding itself as the go-to platform for older video games.
Recently, it started offering both old and new games, alongside mainstream releases. This has quickly made it a force to be reckoned with. For example, GOG is one of the few platforms where players can access The Witcher 3. You can also play classics, such as Heroes of Might and Magic.
GOG also brands itself as a "DRM-free" gaming platform. This means that players can enjoy all the games on the website without the app troubling them to confirm if they made a legitimate purchase or not.
Many users consider DRM a violation of consumer rights, especially after paying for a piece of media. Therefore, it comes as no surprise that GOG's popularity is growing because of this feature. It has given them an advantage over Steam.
Another platform posing a great challenge to Steam is Epic Games, a platform that has existed since 2016.
While it might appear similar to GOG and Steam, it offers additional features. It has exclusive rights to specific games. For example, it is the only platform where players can access the best-selling game Fortnite.
Epic Games has a library of other exclusive titles, such as Metro Exodus. For a year following its release, this game was only accessible to users on the platform.
These exclusive rights have made Epic Games the go-to for gamers looking to enjoy titles that are not available in the general market. In the long term, it might overtake Steam with this advantage.
4. There Is Growth and Expansion in Cloud Gaming Services
Buying games online sounds like an awesome experience. You can sit in the comfort of your home, surf through a huge collection of games, make a purchase, and download the game of your choice straight onto your computer. However, this scenario has its setbacks.
For example, it can take hours to complete a download. In such instances, you will find that it is faster to drive to a store and purchase a physical copy of the game.
That is not all! You also have to consider your hardware's capability. If it is not up to par, it can lead to performance issues. This can greatly limit your choice of games. Even if your computer has the best gaming specifications, you can still run out of storage space for new downloads.
Cloud gaming eliminates these concerns, allowing gamers to play high-end games without investing in hardware or worrying about storage. Since you do not need to download anything, you can select what you want and start playing right away. This is why this service has been trending among users. It is much like watching movies on-demand, but this time you are playing on-demand!
Gamers are not the only ones benefiting from cloud technology. Publishers use it to monetize old games, even those from previous-generation consoles.
5. Remakes and Reboots Are Here to Stay
The gaming industry has recently discovered what Hollywood has always known: remakes sell!
Game remakes like Final Fantasy VII and Crash Bandicoot Reboot made it to the list of best-selling games following their release.
The reason for this is simple: remakes of successful games are less likely to fail when compared to a completely new franchise making its debut.
The remakes of Resident Evil 2 and 3 prove this to be true. They sold a mind-blowing 2 million copies in 5 days. This is why developers are working tirelessly towards creating new versions of classic games.
These popular and best-selling video games are all getting their own remakes:
Gothic
Prince of Persia
Xenoblade Chronicles
6. Early Access Is Changing the Game Development Process
Game developers are taking advantage of "Early Access" releases to improve the game-building process. This practice is projected to become even more popular beyond 2021.
According to a report by Empirical Software Engineering, 15% of games published on Steam are Early Access. This means that select players can enjoy a game for months or even years before its mainstream release. In return, they provide the developers with feedback on their experience, allowing them to make improvements or even total changes where necessary. In the end, it is a win-win for everyone.
For example, Rimworld, one of Steam's highest-rated games, was able to accomplish this feat by implementing Early Access in its early development phase. Upon its full release a few years later, it received record-breaking reviews.
7. Next-Gen Consoles Go "Mano a Mano"
Game giants Microsoft and Sony are battling it out as they launch their next-generation consoles: Xbox Series X and PlayStation 5 respectively.
As it stands, it is difficult to decide who will win this round as both companies offer a unique set of features with their products. However, one thing is clear: these titans are about to redefine the gaming arena for the next few years.
As in the past, when the dust settles, the console with the best games will come out on top.
Looking at the features, the PS5 offers a high-end SSD, a major hardware upgrade over its predecessor, the PS4. This means that developers can design larger and more detailed virtual worlds.
On the other hand, Xbox Series X comes with the "Smart Delivery" feature. This gives you a free Xbox Series X version of any Xbox One game you have purchased in the past. Of course, it depends on whether the title is available on the newer console.
How to Transfer Large Game and Video Files
There you have it! These are some of the hottest trends in the video game industry. As technology continues to improve, we are bound to see more growth and evolution.
Game creation and the way games are played will continue to see impressive changes. But there's a challenge that gamers face over and over again: how to share your recorded gameplay with your friends before uploading it on social media platforms. Fortunately, now you can use FileWhopper, a file transfer tool that allows you to send and download huge amounts of data.
This is why gamers like FileWhopper:
No need to subscribe to a monthly service when you only share heavy files once a month and not on a weekly or regular basis. Simply pay as you go.
High transfer speeds and no compression. You will not lose the quality of your videos as now you can send HD recordings.
No size limits. You can send data of any size with no restrictions.
As a gamer, you must be worried about data security. FileWhopper applies zero-knowledge encryption, which means that no one can view or download your media without your permission.
As you can see, the problem of transferring large amounts of data has been solved. Enjoy playing your games, recording them and sending the recorded gameplay to your friends easily and securely!