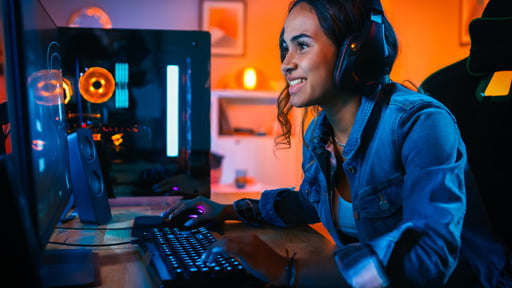 So far, 2021 has proved to be a monster year for gaming. It even got a monster game in Monster Hunter: Rise. This is despite the pandemic ruining the plans of many game studios. Some of the biggest and most anticipated games finally saw the light of day after a lot of waiting.
Fans of the Hitman franchise got their time and money's worth and then some in Hitman 3, the explosive conclusion to the World of Assassination series. Scarlet Nexus hit the shelves to sate the prolonged hunger of anime action-RPG fans. And those who like to reminisce about the halcyon days of gaming got to run a golden oldie through modern graphics in Mass Effect: Legendary Edition.
Some games, like Ratchet & Clank: Rift Apart, were released as console exclusives. Others, like Far Cry 6, let you shoot your way to glory on any platform you like. The hit survival sandbox game Valheim leads the cast of the 2021 best games with a PC-only release.
With the way this year has gone in gameland despite unique challenges, we can expect 2022 to be even more explosive. A glance at the lineup of announced and expected games next year shows that gamers are right to get excited. Sequels, remasters, potential indie hits, blockbuster AAA titles, MMORPGs, open worlds, and platformers are all on the table. You name it – you're getting it in 2022.
So, if you want to know what games are coming out in 2022, look no further.
What Are the Biggest Video Games Coming Out in 2022?
2022 is seriously stacked for gaming. With the latest console generation and new GPU upgrades for PC, you can look forward to games with even better graphics.
This list of the best upcoming games of 2022 is skewed towards PC games. PC is the most popular gaming platform by far. It also has the most adaptable hardware. If a blockbuster AAA title proves too onerous for your hardware to handle, you can simply upgrade the GPU.
With that said, here are the ten biggest game releases of 2022 to look forward to.
1. Elden Ring
Release Date: January 21
Publisher: FromSoftware
Elden Ring was announced during E3 2019. Then nothing. Finally, the wait is over! The latest game from the stable of the cult studio FromSoftware will become playable on January 21, 2022. If it's anything like the previous classics from the developer, then fans are in for a wild ride.
From everything we know so far, Elden Ring is a Souls game anchored in an all-new world. Legendary fantasy writer George R. R. Martin helped sculpt the game's world and lore.
Players are free to explore the action RPG open-world universe. There are six areas to explore, and each one is ruled by a demigod. You play as a Tarnished who must recover the Great Runes from the demigods on your path to becoming the Elden Lord.
Online elements in the game include cooperative gameplay and player versus player. You move through the bleak open world and can send your enemies to their doom while on horseback. You will need to use a combination of spells, stealth and straight-up combat to complete objectives. Bonfires scattered throughout the world map let you fast-travel to another area.
2. Rainbow Six Extraction
Release Date: January TBA
Publisher: Ubisoft
Not even a bad initial name can dampen the excitement for Ubisoft's upcoming cooperative multiplayer. Extraction pits players against the Archaens, a race of parasitic aliens. They want to infect all humans, and your squad of three is all that stands in the way. Players must penetrate the alien base and fulfil tasks like collecting information and gathering samples from the base.
The game was originally called Rainbow Six Quarantine, but Ubisoft quickly changed tack for obvious reasons. You can play as any one of 18 characters, each with their own unique abilities. The enemies in this game aren't pushovers, so strategy and reconnaissance are essential to fulfilling all missions successfully. Playing hero will likely get you taken out of action, so coordinating with your squad will increase your chances of dealing the enemy a fatal blow.
3. Monster Hunter Rise (PC Release)
Release Date: January 12
Publisher: Capcom
Released on the Nintendo Switch on March 23, 2021, Rise continues an exciting series of Monster Hunter. Given that the Switch is a niche product on a niche platform, the upcoming PC release will be the first taste of Capcom's latest AAA title for millions of gamers.
The game follows in the tradition of its predecessors in the series. It is the sixth mainline installment in the Monster Hunter Universe. Rise sees the debut of some new features in the monster-infested world. You can now ride an animal companion across the map or deploy them in combat. You can even mount some of the monsters and set them against their fellow predators.
In Rise, PC gamers can slay and grapple their way across various environments, using a variety of traps, tools and environmental objects to capture or neutralize giant creatures. The plot revolves around the hunter as they prepare Kamura Village ahead of an impending monster invasion. As you defeat the weaker beasts, you gain more experience and unlock upgraded weapons, which you can use to conquer the more powerful behemoths.
4. Dying Light 2: Stay Human
Release Date: February 4
Publisher Techland
Resident Evil Village proved the gaming community's enduring appetite for a well-told zombie story. Dying Light 2 is a well-crafted parable of human resilience in the midst of a catastrophe that tests the limits of what it means to be human.
The sequel to 2015's Dying Light is an upgrade on the original in several ways. Those with high-end hardware will be pleased to know that the game features ray tracing. This should ensure a beautiful visual experience.
In DL 2, your mission is to stay human at all costs. Music is your constant companion as you navigate the factions, buildings and zombies of The City. Grappling hooks, ziplines, paragliders, doors, and walls are your best friends as you send an undead to their second death. You can use the roofs to make a quick getaway from tough situations and join campfires to connect with remnants of the old civilization.
5. Stalker 2: Heart of Chernobyl
Release Date: April 22
Publisher: GSC Game World
In Stalker 2, you are dealing not with undead but with mutants. And they are more dangerous because they're still alive. They can think, so you need to wear your thinking cap as well if you want to survive in this first-person horror shooter.
Heart of Chernobyl is finally landing 13 long years after Call of Pripyat, the last installment in the Stalker series. You are thrust into the beautifully bleak Zone and have to deal with an unrelenting array of mutants, monsters and men. The stakes are high, the combat is unforgiving, and the price of failure is death.
The game's story isn't yet out in the open, but it should follow the same general outline as the previous games. You will likely be hunting treasures, solving mysteries and making decisions that affect the storyline. You get to do all this in an open world that does away with the linear formula of the previous game.
6: WWE 2k22
Release Date: March TBA
Publisher: 2k Sports
Undertaker. Hulk Hogan. The Rock. Stone Cold Steve Austin. John Cena. Becky Lynch. Brock Lesnar. These are the pillars of World Wrestling Entertainment past and present, and you will get to play as them in the latest installment of the popular wrestling sim from 2k Sports.
After the previous game in the franchise got panned by critics and gamers alike, 2k has promised to deliver a satisfactory experience this time. That remains to be seen, given the issues that have already caused WWE 2k22 to be pushed back several times. Despite this, it can't be denied that it remains a big deal as the biggest wrestling simulator around.
In WWE 2k22, get ready to perform wonderful flying manoeuvres, win with skull-crushing finishing moves, and gain an edge with underhand tactics. You can use your favorite characters to play all sorts of matches, including tag, ladder, Hell in a Cell, Money in the Bank, and that fan favorite, the Royal Rumble.
7. Avatar: Frontiers of Pandora
Release Date: TBA
Publisher: Ubisoft
James Cameron's Avatar is finally coming to consoles and PC as Avatar: Frontiers of Pandora. The game was revealed at E3 2021, and little is known about the features and gameplay so far. That hasn't stopped it from being one of the most anticipated games of 2022.
Frontiers of Pandora is an action-adventure game. It is set on the moon Pandora, which is home to the Na'vi. You play in first-person mode and explore the Western Frontier, a never-before-seen part of Pandora.
The player controls the Na'vi and must use the lush environment to hide from, trap and defeat the formidable RDA forces.
8. Sifu
Release Date: February 22
Publisher: Sloclap
The title Sifu is a play on the Chinese word Shifu, which means "master". That is exactly what the game wants you to do. Become a master of the Pak Mei kung fu fighting style as you track down a group of five assassins while seeking revenge for your murdered family. Here's the catch: you don't just need to strive for perfection; you have to be perfect. It is the only way to defeat what lies between you and vengeance.
If you think that's interesting enough, the game mechanics will raise the stakes even further. Each time you die, you're resurrected, but it comes at a cost. You become older and more powerful but also get less starting health. Eventually, you become too old and permanently die, forcing you to restart the game from the beginning.
This action-adventure game implements a variety of ways to do weaponless damage. You can kick, strike, throw, stun, or knock down enemies and chain basic moves together to execute unblockable damage.
9. Starfield
Release Date: November 11
Publisher: Bethesda
Starfield is an open-world space game from Bethesda. Bethesda is responsible for some of the most acclaimed series of all time like The Elder Scrolls, Fallout and Dishonored, so there is a big buzz for the launch of their first original franchise in 25 years.
From what we've seen so far, Starfield will share some concepts with other Bethesda titles like Skyrim and Fallout. It looks like it will be a space mystery thriller where the player joins The Constellation, a human space faction, and gradually unravels a secret that can change the universe. You're going to be fighting other factions using a variety of space gear as the opposing groups race towards "humanity's final journey".
10. Hogwarts Legacy
Release Date: TBA
Publisher: Warner Bros
If you've watched the Harry Potter series or read the books (who hasn't?), you should have a good idea of the settings and game mechanics of this game. This time, however, you're not the Boy Who Lived but a student who will create a legacy in that famous old wizarding school.
Your character attends Hogwarts in the 18th century and can join any house they want. You will master spell work, potion making, wandcraft, and yes – Quidditch as you move through the years and upgrade your abilities.
According to the game developer, you will be able to create your very own Golden Trio—or maybe Serpentine Six—who will help you fight enemies as you make choices that will ultimately decide whether wizarding Britain remembers you as a dark lord or leader of the light.
With the titles on this list, you'd be right to salivate. While you're making plans to get your hands on these games when they come out, you might want to consider a novel way to share files and folders of any size online on a pay-as-you-go basis.
FileWhopper adds an element of fun and safety to sharing data over the internet. Do you need a trusted platform to send sensitive files to another person? No problem. FileWhopper has got you covered. Without committing to a long-term subscription, you can upload huge files and folders and protect them with a password so that only the intended person can download them. The steps are as simple as buying a game on Steam:
Upload your file or folder with the platform's speedy tool.
Get a personal link to the uploaded file or folder.
Share the link with the recipient.
The recipient will download the file or folder and input the password to access the contents.
What are the biggest video games coming in 2022? Now that you know the answer to this question, you must be truly excited. We know we are. We can't wait to try out these awesome titles.