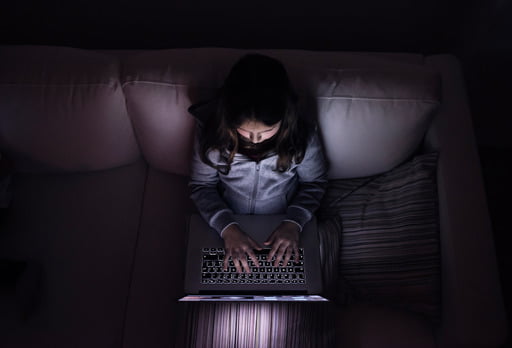 If you are a lucky user of the new Windows 11, you may have noticed quite a few changes to the new OS. One of such changes affected the system's dark mode feature. In this post, we are looking into the dark mode feature on Windows and the latest upgrades it has received in Windows 11. We will also explore Google Chrome's dark mode on Windows 11 and when it can come in handy.
What Is Dark Mode on Windows?
Dark mode on Windows is a relatively new setting that makes your normally bright PC screen a bit darker. In this scenario, your Windows apps and features will come with white text against a black or gray background. A lot of users find dark mode a better option for reading and note that it helps them stay concentrated. It can also be a relief for your eyes when spending long hours in front of the screen as it helps decrease blue light exposure.
Dark mode is becoming a popular feature on Windows. In fact, according to a recent survey published by Medium, around 82.7% of participating Windows and Android users did try out dark mode. Close to 95% of them stated that they preferred this mode to the default.
How to Enable Dark Mode on Windows
To enable dark mode on Windows, you will need to do the following:
Open Settings.
Go to Personalization > Colors.
Next, you will see the drop-down menu that says "Choose your color".
Here, you can pick Dark, Light or Custom.
If you choose the Light or Dark option, the look of your Windows Start menu and the built-in apps will change immediately.
If you go with the Custom option, you will be able to mix and match elements to get the best of both light and dark modes. For example, you can set the Start menu and taskbar to apply dark mode but keep some default apps in the original light theme.
Once you've chosen your color scheme, you get to choose the accent color that will show up on icons, tiles and other screen elements. If you can't see the color you like among the "ready-made" colors, you can upload a custom color. Next, you can select where you want the accent color to show.
What Apps Are Affected by Switching to Light/Dark Mode on Windows?
In general, changing the color scheme on Windows affects menu colors and built-in apps like File Explorer, Alarms & Clock, Calculator, Calendar, Mail, Microsoft Store, Sticky Notes, 3D Viewer, Video Editor, Windows Security, Xbox Game Bar, Your Phone, and more.
There are also third-party apps that support dark/light mode changes on Windows and will apply those automatically. With some apps, however, you may need to enable dark mode manually via the apps' settings — if such an option is available.
What's New With Dark Mode on Windows 11?
If you are already using Windows 11, you may have already noticed the changes. One of the biggest adjustments is the change in sound notification sounds between the light and dark modes. The alert sounds in dark mode are now softer and calmer, offering a more wholesome experience.
Microsoft has confirmed that the purpose behind the change was to make the technology around dark mode calmer and turn it into an even more subdued profile.
According to the company, the sound alerts on Windows 10 were too sharp, which resulted in them creating sharp wavelengths. In order to make the dark mode experience on Windows 11 more relaxing, its soundscape has been redesigned to be "rounder" and more suppressed.
With that, the sounds on light mode have been made crispier and louder — to provide a contrast with quieter dark mode. One of the reasons behind this was to offer users with low vision a way to experience light and dark modes on Windows.
How to Enable Dark Mode in Chrome on Windows 11
If you use Google Chrome on your Windows PC, you will probably want the browser to be part of your dark mode experience. Fortunately, getting Chrome to work in dark mode is really easy.
There are several ways to enable Google Chrome's dark mode. One is to do so via Windows Settings as we've described above. The second one is to go via the browser's settings.
Option 1: Enable Chrome's dark mode on Windows 11 using Settings
Google Chrome is one of the third-party apps that will fully support Windows' dark mode once you've enabled it on your system. Here is what you should do:
Go to Settings.
Navigate to Personalization > Colors.
Select the theme you want to apply. (You will have the options of Dark, Light and Custom to choose from.)
You can then head to Google Chrome and see that the app is now working in dark mode.
There is another way to get Google Chrome to work in dark mode on Windows 11.
Option 2: Install Dark Theme via Chrome Store
Open your Chrome browser.
Go to Settings: click the three-dot icon in the top right corner.
In Settings, scroll down to Theme.
Once you are in the Theme menu, you will see lots of different options for personalizing the browser with themes like Telepathy, Stargazer and lots more.
If you are not looking for anything too fancy, scroll down till you see the theme named Just Black.
Click it.
This will take you to the Chrome Store.
Next to your chosen theme, click Add to Chrome.
There you go — you will now see that your browser has switched to dark mode.
After you've used dark mode for a while, you may want to revert back to the default mode.
You can go about it pretty much the same way: you can disable dark mode in Windows Settings or do that via the browser's settings.
First, you can go back to Windows Settings>Personalization>Colors and disable dark mode for the whole system. Launch Google Chrome again, and you will see that the browser has gone back to the default mode.
Alternatively, you can go back to Chrome's settings, open Theme and click the "Reset to default theme" button. This will bring Google Chrome back to its default state.
And this is pretty much all we have on the new dark mode. We hope that the information above has proved useful and now you know how to use Chrome's dark mode in Windows 11 and on Google Chrome.
Recent Windows 11 Updates Since October 2021
Windows is known to release regular updates to help fix any recent bugs that might mess up the user experience. You have probably already noticed some app updates and bug fixes so far. Windows 11 is expected to release more major updates soon.
Some of the updates to expect include:
A new Sound Recorder
Tabbed File Explorer
Mandatory Microsoft account sign-in. If you use any Windows Pro edition, then you likely enjoy the freedom of creating a local account without requiring any internet connection during setup. Well, that won't be possible anymore with the upcoming Windows 11 version 22H2. This version will demand a Microsoft account when setting up your local account despite your OS version. During the process, you might also be forced to sign up for other services such as Microsoft 365 and Game Pass. 
How to Stop Automatic Updates On Windows 11
Like Windows 10, Windows 11 also receives many system updates. Although these updates can be helpful, users have complained about some being buggy. This has left many users asking themselves, "How can I block Windows 11 update?" If that sounds like you, this guide is for you.
These steps will show you how to stop Windows 11 update:
Launch the Settings application on your machine.
Head to Windows Update.
Go to the right side of the window and click on the dropdown menu beside "Pause updates". This option allows you to pause your updates for the period you would like. This is usually anywhere between one to five weeks.
Now choose the period you want to pause the updates for.
Windows 11 will not install any updates on your device until the indicated period elapses. However, if you want to resume the updates, go back to the updates page and click on the "Resume updates" button at the top of the window.

How to Send Large Files On Windows 11
There is just one more thing we'd like to add to today's post. While there are quite a few handy updates on Windows 11 and as our browsers continue to get better and faster, there is one thing that seems to remain quite complicated — sending large files online. Doing this by email is not an option — even Gmail sets your attachment limit at just 25 MB. Using cloud storage services is a popular solution, but this may not be suitable for everyone as these services often require a pricey long-term subscription and still set limits on how much you can store.
Fortunately, there is a new solution called FileWhopper that might just be what you've been looking for.
FileWhopper is a tool designed specifically for sending large files and folders online. There are no limits as to how large they can be. With FileWhopper, you can easily send a 10TB folder over the web in just a few steps.
FileWhopper won't ask you for a subscription. No matter how large the file or folder you need to send is, you will only need to make a one-time secure payment. This payment will be calculated based on the size of your file or folder, and you will get a price estimate as you upload it. What's more, with FileWhopper, you can choose who pays for the transfer — it can be either the person sending the file or folder or the one receiving it.
FileWhopper uses the most efficient option for data protection available today — zero-knowledge encryption. What this means is that no one except for you and your recipient will have access to your data. FileWhopper never stores your password on its servers — thus, the program has no way of accessing your data under any circumstances. This keeps your data safe from hacker attacks, security breaches and even government-authorized requests to access your files.
Sending files and folders with FileWhopper is quick and easy. The recipient can start the download process as soon as you start the upload — there is no need to wait for the upload to complete. If your transfer gets interrupted — for instance, if there is a connection failure — it will simply pause and then pick up from where it left off when things get back to normal.
FileWhopper is really good for transferring large amounts of data. First, you will only need to download a tiny app to use the service, and the app will auto-delete when its job is done.
Second, the recipient of your file or folder won't have to wait until the upload is complete on your side. They can start downloading it as soon as you start the upload, which is a great time saver.
Finally, yet another great thing about FileWhopper is that you don't have to rely on web reviews. The service offers a free first 5GB transfer to all new users, which lets you test out all of the service's features first-hand. This way, you can see if FileWhopper is a good match for your needs without making any financial commitments.