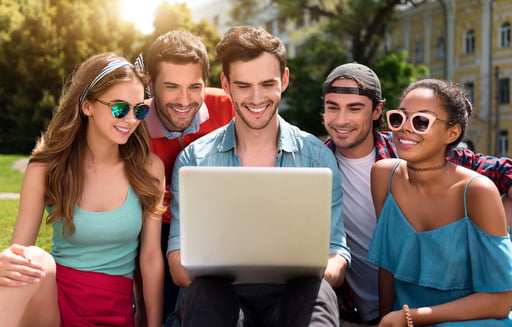 Having a good media player on your PC can make your computer a go-to entertainment center. You will be able to watch movies and TV shows, organize your media library, switch between different media formats, and more.
So, what video player for Windows 10 is worth using in 2021? There are actually a few options for you to choose from. There are lots of great media tools available for Windows 10, and today we are looking into the best free music players for a Windows PC.
What Are the Best Free Media Players in 2021?
A good video player will let you play videos in various formats (MPEG-1, MPEG-2, MPEG-4, MKV, and more) and from various sources (local discs, DVDs, VCDs, CDs, streaming services, etc.). This is why we have focused on media players that are friendly towards different formats, sources and playback options.
So, what free media player works best with Windows 10?
5K Player
5K Player is a program for both watching videos and managing video collections. With this software, you will be able to add an entire video library to your PC.
5K Player supports 360-degree videos and 8K videos and comes with a set of useful features:
You can watch videos that you've downloaded from YouTube, Dailymotion and Vimeo.
You can stream MKV, MP4 and 3GP clips.
You can play videos wirelessly via the AirPlay protocol and DLNA (Digital Living Network Alliance).
The player supports Ultra High Definition clips and hardware acceleration.
5K Player is fully compatible with Windows and will make a great addition to your media toolkit.
Zoom Player
Zoom Player is a simple and customizable media player that uses smart play technology and works with a variety of formats.
Zoom Player comes with a full-screen interface that is very easy to navigate using just five keys: up, down, left, right, and select.
Some other great features on board include the following:
An extensive media library
Support of all popular media formats, including MPEG-1, MPEG-2, MPEG-4, WMV, FLV, and MOV
A handy navigation pane and the option to automatically highlight selected features
Zoom Player works great on Windows and can easily turn your standard PC into a home entertainment center.
VLC Media Player
VLC Media Player is probably one of the most well-known media apps for Windows. The program is an open-source and cross-platform multimedia player that works great on Windows.
With VLC Media Player, you can work with most multimedia files and CDs, VCDs and DVDs. You can also use it to view 360-degree videos in up to 8K resolution.
Here are some of VLC's key features:
You can use it to play videos from different sources, such as discs, streams and webcams.
The player supports MPEG-4, MPEG-2, MKV, WebM, and other formats.
There is a video filtration facility to use for streaming.
The player is free of spyware, ads and user tracking.
The player can quickly decode videos.
You can use VLC Media Player not only on PCs but also on tablets, mobile phones and more.
GOM Media Player
GOM is another free and open-source Windows media player that will be great for your PC.
The software supports a variety of file formats, including MKV, MPG, FLV, AVI, and lots of others. You will also be able to view 360-degree videos with the player.
Some of the other notable features are listed below:
An intuitive control panel for playing videos
Support of Ultra High Definition videos
A user-friendly interface and customizable skins
The option to easily import an entire video playlist
There is also the support of screencast on board so that you can hook up your PC to a projector and watch videos on a larger screen
DivX
DivX is a multifunctional media app for Windows that lets you play different video formats, like AVI, MP4, DivX, and MKV. It is one of the most popular media players for Windows 10, and in addition to all standard media player functionality, it also lets you play Ultra HD 4K resolution videos. Plus, you can use this tool to stream videos on DLNA (Digital Living Network Alliance).
Here are some other features that come on board:
A media library to keep track of all your videos
The ability to create a playlist and loop it
The option to quickly jump to your favorite scene
The ability to track your personal and purchased videos
Free HEVC (High-Efficiency Video Coding) playback
MediaMonkey
MediaMonkey is a great program for keeping your videos organized. Plus, the tool boasts advanced video support and playback functionality. You can also get more functionality out of MediaMonkey by using plugins.
Other MediaMonkey features are as follows:
Downloading and recording movies and podcasts
Automatic search for album names and other metadata
Managing and organizing videos, movies and more
Syncing Wi-Fi with MediaMonkey for Android
Syncing videos on Android, iPod, iPhone, and iPad
Playing videos from CDs, hard drives and the network
Nvidia 3D Vision Video Player
As you can see from the media player's name, the Nvidia 3D Vision Video Player comes with 3D media support. The tool can be used to play MPG, M2TS, MTS, MP4, and other files.
Some of the other standard features are as follows:
WMDS (Windows Media Dual Stream) file support
The ability to import and export stereoscopic metafiles
Command-line control: you can open the player directly from the Command Prompt utility
GPU (Graphics Processing Unit) acceleration support for 3D videos
Video retrieval from stereoscopic servers
Playback of different formats supported by DirectShow
The Nvidia 3D Vision Video Player is one of the best payers for the Windows OS. With it, you can convert MTS to MP4 and enable live playback from different sources, like your camcorder, TV card, etc. Plus, the Nvidia Vision Player comes with a built-in video library for storing movie settings.
Kodi
Kodi is one of the most popular media players for Windows and is specially designed for movie playback. The app comes with an interactive full-screen interface and supports a wide range of formats, including MIDI, MPEG-1, MPEG-2, and MPEG-4.
There are a few other features that are sure to come in handy:
There is a large library of movies and TV shows on board.
You can use it on a wide range of devices, including PCs, smartphones, tablets, etc.
You can play media files from the network and your PC.
You will be able to easily import, browse and play collections of movies.
There are options for customizing the way the media player looks.
There is a TV show library on board that supports seasons and episodes.
Plex
Plex is one of the best tools for working with large media collections. With the app, you will also be able to play TV shows, movies, personal videos, and more. Here are some of Plex's notable features:
You can use Plex on Smart TVs, Android gadgets, Apple devices, and more.
There are lots of movies and shows to choose from.
There are options for live DVR and TV playback.
Miro
Miro has been developed by Participatory Culture Foundation and is a multi-platform media player for watching videos in HD. It can also be used to play videos downloaded from YouTube and Amazon.
Here is how you can take advantage of Miro:
With Miro, you can share media on the Wi-Fi network.
The video player is very easy to use, comes with a friendly interface and is absolutely free.
There are great tools on board for organizing your media collection.
You will be able to convert one video format to another.
You can use Miro on your PC, tablet, phone, and more.
So, what's the best free media player in 2021? We leave the final answer to that question up to you. And we hope that the list above has been helpful and you have found one or more media tools to add to your collection.
But before you go, we have one more app for you to explore. This app can completely change your file-sharing experience. And if you work with media and often need to send large files online, it's a true game changer.
FileWhopper is a service for transferring large files and folders online. And when we say "large", we mean it — even if you need to send over 10TB, you can do it easily with FileWhopper. But there are a few other features that make FileWhopper a great tool to have on board:
When you need to share a large file online, your first option may be to use a cloud storage service like OneDrive or Google Drive. These are great — but they do come with two main issues. First, you will need to sign up for an expensive monthly subscription. Second, you may run into a variety of syncing issues when managing your files. FileWhopper offers a much more convenient option for when you just need to make a one-time transfer — it won't ask you to subscribe, and you will only be paying for the file or folder you need to send right now. Plus, you can ask the recipient to pay for it instead. This can be very convenient for freelancers who often need to send out work assignments.
FileWhopper lets you send files and folders of any size — unlike with cloud storage solutions that will often set limits for how much data you can send, there are no limits when using FileWhopper. This means that you won't have to bother splitting your folder into several smaller ones or archiving your files. This not only helps you save lots of time but also lets you avoid lots of issues related to zipping media content.
A really great thing about FileWhopper is that it uses zero-knowledge encryption — the best form of data security available today. Zero-knowledge encryption makes it impossible for anyone but you to access your data (FileWhopper won't have access to it either). Your every transfer with FileWhopper is secured with a password that you can set yourself or have it generated automatically. This password is not stored on FileWhopper's servers, and nobody will be able to access your file or folder without it.
FileWhopper comes with a very intuitive yet simple interface. All it takes to send your large file or folder is FileWhopper's tiny app and a few quick steps:
Go to FileWhopper.com.
Locate the file or folder you want to send on your PC and select it.
Wait until FileWhopper calculates its size and gives you a quote.
Go on to quickly transfer your file/folder via the app.
Get a download link and password for your transfer.
Share them with the recipient.
The recipient can now start downloading your data on their side — there is no need to wait for the data to be 100% uploaded.
As you can see, FileWhopper doesn't come with any complicated extra features that will take time to figure out. Using the software is really straightforward, and there is no learning curve to worry about.
With that, if you want some extra functionality, it is easily available on demand. For instance, you can add more recipients to your transfer or store data on FileWhopper's servers for longer.
With FileWhopper, your transfers are protected against unforeseen interruptions. If the connection is lost during the transfer, it will simply pause and then resume right from where it was cut off when your connection is restored.
Summing things up, we truly believe that FileWhopper will make a great addition to your media toolkit. And the best thing about it is that you don't have to take our word for it. Your first 5GB transfer with FileWhopper is absolutely free, and you get to test out all of its features to see for yourself.