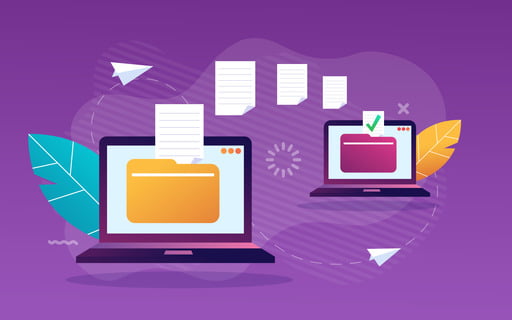 File sharing has become so popular that it's now second nature to us. We share files and folders without even giving it much consideration - as long as the data is delivered correctly and in time. However, what if we were to sit down and analyze our file-sharing methods? Is it possible to revise what we already know in a bid to come up with better means of transferring data? Would that result in more affordable and better file-sharing channels?
What Is an Excellent File-Sharing Solution?
An excellent file-sharing solution is one that lets you transfer and access files and folders with ease. It's one that makes it easy to manage permissions while ensuring that there is strong security in place and your data is protected.
Why Your File-Sharing Platform Should Be Reliable and Secure (and Why You Should Switch If There Is Something Wrong With It)
Since everyone knows that cloud-based file sharing is more secure than traditional file-sharing methods, such as using external storage devices or utilizing peer-to-peer networks, most users let their guards down when selecting file-sharing services. The sad truth is that despite the undisputed fact that cloud-based file sharing is the best option, a lot of companies provide crappy services. Why? Take, for instance, big names that already have a strong market presence. Whatever they provide, whether it's below par or not, most of the clients will stick to them out of familiarity. As such, big brands have become complacent, neglecting opportunities to provide better services. This is the reason why in this day and age, more and more users are becoming less loyal to brands.
If you are one of those who think it's best to stick to what you know, well, think twice. As they say, the first rule for surviving is to keep moving. Only settle for something if you are sure your safety is guaranteed.
The best file-sharing service for 2021 should
let you share files and folders from any device with anyone,
put modern security measures in place, and
allow you to easily access your files from the cloud wherever you are.
Share Files and Folders from any Device with Anyone
Untested, untrusted, and unchecked cloud platforms have left many hopefuls greatly disappointed and at a loss. You shouldn't risk your data using insecure file-sharing methods. Find a cloud platform that allows you to share files from any device with anyone you choose to without having to worry about safety and data security.
When searching for the best way of sharing files, don't put your entire IT framework in the line of fire just by going with the first available option. Document management is a serious task and must be handled as such. A lot of companies have gone under and failed to recover because of breaches in security. Although you need the ability to share files anytime, anywhere, this must not put everyone and your entire network at risk.
Each prospective file-sharing method must be researched first. Go with a cloud service that provides you with secure file sharing. Processes followed must be straightforward and customized, and all data regulations should be adhered to. Check and be certain that you won't have problems when trying to access your data from another device. If you cannot access your account or data from more than one device, then you should not bother using such a service.
Modern Security Measures Should Be in Place
Up-to-date email servers and SSL certificates are one means of making sure that you're using a secure file-sharing solution. Gone are the days of hoping for the best or just leaving things to chance. Be sure that you're using a modern file-sharing platform that helps you stay clear of cyber threats and associated risks.
There are a lot of ways one can make sure that they are using the best file-sharing method. These include the use of password-protected links, encrypting messages on both ends, and regular security audits. If you work for a company and use a cloud platform for sharing data, then there must be a dedicated IT department that should help you and your colleagues stay safe.
To keep up with modern threats, a highly trained and efficient team is needed. However, most importantly, cutting-edge, security-oriented tools should be in place.
Access Your Files from The Cloud Wherever You Are
This is an often overlooked yet important factor when selecting a cloud storage provider. Whatever is shared via the cloud or kept in it must be easy to retrieve and use. While on the hunt for your next cloud file-sharing solution, make sure to choose one that can be accessed from all your devices, including your mobile phone.
What Is the Best Cloud Storage Service for Sharing Files and Folders?
The main reason behind this article has been to honestly address this old-age question. The best cloud service for sharing files is one that doesn't limit you on the size of what you can share. And this is where FileWhopper steps in.
With FileWhopper, you can transfer a file or folder of any size, no strings attached. While file-sharing solutions such as Dropbox, Google Drive, OneDrive, and AWS come with size restrictions ranging from 2GB to 15GB, FileWhopper is in a league of its own.
So, what makes FileWhopper unique besides the absence of size limits? Well, no subscription is required. When using FileWhopper, you pay as you go, depending on the size of what you are sharing.
FileWhopper has a lightweight app that automatically deletes itself when you're done uploading your data. The entire process is simple and straightforward. Even people with little tech knowledge will not feel overwhelmed when uploading their files and folders on FileWhopper. The process is automated, and all you need to do is select the files or folders that you want to upload. Your recipient(s) can even start downloading your data while you're still uploading it, thus saving time and effort.
Whether you need a tool for personal data sharing or a professional file-sharing solution, FileWhopper is your best bet. It uses military-grade encryption, which means your information is perfectly safe while kept on its servers and while in transit.
Like any other tool, FileWhopper has some limitations. To begin with, users can only keep their data on FileWhopper's servers for a limited number of days. Anyone looking for more than 14 days of storage must pay for the additional time.
Here is how to use FileWhopper:
Click either Choose File or Choose Folder. Alternatively, drag and drop your file or folder onto the corresponding button.
You will get a quotation based on the size of what you're uploading. As of this writing, your first order is free (as long as you're transferring no more than 5 GB).
Allow the small FileWhopper app to get installed on your system.
Complete the upload. Create a secure password that can be used to open the link to your uploaded data.
Copy the link to your uploaded data and, along with the password you created, provide it to those you want to have access to the uploaded file or folder.
Other File-Sharing Solutions
Amazon Drive
For those looking for a cloud storage solution that they can use to access their documents from any of their devices, Amazon Drive comes highly recommended. This cloud can be used when sharing and editing any sort of media. Without having to pay anything, you can upload up to 5GB worth of data. You can get started and easily share your files using emails, attachment links, and social media apps.
Google Drive
Google Drive is arguably the most discussed cloud storage service provider. As a child service of Google, it's rather impressive that this platform is available even on iOS, thus giving more people the option of using it. You get to store up to 15GB of data without paying a cent. After exhausting these 15GB, you can buy more storage through Google Drive's subscriptions. For example, you can get 30TB of storage for $299.99/month. Anything stored in this platform's servers can be viewed, accessed, shared, and downloaded from any device. You just need to sign in.
Dropbox
Dropbox is another excellent app for cloud storage and file sharing. Effectively used for collaborative tasks, this app allows you to upload pictures, videos, documents, and other data. It is one of the best cloud storage platforms, especially since it allows users to upload and download files even without an Internet connection. Dropbox has been around for the longest time. You can even create public folders and share them with your colleagues. After your first 2GB of free storage have been used up, you can subscribe for 1TB of storage at $9.99/month.
OneDrive
While Microsoft's OneDrive only allows you to upload up to 5GB for free, it's a popular option with many users. It lets you control who can access your files, and it's the perfect solution for collaborative efforts since it is seamlessly integrated with Microsoft Office apps.
Conclusion
Indeed, file-sharing services offer practical solutions even to individuals who are not tech-savvy. If you want to enjoy maximum benefits, what's important is you find a platform or an app that meets all your needs without making the entire process complicated.