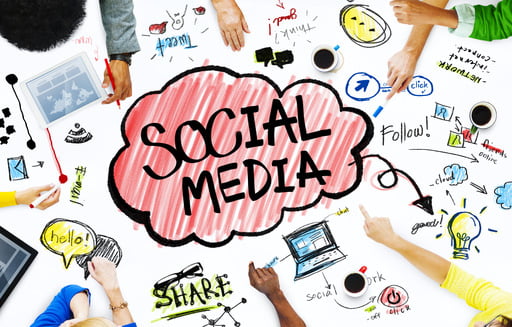 There's something about social media done right. The way that social media is structured brings great benefits to businesses. When and if used right. When it comes to social media, you and your marketing team need to sit down and come up with strategies that will work effectively.
Most importantly, when using social media marketing, the strategy is always to make the adverts blend naturally into what your followers are interested in. That way, as they are scrolling through your page or their Insta Feed or Twitter Timeline, they will come across your advert and it will be relevant.
Otherwise, go for a catchy, unique advert that will work as a clickbait, inviting new and returning consumers to visit your page or profile and thus see more of your products or services.
Let's take a look at some of the advantages of coming up with a hot, relevant social media strategy:
A huge following
Increased brand awareness
Better sales results
Five Steps to Creating an Excellent Social Media Marketing Strategy
The truth is, if you want all these benefits and more, you need to have a process that you will follow when applying social media marketing. From creating your strategy to the rollout and maintenance stages, follow through and keep checking back on these steps.
Generate leads using the data gathered
You should gather data, which includes the information that will help you sell your products and services. If sales are what you're after, then you need information such as emails or phone numbers. Start by setting up a landing page that leads to your website. On that landing page, offer something exclusive that will convince the consumer to leave their email or phone number. You can use these details to market your product or service via email or SMS marketing campaigns.
This is one of the traditional methods of marketing, and it has stood the test of time. Even with the introduction of social media, text message services still work wonders. Find a platform that supports text messaging, that works on social media, and that gives you an option of having site visitors click on the Text option on the social media page so that the message will come directly to your phone. Once the customer's text message comes, you have the option of responding with a link that leads to your landing page or home page. Alternatively, the link can lead to a top product on your site, which will rack up high profits.
Yes, just like that! There's no reason why you must overlook Twitter as a marketing platform. You have to use all tools available to you, and what better way to do that than being on Twitter? By setting up listening feeds on Twitter, you can go back to the feeds in real time and analyze things. By using social platforms as search engines, you will be able to effectively communicate with your target market at the relevant time.
When using GIPHY, your followers can use GIFs on your social media pages. There is a lot of positive response when followers are able to use GIFs to respond. So, get a big GIPHY library to give your followers more options when responding to your posts on social media. With a GIPHY library, you can use GIFs on all your social media pages without just focusing on one in favour of the others.
Communicate via platforms such as WhatsApp and Slack
A lot of companies are already communicating privately with their customers online. There's a lot of traffic on social media. As a business, you need to find a niche, then identify unique features that make your brand stand out. With a private group for your closest followers, supporters or fans, you can give them a unique private experience that focuses only on you.
Ever noticed how there are a lot of advertising messages under the comments section, especially on Instagram? If you're a brand and would like to avoid such self-advertising comments that give you direct competition, then create a private experience on WhatsApp or Slack. No more competition and self-promotion on Facebook, LinkedIn, Instagram, etc.
Use FileWhopper to Transfer Large Files and Enhance Your Social Media Marketing
While looking for and learning the best social media marketing tips in 2020, you also need to know the best way to share your large files and folders. While most cloud platforms are readily accessible and sound like a great idea, they might prove limited. This is where you need FileWhopper. This is a file sharing service created by a Microsoft partner to enable secure data transfer. On this platform, you can transfer files and folders of any size and pay a one-off fee that's calculated according to the file size. Here are some of the reasons why you should use FileWhopper:
1️⃣ Sending large files and folders is now easier, and there is a small app to help with file or folder uploads.
2️⃣ There are no subscription fees. It's a pay-as-you-go service that only charges you when you use it.
3️⃣ The uploaded file or folder is kept active for download for up to 14 days, and if you feel you need more time, there is an option to pay for additional days for storage.
Ten Super Smart Social Media Marketing Tips
Not that you know the top five ways to boost your social media strategy, how about we go through the top ten smart social media marketing tips? Now, these tips cover most of the relevant social media platforms. However, they are not the only tips available. Should you wish to expand on what we give you, then research both online and offline. At times, interacting physically with clients is an excellent way of learning your market and how your service can improve.
Learn your target audience
Before you can get started and even come up with goals and objectives, you need to do your market research and get to Know Your Customer (KYC). This is important because when the business is up and running, interacting with the audience will be part and parcel of getting things done. Don't short-change yourself. Learn who you're dealing with, and this will help in the long run. You can organize your research by carefully running a survey on your audience and then checking the demographics. Once you're actively posting on social media, be ready to reply to comments professionally, with a touch of your persona to avoid robotic responses as they drive away most customers.
Create feasible goals and objectives
When setting goals and objectives, be sure to put realistic numbers and time frames. For example, you can set a goal to reach 10 000 Instagram followers in 3 months. Your goals need to go hand in hand with the entire marketing strategy. Basically, they should be the branches of the marketing strategy tree. Solid plans and objectives are the guidelines that will keep you in the game. Having clear objectives will help keep the team on track. And if you need help, don't be shy to find a goal-setting program or app.
Tone down the sales tactics and be more social
One of the key tips on how to supercharge your social media marketing strategy revolves around being social and not being too heavy on the sales side. You need your followers and fans to feel a touch of engagement and understand you are not just selling things and getting money from them. By establishing real connections and relationships with your people, you can get them to trust you. Where there is trust, there are better sales figures. When you post a lot of promotions and adverts, then people easily get tired of you, fail to find your purpose and are thus compelled to unfollow. Don't annoy, you should interact and build relationships made of trust.
Don't be afraid of running contests
The average consumer loves freebies. There is always joy in receiving a gift or saving a few bucks, even if you're on a 6-figure salary. One of the best strategies to attract people and bring followers over to your page is running a successful social media contest. When done right, at the end of the contest, your page will experience significantly improved following, engagement, and visibility. Beware of running a contest just for the sake of it. Have an end goal. The best bet would be to go back to the drawing board and review your goals and objectives. Then run a contest based on two or three of those to meet them.
Have a great mix of videos and texts
Don't always type out your posts. At times, just go with a video and for a caption, use emojis. The best way of turning a stranger into a customer is by making them feel like they are part of your life and you know them just as much as they believe they know you. Live Stories and Feeds will give insight to your followers, but you control the video content that you are broadcasting. When going live, people get to ask questions and have a better understanding. Knowing the business owner and feeling like they are friends with them makes customers buy more readily.
Find, learn and use the right tools
In most cases, you have to spend money to make money. Although most social media platforms come with their free tools, it might be necessary to take your business and marketing strategy to newer and better levels by introducing additional paid-for tools. Research and learn about the top social media automation tools. You can start by learning the free versions and how to use those. Then later, move on to the paid versions. Tools are the right weapon to track engagement and see how you're doing managing your social media marketing efforts.
Dedicate time and effort to monitoring trends
Marketing is a game of algorithms. You have to track and monitor things to keep ahead of the game. By checking out the progress made by other companies in the same industry you're in, you stay in the game. But keeping up with the trends is what gives you the real upper hand. You can supercharge your social media marketing strategy by checking out how live videos help businesses grow, how private Telegram and WhatsApp groups are able to keep your business in the game, and how both private and public responses make your clients realize how much they need your products or services. All this leads to actual, trackable sales. Follow trends, keep up with them and stay updated. It's that simple. And if you are bold enough, start trends and be loud about it. Then you will find the industry following your footsteps.
Go for polished but realistic pictures
When taking pictures, you are already selling your product. People would want something all the more if it is aesthetically mind-blowing. Stunning images are the way to go with social media. And if you have ordinary picture quality, make sure to go for a lot of lighting and photo editing to give what you're posting a more beautiful look. You can lure and impress your audience with the right angles.
Upgrade your social media marketing techniques
Now that we're almost at the end of the list of top social media marketing tips for 2020, we have to emphasize on the importance of organization. Not all your social media platforms are the same. You have to come up with different methods of managing and running them. The content posted and created must be unique and suit the groups that actively use that particular platform. Understand that your Instagram followers are a different age group or preference set compared to those on Facebook and vice versa. The most common trick that will apply on all platforms is the usage of witty, intriguing and relevant comments and captions. Stay away from generic robotic auto-responses and give yourself time to respond in person. Your audience will pull closer to you and, without a shadow of a doubt, want to continue being part of your brand.
Take advantage of Pinterest
Of all social media platforms, Pinterest is the leading search engine. If you're interested in how to improve social media marketing, then use the power of Pinterest to search. Following closely after Google as the leader of search engines, Pinterest will help most of your customers learn about you and your services. Thus, use the platform wisely. Pinterest is a visual search engine that's used as a social media network. Getting started is easy. Just set up a business account and enable rich pins. Then create a catchy profile that is rich in keyword content. Use everything at your disposal, including relevant boards and automation tools.
We'll be collecting more useful articles on social media marketing on this page, come back to check out the news!