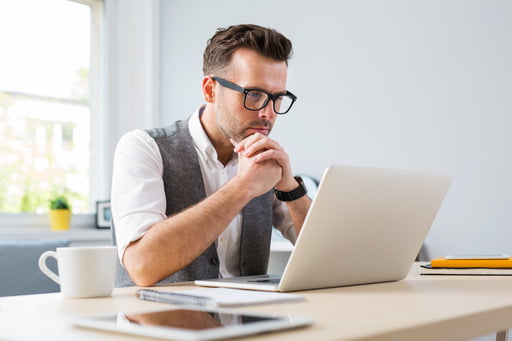 Most of us feel frustration and even anger when trying to share a large file online, only to get the "Sorry, file too large" error message. However, there is no need to start cursing since we have a solution for you.
First, let's talk a little bit about ISO images.
Not long ago, people used to store large files (videos, documents, and images) on physical optical discs like CDs, DVDs, or Blu-ray discs. Those discs were also the main method of distributing operating systems like Windows and Linux. When one wanted to back up an exact digital copy of a disc, which would later be burned to a new disc and used on another computer, they would create one single ISO image.
To date, ISO images are still the most preferred file formats for distributing large programs, which come in real handy, especially since most modern laptops don't come with CD/DVD drives. For instance, if you purchase the Windows OS or Microsoft Office and you download it in ISO format, you can
burn it to a USB drive and copy it to another machine,
extract the installation files and install the program as you would any other program, or
mount the ISO file as a virtual disc for your machine to read it as if a real optical disc were inserted.
You can also copy the ISO image to your hard drive as a backup of your programs. The advantage of using an ISO image is that it creates a single file that duplicates the entire contents of a CD/DVD and is easily downloadable and shareable. An ISO image contains all the files of an optical disc in their original form. Plus, the files are not compressed, which means they maintain their original quality.
Back then, an ISO image was mostly used to create backups of optical discs. Nowadays, ISO images are used to distribute large programs and operating systems. The user can decide whether to mount the image or use it to burn an optical disc. On a Windows machine (Windows 8 or 10), you don't need a third-party program to mount an ISO image. All you have to do is go to File Explorer, select the image and mount it.
So why store a copy of your optical disc as an ISO image? As you may be aware, optical discs are prone to damage, meaning they can break or develop scratches, which might render them unusable. What's more, why go through the hassle of sharing files via physical discs in this digital era when you can easily do so online?
How to Send an ISO Image of Up to 10 TB in Size Online
Sending gigabytes of data to your colleagues, friends or family should be an easy task, right? All you have to do is upload your file on a sharing platform and start the transfer. Unfortunately, it is not always a seamless process.
Most methods are either too limiting in terms of file size, not allowing the transfer of data beyond specific limits, or charge exorbitant prices for monthly subscriptions. Plus, some methods don't offer sufficient security.
As for other options, you can't send really large files via email. Take Gmail, for instance. You can only attach files no larger than 25 MB to your emails. On the other hand, the Windows 10 Mail app only allows you to send an email no larger than 20 MB.
As you can see, these challenges can be extremely frustrating. And since you have large ISO images that you intend to share with other people, you need a more reliable service.
Here is where FileWhopper steps in. To begin with, the platform doesn't require any monthly plans – you only pay a one-time fee depending on the size of the file or folder you want to send – and allows you to transfer files and folders of ANY size and you'll get a 50% discount for the second transfer.
Are you eager for FileWhopper's soon-to-launch Business Solution? It's perfect for users who often need to send large files and folders. To help you decide between the Personal and Business Solutions, let's compare their advantages.
If you occasionally need to send large files or folders, the Personal account is for you. With no monthly fees or commitments, you pay a one-time fee for each file or folder sent. However, if you're a regular sender, the Business Solution is the way to go.
FileWhopper Business is an upcoming product, but we're confident it has huge potential. With several key features and advantages over popular cloud sharing services, FileWhopper Business offers:
Pay-as-you-go convenience compared to monthly subscription-based services
Top-notch data security, including zero-knowledge encryption
Simultaneous uploading and downloading, unique to FileWhopper
No time constraints on using purchased gigabytes
You'll find lots of cool features on FileWhopper's website, not to mention a straightforward user interface that's designed for ease of use and convenience. If you have only one file to send, we'll show you how to send a 100 GB, 1 TB, or even 10 TB ISO image online.
Start by visiting the FileWhopper website. You'll immediately be prompted to choose a file or folder for transfer. The actual transfer won't start right away. This process only evaluates the size of the item so that you can get a price quote.
You can also use the slider to calculate the transfer price for different file sizes.
You'll be taken to a page showing all your order details so that you can review and verify that everything is correct. On this page, you'll also find additional services like folder insurance (to protect your files), additional downloads (if you are transferring your file or folder to multiple recipients), and additional storage days (you can choose up to 90 days of data storage to allow your recipients more time to complete the downloads). These additional services are offered at a minimal fee, and you'd be hard-pressed to get similar services elsewhere.
To proceed with your payment and start the transfer, you'll be required to create a personal account. The process is simple and quick, and you should be done in less than a minute.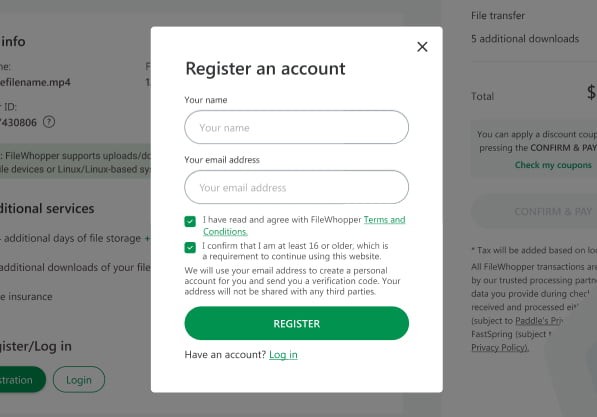 After you create your account, a verification code will be sent to your inbox. Simply retrieve it and paste it into the registration window. Next, create a password for your account, and you are good to go. Note that this password is different from the one that will be generated while uploading your data.
How to Upload an ISO Image with the FileWhopper App
With everything set, you can proceed to make the payment via PayPal or card. Once the payment has been processed, you will receive a pop-up notification confirming that the payment has been received. You will also receive the payment details in your inbox.
Next, you will be redirected to your personal account, where you will hit the "Start Transfer" button and download the FileWhopper app. The app generates a unique password that encrypts your data, making the transfer secure.
The FileWhopper app is a really smart way to transfer files, compared to doing so directly via the browser. For one, the app ensures that the data being transferred is encrypted. It also allows you to use a password for additional protection. The best part is that you can resume your file transfer where you left off if something unexpected happens – for example, if your PC shuts down unexpectedly because of a power outage or if your internet connection drops.
And one more thing, the app utilizes multi-threaded transfer technology for faster downloads and uploads. To use the app, simply click the "Proceed with Upload" button, and make sure you select the same ISO image that you have selected earlier before you click the "Start Upload" button. A download link will immediately be created, and you can share it with your recipient(s).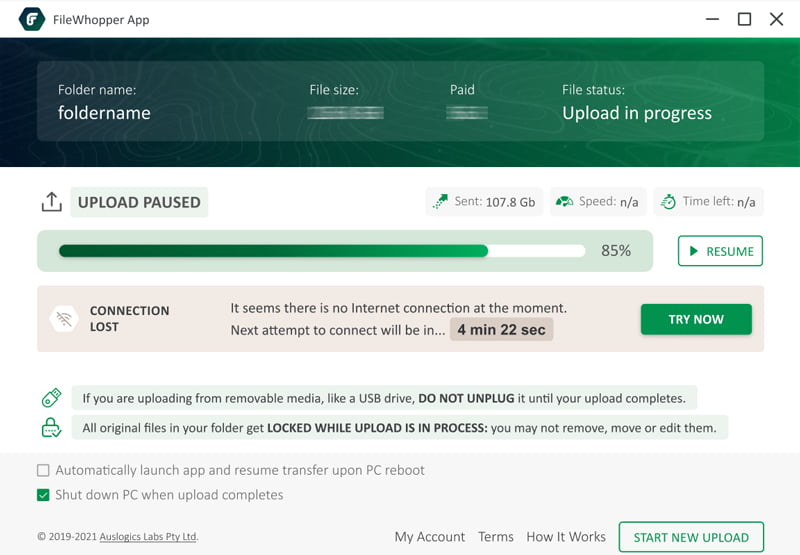 The good thing about transferring files using FileWhopper is that it allows simultaneous uploads and downloads. That is, as soon as the upload starts, the recipient can start downloading the file or folder. How cool is that?
If you are concerned about your privacy, you can delete your FileWhopper account. In any case, the FileWhopper app automatically deletes the transferred data once the recipient completes the download or after the storage period, which by default is 14 days, expires. It also displays the time left, the data already sent, and the speed of the transfer.
So, now that you have an easy solution to transfer an ISO image of up to 10 TB in size online, you can store files on your hard drives in ISO format. Not only is it safer than storing them on DVDs, but transferring ISO images is also easier and more manageable compared to sharing physical discs.